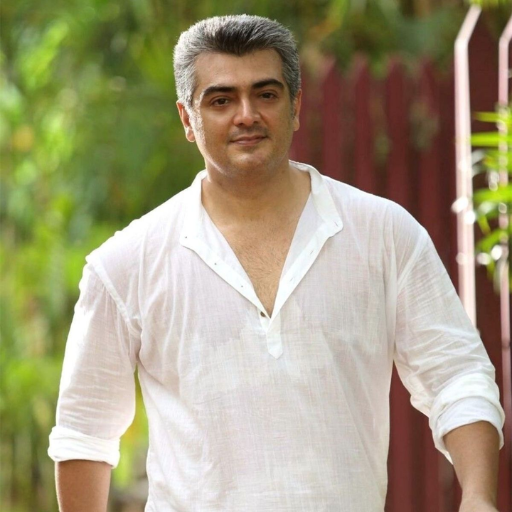 Tamil Actor Ajith
Ajith Kumar is one of the most popular actor in the Kollywood industry, Also he is a very good racer who participated in the MRF Racing series. He started his career in the film En Veedu En Kanavar in the year 1990 he played a small role after he starred as a hero with Kadhal Kottai in 1996 he continued to play various lead roles in many films. He has starred in over 60 movies in the film industry, Ajith latest film Valimai is the 60th movie of Ajith. He has been awarded for his great role in the film, his award include Vijay Award, Cinema Express Awards, Filmfare Awards South and Tamil Nadu state film awards
Actor Ajith Biography
| | |
| --- | --- |
| Name | Ajith Kumar |
| Nickname | Thala |
| Language | Tamil |
| Born | 01 May 1971 |
| Status | Married |
| Occupation | Actor, Racer |
| Parents | P. Subramaniam, Mohini |
| Spouse | Shalini |
| Children | Anoushka, Aadvik |
| First Film | En Veedu En Kanavar(1990) |
Ajith Kumar got the nickname 'Thala' from the movie Dheena by his fans. He was born on 1st May 1971, in Hyderabad, India. Ajith Kumar age is 51 (2022). Ajith married Shalini in 2000 Shalini is a child artist and actor in Tamil and Malayalam movies. Ajith daughter Anoushka Kumar and his son Aadvik Kumar. Ajith is a car racer he has participated in various races like the formula 2 Championship, the 2003 Formula Asia BMW Championship, and many other races.
Ajith Movie List in Tamil
Ajith Kumar Tamil movies are listed below:
Ajith first movie in Tamil, Ajith hit movies in Tamil also Ajith latest movies.
| | | | | |
| --- | --- | --- | --- | --- |
| S.No | Name of the film | Release Date | Language | Director |
| 1 | En Veedu En Kanavar(1990) | 13.04.1990 (Friday) | Tamil | Gollapudi Srinivas |
| 2 | Amaravathi (1993) | 04.06.1993 (Friday) | Tamil | Selva |
| 3 | Prema Pusthakam | 16.07.1993 (Friday) | Telugu | Gollapudi Srinivas |
| 4 | Paasamalargal (1994) | 04.02.1994 (Friday) | Tamil | Suresh Menon |
| 5 | Pavithra (1994) | 04.02.1994 (Friday) | Tamil | K Subhash |
| 6 | Rajavin Parvaiyile (1995) | 05.08.1995 (Saturday) | Tamil | Janaki Soundar |
| 7 | Aasai (1995) | 08.09.1995 (Friday) | Tamil | Vasanth |
| 8 | Vaanmathi (1996) | 12.01.1996 (Friday) | Tamil | Agathiyan |
| 9 | Kalloori Vaasal (1996) | 18.02.1996 (Sunday) | Tamil | Pavithran |
| 10 | Minor Mappillai (1996) | 28.06.1996 (Friday) | Tamil | V. C. Guhunathan |
| 11 | Kadhal Kottai (1996) | 12.07.1996 (Friday) | Tamil | Agathiyan |
| 12 | Nesam (1997) | 15.01.1997 (Wednesday) | Tamil | K.Subash |
| 13 | Raasi (1997) | 18.04.1997 (Friday) | Tamil | Murali-Abbas |
| 14 | Ullasam (1997) | 23.05.1997 (Friday) | Tamil | J. D. Jerry |
| 15 | Pagaivan (1997) | 01.08.1997 (Friday) | Tamil | Ramesh Krishna |
| 16 | Rettai Jadai Vayasu (1997) | 12.12.1997 (Friday) | Tamil | C. Sivakumar |
| 17 | Kadhal Mannan (1998) | 06.03.1998 (Friday) | Tamil | Saran |
| 18 | Aval Varuvala (1998) | 15.05.1998 (Friday) | Tamil | Rajkapoor |
| 19 | Unnidathil Ennai Koduthen (1998) | 15.08.1998 (Saturday) | Tamil | Vikraman |
| 20 | Uyirodu Uyiraga (1998) | 20.11.1998 (Friday) | Tamil | Sushma Ahuja |
| 21 | Thodarum (1999) | 14.01.1999 (Thursday) | Tamil | Ramesh Khanna |
| 22 | Unnai Thedi (1999) | 05.02.1999 (Friday) | Tamil | Sundar C |
| 23 | Vaali (1999) | 30.04.1999 (Friday) | Tamil | S.J. Surya |
| 24 | Anandha Poongatre (1999) | 27.05.1999 (Thursday) | Tamil | Raj Kapoor |
| 25 | Nee Varuvai Ena (1999) | 13.08.1999 (Friday) | Tamil | Rajakumaran |
| 26 | Amarkalam (1999) | 15.08.1999 (Sunday) | Tamil | Saran |
| 27 | Mugavari (2000) | 19.02.2000 (Saturday) | Tamil | Durai |
| 28 | Kandukonden Kandukonden (2000) | 05.05.2000 (Friday) | Tamil | Rajiv Menon |
| 29 | Unnai Kodu Ennai Tharuven (2000) | 19.05.2000 (Friday) | Tamil | Kavee Kalidas |
| 30 | Dheena (2001) | 14.01.2001 (Sunday) | Tamil | A. R. Murugadoss |
| 31 | Citizen (2001) | 08.06.2001 (Friday) | Tamil | Saravana Subbaiya |
| 32 | Poovellam Un Vasam (2001) | 17.08.2001 (Friday) | Tamil | S. Ezhil |
| 33 | Asoka (2001) | 26.10.2001 (Friday) | Hindi | Santosh Sivan |
| 34 | Red (2002) | 14.01.2002 (Monday) | Tamil | Ram Sathya |
| 35 | Raja (2002) | 05.06.2002 (Friday) | Tamil | S.Ezhil |
| 36 | Villain (2002) | 04.11.2002 (Monday) | Tamil | K.S. Ravikumar |
| 37 | Ennai Thalatta Varuvala (2003) | 21.03.2003 (Friday) | Tamil | K.S.Ravindran |
| 38 | Anjaneya (2003) | 24.10.2003 (Friday) | Tamil | Maharajan |
| 39 | Jana (2004) | 01.05.2004 (Saturday) | Tamil | Shaji Kailas |
| 40 | Attagasam (2004) | 12.11.2004 (Friday) | Tamil | Saran |
| 41 | Ji (2005) | 11.02.2005 (Friday) | Tamil | N. Linguswamy |
| 42 | Paramasivan (2006) | 14.01.2006 (Saturday) | Tamil | P. Vasu |
| 43 | Thirupathi (2006) | 14.04.2006 (Friday) | Tamil | Perarasu |
| 44 | Varalaru (2006) | 20.10.2006 (Friday) | Tamil | K. S. Ravikumar |
| 45 | Aalwar (2007) | 12.01.2007 (Friday) | Tamil | Chella |
| 46 | Kireedam (2007) | 20.07.2007 (Friday) | Tamil | A. L. Vijay |
| 47 | Billa (2007) | 14.12.2007 (Friday) | Tamil | Vishnuvardhan |
| 48 | Aegan (2008) | 25.10.2008 (Saturday) | Tamil | Raju Sundaram |
| 49 | Asal (2010) | 05.02.2010 (Friday) | Tamil | Saran |
| 50 | Mankatha (2011) | 31.08.2011 (Wednesday) | Tamil | Venkat Prabhu |
| 51 | Billa II (2012) | 13.07.2012 (Friday) | Tamil | Chakri Toleti |
| 52 | English Vinglish (2012) | 05.10.2012 (Friday) | Tamil | Gauri Shinde |
| 53 | Aarambam (2013) | 31.10.2013 (Thursday) | Tamil | Vishnuvardhan |
| 54 | Veeram (2014) | 10.01.2014 (Friday) | Tamil | Siva |
| 55 | Yennai Arindhaal (2015) | 05.02.2015 (Thursday) | Tamil | Gowtham Menon |
| 56 | Vedalam (2015) | 10.11.2015 (Tuesday) | Tamil | Siva |
| 57 | Vivegam (2017) | 24.08.2017 (Thursday) | Tamil | Siva |
| 58 | Viswasam (2019) | 10.01.2019 (Thursday) | Tamil | Siva |
| 59 | Nerkonda Paarvai (2019) | 08.08.2019 (Thursday) | Tamil | H. Vinoth |
| 60 | Valimai | 24.02.2022 (Thursday) | Tamil | H. Vinoth |
| 61 | Thunivu | 11.02.2022(Wednesday) | Tamil | H. Vinoth |