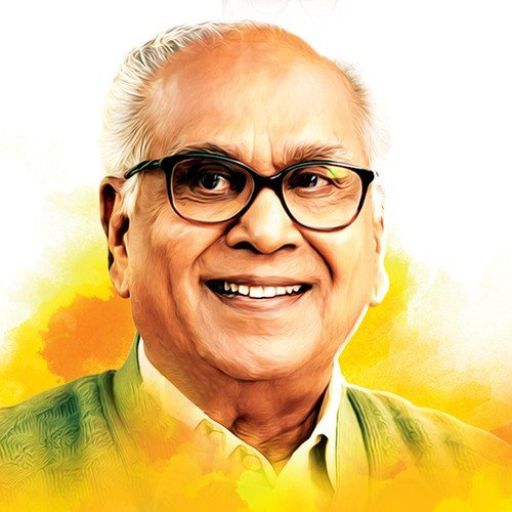 Check out Hit or Flop, blockbuster Akkineni Nageswara Rao movies: Akkineni Nageswara Rao, popularly known as ANR, was a legendary Indian film actor and producer who worked in Telugu cinema. He started his film career in 1941 with the Telugu film, "Dharmapatni," directed by H.M. Reddy. Despite his small role, ANR's performance was well received, and he was offered a lead role in his next film, "Seeta Rama Jananam," which was released in 1944. The film was a commercial success, and ANR's acting skills were appreciated by both the audience and critics.
ANR acted in over 255 films in a career spanning more than seven decades. He was known for his versatility and his ability to portray a range of characters, from romantic leads to character roles. Some of his notable films include "Devadasu," "Mayabazar," "Premabhishekam," and "Sankarabharanam."
ANR was not only an accomplished actor but also a successful producer. He founded the production house Annapurna Studios in 1975 and produced several successful films under the banner. He also ventured into television production and launched the popular Telugu TV serial "Manasu Mamatha."
ANR received numerous awards for his contributions to the film industry. He was awarded the Padma Bhushan, in 1988, and the Padma Vibhushan in 2011. He was also the recipient of several film awards, including the National Film Award for Best Actor for his performance in the film "Meghasandesam." ANR passed away on January 22, 2014, at the age of 89. His contribution to the Telugu film industry is immense, and he will always be remembered as one of the greatest actors and producers in the history of Indian cinema.
Akkineni Nageswara Rao biography
| Name | Akkineni Nageswara Rao |
| --- | --- |
| Born | September 20, 1924 |
| Place of birth | Venkata Raghavapuram, Andhra Pradesh, India |
| Profession | Actor, Producer |
| First film | Dharmapatni (1941) |
| Number of films | Over 255 |
| Production house founded | Annapurna Studios (1975) |
| Awards | Padma Bhushan, Padma Vibhushan, National Film Award for Best Actor |
| Famous films | Devadasu, Mayabazar, Premabhishekam, Sankarabharanam |
| Passed away | January 22, 2014 |
List of Akkineni Nageswara Rao Hits and Flops Movies
| Sl. No. | Movie Name | Released Year | Director | Language | Verdict |
| --- | --- | --- | --- | --- | --- |
| 1 | Dharma Patni | 1941 | H. M. Reddy | Telugu | Super-Hit |
| 2 | Seeta Rama Jananam | 1944 | Raja Chandrasekhar | Telugu | Hit |
| 3 | Mayalokam | 1945 | H. M. Reddy | Telugu | Flop |
| 4 | Mugguru Maratilu | 1946 | H. M. Reddy | Telugu | Average |
| 5 | Palnati Yuddham | 1947 | H. M. Reddy | Telugu | Hit |
| 6 | Ratnamala | 1948 | B. N. Reddi | Telugu | Average |
| 7 | Balaraju | 1948 | B. N. Reddi | Telugu | Blockbuster |
| 8 | Keelu Gurram | 1949 | H. M. Reddy | Telugu | Hit |
| 9 | Raksha Rekha | 1949 | B. N. Reddi | Telugu | Average |
| 10 | Laila Majnu | 1949 | P. S. Ramakrishna Rao | Telugu | Super-Hit |
| 11 | Sri Lakshmamma Katha | 1950 | B. N. Reddi | Telugu | Super-Hit |
| 12 | Palletoori Pilla | 1950 | B. N. Reddi | Telugu | Hit |
| 13 | Paramanandayya Sishyulu | 1950 | C. Pullaiah | Telugu | Flop |
| 14 | Swapna Sundari | 1950 | B. N. Reddi | Telugu | Average |
| 15 | Samsaram | 1950 | L. V. Prasad | Telugu | Hit |
| 16 | Tilottama | 1951 | P. Pullaiah | Telugu | Average |
| 17 | Soudamini | 1951 | B. N. Reddi | Telugu | Blockbuster |
| 18 | Or Iravu | 1951 | R. Nagendra Rao | Tamil | Hit |
| 19 | Mayalamari | 1951 | K. Ramnoth | Tamil | Average |
| 20 | Mantra Dandam | 1951 | L. V. Prasad | Telugu | Super-Hit |
| 21 | Stree Sahasam | 1951 | B. N. Reddi | Telugu | Super-Hit |
| 22 | Prema | 1952 | S. S. Vasan | Telugu | Hit |
| 23 | Paradesi | 1953 | L. V. Prasad | Tamil | Flop |
| 24 | Poongothai | 1953 | T. R. Sundaram | Tamil | Average |
| 25 | Bratuku Teruvu | 1953 | P. Pullaiah | Telugu | Hit |
| 26 | Kanna Talli | 1953 | B. R. Panthulu | Telugu | Average |
| 27 | Vayyari Bhama | 1953 | P. S. Ramakrishna Rao | Telugu | Blockbuster |
| 28 | Devadasu | 1953 | Vedantam Raghavaiah | Telugu | Hit |
| 29 | Devadas | 1953 | Shankar Mukherjee | Tamil | Average |
| 30 | Nirupedalu | 1954 | P. Pullaiah | Telugu | Super-Hit |
| 31 | Chakrapani | 1954 | B. N. Reddi | Telugu | Super-Hit |
| 32 | Parivartana | 1954 | P. S. Ramakrishna Rao | Telugu | Hit |
| 33 | Vipra Narayana | 1954 | P. S. Ramakrishna Rao | Telugu | Super-Hit |
| 34 | Annadata | 1954 | Tapi Chanakya | Telugu | Average |
| 35 | Missamma | 1955 | L. V. Prasad | Telugu | Hit |
| 36 | Ardhangi | 1955 | P. S. Ramakrishna Rao | Telugu | Average |
| 37 | Rojulu Marayi | 1955 | P. S. Ramakrishna Rao | Telugu | Blockbuster |
| 38 | Anarkali | 1955 | Vedantam Raghavaiah | Telugu | Hit |
| 39 | Santaanam | 1955 | T. R. Raghunath | Tamil | Average |
| 40 | Vadina | 1955 | P. Pullaiah | Telugu | Super-Hit |
| 41 | Donga Ramudu | 1955 | B. N. Reddy | Telugu | Super-Hit |
| 42 | Tenali Ramakrishna | 1956 | B. S. Ranga | Telugu | Hit |
| 43 | Bhale Ramudu | 1956 | Tatineni Prakash Rao | Telugu | Flop |
| 44 | Ilavelpu | 1956 | P. S. Ramakrishna Rao | Telugu | Average |
| 45 | Charana Daasi | 1956 | C. S. Rao | Telugu | Hit |
| 46 | Mathar Kula Manikkam | 1956 | Sundar Rao Nadkarni | Tamil | Average |
| 47 | Thodi Kodallu | 1957 | Adurthi Subba Rao | Telugu | Blockbuster |
| 48 | Engal Veettu Mahalakshmi | 1957 | B. S. Ranga | Tamil | Hit |
| 49 | Sati Savitri | 1957 | B. A. Subba Rao | Telugu | Average |
| 50 | Mayabazar | 1957 | Kadiri Venkata Reddy | Telugu | Super-Hit |
| 51 | Allavuddin Adbhutadeepam | 1957 | V. Srinivasan | Tamil | Super-Hit |
| 52 | Suvarna Sundari | 1957 | Vedantam Raghavaiah | Telugu | Hit |
| 53 | Dongallo Dora | 1957 | P. Pullaiah | Telugu | Flop |
| 54 | Bhookailas | 1958 | K. Shankar | Telugu | Average |
| 55 | Chenchu Lakshmi | 1958 | B. A. Subba Rao | Telugu | Hit |
| 56 | Chenchu Lakshmi | 1958 | B. A. Subba Rao | Tamil | Average |
| 57 | Sri Krishna Maya | 1958 | C. S. Rao | Telugu | Blockbuster |
| 58 | Aada Pettanam | 1958 | Adurthi Subba Rao | Telugu | Hit |
| 59 | Suvarna Sundari | 1958 | Tatineni Prakash Rao | Telugu | Average |
| 60 | Pellinaati Pramanalu | 1958 | B. S. Ranga | Telugu | Super-Hit |
| 61 | Mangalya Balam | 1959 | B.N. Reddi | Telugu | Super-Hit |
| 62 | Manjal Mahimai | 1959 | Krishnan-Panju | Tamil | Hit |
| 63 | Athisaya Penn | 1959 | K. Shankar | Tamil | Flop |
| 64 | Pelli Sandadi | 1959 | K. V. Reddy | Telugu | Average |
| 65 | Jayabheri | 1959 | P. S. Ramakrishna | Telugu | Hit |
| 66 | Kalaivaanan | 1959 | T. R. Raghunath | Tamil | Average |
| 67 | Illarikam | 1959 | Tatineni Prakash Rao | Telugu | Blockbuster |
| 68 | Kalyana Parisu | 1959 | C. V. Sridhar | Tamil | Hit |
| 69 | Nammina Bantu | 1960 | Tapi Chanakya | Telugu | Average |
| 70 | Pattaliyin Vetri | 1960 | B. R. Panthulu | Tamil | Super-Hit |
| 71 | Santhi Nivasam | 1960 | C. S. Rao | Telugu | Super-Hit |
| 72 | Mahakavi Kalidasu | 1960 | Kamalakara Kameshwara Rao | Telugu | Hit |
| 73 | Pelli Kanuka | 1960 | B. Vittalacharya | Telugu | Flop |
| 74 | Engal Selvi | 1960 | T. R. Ramanna | Tamil | Average |
| 75 | Abhimanam | 1960 | A. S. A. Sami | Tamil | Hit |
| 76 | Runanubandham | 1960 | P. Pullaiah | Telugu | Average |
| 77 | Maa Babu | 1960 | B. A. Subba Rao | Telugu | Blockbuster |
| 78 | Velugu Needalu | 1961 | Adurthi Subba Rao | Telugu | Hit |
| 79 | Bharya Bhartalu | 1961 | T. Prakash Rao | Telugu | Average |
| 80 | Bhakta Jayadeva | 1961 | K. V. Reddy | Telugu | Super-Hit |
| 81 | Batasari | 1961 | P. S. Ramakrishna Rao | Telugu | Super-Hit |
| 82 | Vagdanam | 1961 | D. Yoganand | Telugu | Hit |
| 83 | Sabhash Raja | 1961 | R. V. Raman | Telugu | Flop |
| 84 | Iddaru Mitrulu | 1961 | A. Subba Rao | Telugu | Average |
| 85 | Aradhana | 1962 | V. Madhusudhan Rao | Telugu | Hit |
| 86 | Manchi Manasulu | 1962 | Adurthi Subba Rao | Telugu | Average |
| 87 | Gundamma Katha | 1962 | Kamalakara Kameswara Rao | Telugu | Blockbuster |
| 88 | Manithan Maravillai | 1962 | T. R. Raghunath | Tamil | Hit |
| 89 | Kalimilemulu | 1962 | K. Pratyagatma | Telugu | Average |
| 90 | Kula Gotralu | 1962 | K. B. Tilak | Telugu | Super-Hit |
| 91 | Siri Sampadalu | 1962 | C. S. Rao | Telugu | Super-Hit |
| 92 | Sri Krishnarjuna Yuddhamu | 1963 | Kadiri Venkata Reddy | Telugu | Hit |
| 93 | Chaduvukunna Ammayilu | 1963 | Adurthi Subba Rao | Telugu | Super-Hit |
| 94 | Punarjanma | 1963 | V. Madhusudhan Rao | Telugu | Average |
| 95 | Pooja Phalam | 1964 | B. N. Reddi | Telugu | Hit |
| 96 | Bhakta Ramadasu | 1964 | Chittor V. Nagaiah | Telugu | Average |
| 97 | Aathma Balam | 1964 | V. Madhusudhan Rao | Telugu | Blockbuster |
| 98 | Mooga Manasulu | 1964 | Adurthi Subba Rao | Telugu | Hit |
| 99 | Murali Krishna | 1964 | Kamalakara Kameswara Rao | Telugu | Average |
| 100 | Amara Silpi Jakkanna | 1964 | B. S. Ranga | Telugu | Super-Hit |
| 101 | Doctor Chakravarty | 1964 | P. Subramanyam | Telugu | Super-Hit |
| 102 | Sumangali | 1965 | Adurthi Subba Rao | Telugu | Hit |
| 103 | Antastulu | 1965 | V. Madhusudhan Rao | Telugu | Flop |
| 104 | Preminchi Choodu | 1965 | P. Subramanyam | Telugu | Average |
| 105 | Manushulu Mamathalu | 1965 | Adurthi Subba Rao | Telugu | Hit |
| 106 | Zamindar | 1966 | R. Krishnaiah | Telugu | Average |
| 107 | Aatma Gowravam | 1966 | K. Viswanath | Telugu | Blockbuster |
| 108 | Navaratri | 1966 | V. Madhusudhan Rao | Telugu | Hit |
| 117 | Manase Mandiram | 1966 | C. S. Rao | Telugu | Blockbuster |
| 118 | Aastiparulu | 1966 | V. Madhusudhan Rao | Telugu | Hit |
| 119 | Gruhalakshmi | 1967 | B. S. Narayana | Telugu | Average |
| 120 | Prana Mithrulu | 1967 | A. Subba Rao | Telugu | Super-Hit |
| 121 | Poola Rangadu | 1967 | Adurthi Subba Rao | Telugu | Blockbuster |
| 122 | Chilipi Krishnudu | 1968 | V. Madhusudhan Rao | Telugu | Hit |
| 123 | Bhakta Tukaram | 1973 | V. Madhusudhan Rao | Telugu | Hit |
| 124 | Bangaru Babu | 1973 | P. Chandrasekhara Reddy | Telugu | Hit |
| 125 | Dharma Daata | 1970 | A. Sanjeevi | Telugu | Average |
| 126 | Devudamma | 1973 | V. Madhusudhan Rao | Telugu | Average |
| 127 | Aradhana | 1976 | B. Vittalacharya | Telugu | Hit |
| 128 | Mudda Mandaram | 1976 | B. Vittalacharya | Telugu | Average |
| 129 | Collector Janaki | 1976 | B. Vittalacharya | Telugu | Hit |
| 130 | Jeevana Jyoti | 1976 | K. Viswanath | Telugu | Blockbuster |
| 131 | Iddaru Iddare | 1976 | T. Rama Rao | Telugu | Average |
| 132 | Jeevitha Chakram | 1977 | K. Viswanath | Telugu | Hit |
| 133 | Chelleli Kapuram | 1977 | M. Mallikharjuna Rao | Telugu | Hit |
| 134 | Sati Anasuya | 1978 | K. Bapayya | Telugu | Average |
| 135 | Pichodi Pelli | 1978 | K. Viswanath | Telugu | Hit |
| 136 | Samsaram Sagaram | 1973 | D. Yoganand | Telugu | Average |
| 137 | Prema Kanuka | 1979 | V. Madhusudhan Rao | Telugu | Average |
| 138 | Sri Ramanjaneya Yuddham | 1974 | N. T. Rama Rao | Telugu | Hit |
| 139 | Premabhishekam | 1981 | Dasari Narayana Rao | Telugu | Blockbuster |
| 140 | Palletoori Pilla | 1978 | K. S. R. Das | Telugu | Hit |
| 141 | Manchi Kutumbam | 1967 | Adurthi Subba Rao | Telugu | Super-Hit |
| 142 | Sri Krishnavataram | 1967 | Kamalakara Kameswara Rao | Telugu | Blockbuster |
| 143 | Mooga Nomu | 1968 | K. Viswanath | Telugu | Super-Hit |
| 144 | Poola Rangadu | 1967 | Adurthi Subba Rao | Telugu | Hit |
| 145 | Bangaru Gaajulu | 1968 | C. Pullaiah | Telugu | Hit |
| 146 | Dharma Daata | 1968 | A. Sanjeevi | Telugu | Hit |
| 147 | Bhakta Prahlada | 1967 | Chitrapu Narayana Rao | Telugu | Super-Hit |
| 148 | Dheerga Sumangali | 1968 | Kotayya Pratyagatma | Telugu | Hit |
| 149 | Dr. Chakravarthy | 1968 | Adurthi Subba Rao | Telugu | Super-Hit |
| 150 | Pelli Kaani Pillalu | 1968 | B. Vittalacharya | Telugu | Super-Hit |
| 151 | Bhale Ramudu | 1969 | P. Chandrasekhara Reddy | Telugu | Super-Hit |
| 152 | Pooja Phalam | 1969 | P. Sambasiva Rao | Telugu | Super-Hit |
| 153 | Aastiparulu | 1969 | V. Madhusudhan Rao | Telugu | Hit |
| 154 | Buddhimanthudu | 1969 | K. Viswanath | Telugu | Hit |
| 155 | Marapurani Manishi | 1970 | B. Vittalacharya | Telugu | Super-Hit |
| 156 | Moogamanasulu | 1970 | K. Viswanath | Telugu | Blockbuster |
| 157 | Nammina Bantu | 1970 | V. Madhusudhan Rao | Telugu | Average |
| 158 | O Seeta Katha | 1970 | K. Viswanath | Telugu | Hit |
| 159 | Rangeli Raja | 1970 | T. Prakash Rao | Telugu | Average |
| 160 | Bhakta Tukaram | 1973 | V. Madhusudhan Rao | Telugu | Hit |
| 161 | Palletoori Bava | 1973 | K. Raghavendra Rao | Telugu | Super-Hit |
| 162 | Andala Ramudu | 1973 | Bapu | Telugu | Hit |
| 163 | Marapurani Manishi | 1973 | D. Yoganand | Telugu | Flop |
| 164 | Manchivadu | 1973 | V. Madhusudhan Rao | Telugu | Average |
| 165 | Premalu Pellillu | 1974 | Bapu | Telugu | Hit |
| 166 | Bangaaru Kalalu | 1974 | K. Viswanath | Telugu | Average |
| 167 | Dorababu | 1974 | Dasari Narayana Rao | Telugu | Average |
| 168 | Mahakavi Kshetrayya | 1976 | Kamalakara Kameswara Rao | Telugu | Hit |
| 169 | Secretary | 1976 | K. Balachander | Telugu | Average |
| 170 | Mahatmudu | 1976 | M. Mallikharjuna Rao | Telugu | Super-Hit |
| 171 | Chakradhari | 1977 | Bapu | Telugu | Super-Hit |
| 172 | Aalu Magalu | 1977 | K. Balachander | Telugu | Hit |
| 173 | Bangaru Bommalu | 1977 | V. Madhusudhan Rao | Telugu | Flop |
| 174 | Raja Ramesh | 1977 | T. Rama Rao | Telugu | Average |
| 175 | Chanakya Chandragupta | 1977 | N. T. Rama Rao | Telugu | Hit |
| 176 | Aatmiyudu | 1977 | V. Madhusudhan Rao | Telugu | Average |
| 177 | Chilipi Krishnudu | 1978 | V. Madhusudhan Rao | Telugu | Average |
| 178 | Devadasu Malli Puttadu | 1978 | Dasari Narayana Rao | Telugu | Hit |
| 179 | Vichitra Jeevitham | 1978 | K. Viswanath | Telugu | Average |
| 180 | Rama Krishnulu | 1978 | V. Madhusudhan Rao | Telugu | Super-Hit |
| 181 | Sri Rama Raksha | 1978 | Bapu | Telugu | Super-Hit |
| 182 | Ravanude Ramudayithe? | 1978 | K. Bapaiah | Telugu | Hit |
| 183 | Hema Hemeelu | 1979 | Dasari Narayana Rao | Telugu | Flop |
| 184 | Muddula Koduku | 1979 | K. Raghavendra Rao | Telugu | Average |
| 185 | Andaman Ammayi | 1979 | Boina Subba Rao | Telugu | Hit |
| 186 | Yedanthasthula Meda | 1980 | S. R. Puttanna Kanagal | Telugu | Average |
| 187 | Nayakudu Vinayakudu | 1980 | K. Raghavendra Rao | Telugu | Blockbuster |
| 188 | Buchi Babu | 1980 | Jandhyala | Telugu | Hit |
| 189 | Pilla Zamindar | 1980 | Bapu | Telugu | Average |
| 190 | Srivari Muchatlu | 1981 | K. Viswanath | Telugu | Super-Hit |
| 191 | Premabhishekam | 1981 | Dasari Narayana Rao | Telugu | Hit |
| 192 | Guru Sishyulu | 1981 | K. Viswanath | Telugu | Hit |
| 193 | Satyam Shivam | 1981 | K. Raghavendra Rao | Telugu | Flop |
| 194 | Prema Kanuka | 1981 | V. Madhusudhan Rao | Telugu | Average |
| 195 | Prema Mandiram | 1981 | Jandhyala | Telugu | Hit |
| 196 | Raaga Deepam | 1982 | K. Vishwanath | Telugu | Average |
| 197 | Bangaru Kanuka | 1982 | V. Madhusudhan Rao | Telugu | Blockbuster |
| 198 | Gopala Krishnudu | 1982 | Kodi Ramakrishna | Telugu | Hit |
| 199 | Meghasandesam | 1982 | Dasari Narayana Rao | Telugu | Average |
| 200 | Yuvaraju | 1982 | S. P. Muthurama | Telugu | Flop |
| 201 | Muddula Mogudu | 1983 | K. Raghavendra Rao | Telugu | Super-Hit |
| 202 | Oorantha Sankranthi | 1983 | Jandhyala | Telugu | Hit |
| 203 | Ramudu Kadu Krishnudu | 1983 | Bapu | Telugu | Flop |
| 204 | Bahudoorapu Batasari | 1983 | Dasari Narayana Rao | Telugu | Average |
| 205 | Amarajeevi | 1983 | K. Raghavendra Rao | Telugu | Hit |
| 206 | Sri Ranga Neethulu | 1983 | Dasari Narayana Rao | Telugu | Average |
| 207 | Koteeswarudu | 1984 | V. Madhusudhan Rao | Telugu | Blockbuster |
| 208 | Tandava Krishnudu | 1984 | Tatineni Rama Rao | Telugu | Hit |
| 209 | Anubandham | 1984 | A. Kodandarami Reddy | Telugu | Average |
| 210 | Adarshavanthudu | 1984 | K. Raghavendra Rao | Telugu | Flop |
| 211 | Vasantha Geetam | 1984 | K. Balachander | Telugu | Flop |
| 212 | S. P. Bhayankar | 1984 | Vijaya Nirmala | Telugu | Hit |
| 213 | Justice Chakravarthy | 1984 | V. Madhusudhan Rao | Telugu | Super-Hit |
| 214 | Sangeeta Samrat | 1984 | K. Vishwanath | Telugu | Average |
| 215 | Bharyabhartala Bandham | 1984 | Kodi Ramakrishna | Telugu | Hit |
| 216 | Dampatyam | 1985 | Vijaya Nirmala | Telugu | Average |
| 217 | Illale Devata | 1985 | Bapu | Telugu | Super-Hit |
| 218 | Aadi Dampatulu | 1986 | K. Raghavendra Rao | Telugu | Hit |
| 219 | Brahma Rudrulu | 1986 | K. Murali Mohan Rao | Telugu | Average |
| 220 | Guru Brahma | 1986 | Dasari Narayana Rao | Telugu | Super-Hit |
| 221 | Collector Gari Abbai | 1987 | B. Gopal | Telugu | Super-Hit |
| 222 | Agni Putrudu | 1987 | K. Raghavendra Rao | Telugu | Hit |
| 223 | Aatma Bandhuvulu | 1987 | Relangi Narasimha Rao | Telugu | Flop |
| 224 | Rao Gari Illu | 1988 | Kodi Ramakrishna | Telugu | Average |
| 225 | Rajakeeya Chadarangam | 1989 | K. Raghavendra Rao | Telugu | Hit |
| 226 | Bhale Dampathulu | 1989 | Kodi Ramakrishna | Telugu | Average |
| 227 | Sutradharulu | 1989 | K. Viswanath | Telugu | Average |
| 228 | Rao Gari Intlo Rowdy | 1990 | Kodi Ramakrishna | Telugu | Hit |
| 229 | Iddaru Iddare | 1990 | A. Kodandarami Reddy | Telugu | Average |
| 230 | Dagudumuthala Dampathyam | 1990 | Relangi Narasimha Rao | Telugu | Hit |
| 231 | Seetharamayya Gari Manavaralu | 1991 | K. Raghavendra Rao | Telugu | Average |
| 232 | Pranadaata | 1992 | V. Madhusudhan Rao | Telugu | Super-Hit |
| 233 | Raguluthunna Bharatham | 1992 | K. Raghavendra Rao | Telugu | Hit |
| 234 | Madhavayya Gari Manavadu | 1992 | K. Raghavendra Rao | Telugu | Average |
| 235 | College Bullodu | 1992 | K. Raghavendra Rao | Telugu | Super-Hit |
| 236 | Rajeswari Kalyanam | 1993 | Ravi Raja Pinisetty | Telugu | Flop |
| 237 | Ratha Saradhi | 1993 | Kodi Ramakrishna | Telugu | Average |
| 238 | Mechanic Alludu | 1993 | B. Gopal | Telugu | Super-Hit |
| 239 | Bangaru Kutumbam | 1994 | S.V. Krishna Reddy | Telugu | Super-Hit |
| 240 | Gandeevam | 1994 | Priyadarshan | Telugu | Hit |
| 241 | Theerpu | 1994 | V. Madhusudhan Rao | Telugu | Average |
| 242 | God Father | 1995 | Kodi Ramakrishna | Telugu | Hit |
| 243 | Maya Bazaar | 1995 | Kadiri Venkata Reddy | Telugu | Super-Hit |
| 244 | Rayudugaru Nayudugaru | 1996 | S.V. Krishna Reddy | Telugu | Super-Hit |
| 245 | Pandaga | 1998 | Ravi Raja Pinisetty | Telugu | Average |
| 246 | Sri Sita Ramula Kalyanam Chootamu Raarandi | 1998 | Ravi Raja Pinisetty | Telugu | Average |
| 247 | Daddy Daddy | 1998 | Suresh Varma | Telugu | Average |
| 248 | Pelli Sambandham | 2000 | K. Raghavendra Rao | Telugu | Super-Hit |
| 249 | Sakutumba Saparivaara Sametam | 2001 | S.V. Krishna Reddy | Telugu | Super-Hit |
| 250 | Chukkallo Chandrudu | 2006 | Mani Ratnam | Telugu | Flop |
| 251 | Sri Ramadasu | 2006 | K. Raghavendra Rao | Telugu | Blockbuster |
| 253 | Sri Rama Rajyam | 2011 | Bapu | Telugu | Hit |
| 255 | Manam | 2014 | Vikram Kumar | Telugu | Hit |