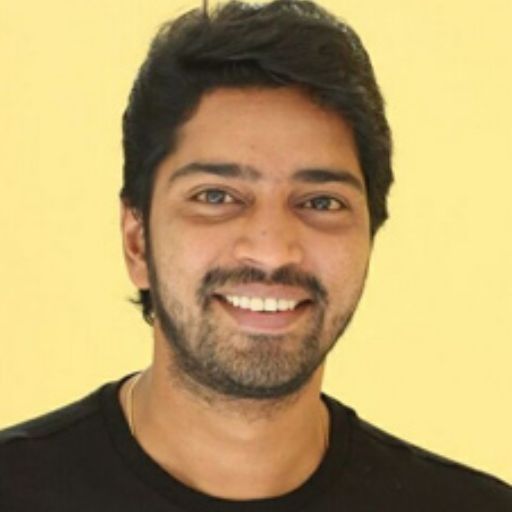 Check out Hit or Flop, blockbuster Allari Naresh Movies: Allari Naresh is a popular Telugu film actor who has appeared in over 50 films in the Tollywood industry. He was born on June 30, 1982, in Chennai, India, as Edara Naresh. He is the son of famous Telugu director E.V.V. Satyanarayana and is well-known for his comedy roles in Telugu films.
Allari Naresh made his acting debut with the film "Allari" in 2002, directed by Ravi Babu. The film was a commercial success and earned him the nickname "Allari". Since then, he has acted in several successful films such as "Donga Dongadi", "Sudigadu", "Sangharshana", and "Gamyam", among others. He has received several nominations and awards for his performances, including the Nandi Award for Best Supporting Actor for his role in "Gamyam". He is also known for his comedy roles.
Allari Naresh is a talented actor who has made a mark for himself in the Telugu film industry with his versatile performances and comedy roles. He continues to entertain audiences with his films and is one of the most popular actors in Tollywood today.
Allari Naresh Biography
| Name | Edara Naresh |
| --- | --- |
| Date of Birth | June 30, 1982 |
| Place of Birth | Chennai, India |
| Occupation | Actor |
| First Film | Allari (2002), directed by Ravi Babu |
| Famous For | Comedy roles in Telugu films |
| Awards | Nandi Award for Best Supporting Actor for Gamyam |
| Social Causes | Nirbhaya Bharatam campaign, charity work |
| Number of Films | 50+ |
List of Allari Naresh Hits And Flops Movies
| Sl. No. | Film | Director | Release Date | Verdict |
| --- | --- | --- | --- | --- |
| 1 | Allari | Ravi Babu | 2002 | Super Hit |
| 2 | Dhana Laxmi I Love You | Raja Vannem Reddy | 2002 | Flop |
| 3 | Thotti Gang | Krishna Vamsi | 2002 | Super Hit |
| 4 | Juniors | Suresh Varma | 2003 | Average |
| 5 | Praanam | Mallikarjun | 2003 | Semi Hit |
| 6 | Kurumbu | Vishnuvardhan | 2003 | Flop |
| 7 | Maa Alludu Very Good | E.V.V. Satyanarayana | 2003 | Super Hit |
| 8 | Nenu | E. Sathibabu | 2004 | Flop |
| 9 | Nuvvante Naakishtam | E. Sathibabu | 2005 | Average |
| 10 | Danger | Krishna Vamsi | 2005 | Hit |
| 11 | Kithakithalu | E. V. V. Satyanarayana | 2006 | Super Hit |
| 12 | Roommates | Ravi C. Kumar | 2006 | Average |
| 13 | Gopi – Goda Meedha Pilli | Janardhana Maharshi | 2006 | Super Hit |
| 14 | Allare Allari | Muppalaneni Shiva | 2006 | Semi Hit |
| 15 | Athili Sattibabu LKG | EVV Satyanarayana | 2007 | Average |
| 16 | Pellaindi Kaani | Madhu Mahankali | 2007 | Flop |
| 17 | Seema Sastri | G.Nageswara Reddy | 2007 | Hit |
| 18 | Sundara Kanda | Bapu | 2008 | Hit |
| 19 | Vishaka Express | Mullapudi Vara | 2008 | Average |
| 20 | Pelli Kaani Prasad | Srinivasa Reddy | 2008 | Flop |
| 21 | Gamyam | Radhakrishna Jagarlamudi | 2008 | Hit |
| 22 | Bommana Brothers Chandana Sisters | Srinivasa Reddy | 2008 | Super Hit |
| 23 | Siddu from Sikakulam | Eashwar | 2008 | Flop |
| 24 | Blade Babji | Devi Prasad | 2008 | Hit |
| 25 | Dongala Bandi | Chimbu Deven | 2008 | Hit |
| 26 | Fitting Master | EVV Satyanarayana | 2009 | Average |
| 27 | Bendu Apparao R.M.P | EVV Satyanarayana | 2009 | Super Hit |
| 28 | Shambo Shiva Shambo | Samuthirakani | 2010 | Hit |
| 29 | Rambabu Gadi Pellam | D. Rama Naidu | 2010 | Flop |
| 30 | Aakasa Ramanna | G. Ashok | 2010 | Flop |
| 31 | Betting Bangaraju | E. Satti Babu | 2010 | Hit |
| 32 | Subhapradam | K. Viswanath | 2010 | Flop |
| 33 | Saradaga Kasepu | Vamsi | 2010 | Semi Hit |
| 34 | Kathi Kantha Rao | E. V. V. Satyanarayana | 2010 | Hit |
| 35 | Aha Naa Pellanta | Veerabhadram Chowdary | 2011 | Super Hit |
| 36 | Seema Tapakai | G. Nageswara Reddy | 2011 | Hit |
| 37 | Madatha Kaja | Seetaramaraju | 2011 | Average |
| 38 | Poraali | Samuthirakani | 2011 | Hit |
| 39 | Nuvva Nena | Narayana | 2012 | Disaster |
| 40 | Sudigadu | Bhimaneni Srinivasa Rao | 2012 | Super Hit |
| 41 | Yamudiki Mogudu | E. Satti Babu | 2012 | Hit |
| 42 | Action 3D | Anil Sunkara | 2013 | Flop |
| 43 | Kevvu Keka | Devi Prasad | 2013 | Semi Hit |
| 44 | Laddu Babu | Ravi Babu | 2014 | Average |
| 45 | Jump Jilani | E. Satti Babu | 2014 | Average |
| 46 | Brother of Bommali | Chinni Krishna | 2014 | Hit |
| 47 | Bandipotu | Mohan Krishna Indraganti | 2015 | Hit |
| 48 | James Bond | Sai Kishore Macha | 2015 | Semi Hit |
| 49 | Mama Manchu Alludu Kanchu | Srinivasa Reddy | 2015 | Flop |
| 50 | Party | Venkat Prabhu | 2016 | Semi Hit |
| 51 | Selfie Raja | G Eshwar Reddy, G Nageswara Reddy | 2016 | Super Hit |
| 52 | Intlo Deyyam Nakem Bhayam | G. Nageswara Reddy | 2016 | Flop |
| 53 | Meda Meeda Abbayi | G. Prajith | 2017 | Flop |
| 54 | Silly Fellows | Bheemaneni Srinivasa Rao | 2018 | Semi Hit |
| 55 | Maharshi | Vamsi Paidipally | 2019 | Hit |
| 56 | Bangaru Bullodu | Giri Palika | 2021 | Average |
| 57 | Naandhi | Vijay Kanakamedala | 2021 | Super Hit |
| 58 | Sabhaku Namaskaram | Not Declared | Not Released | Not Declared |
| 59 | Itlu Maredumilli Prajaneekam | Not Declared | Not Released | Not Declared |