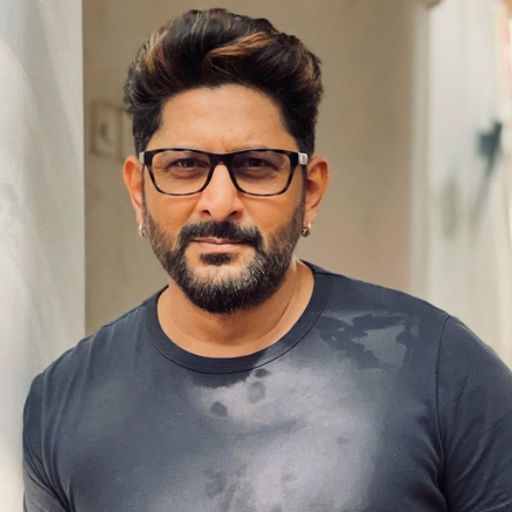 Check out Hit or Flop, blockbuster Arshad Warsi movies: Arshad Warsi is a well-known Bollywood actor, born on April 19, 1968, in Mumbai, India. He started his career as a choreographer before becoming an actor. He has acted in numerous successful films and is known for his comic roles in movies.
Warsi's first film was "Tere Mere Sapne" which was released in 1996, in which he played the lead role. However, his breakthrough performance was in the film "Munna Bhai M.B.B.S." which was released in 2003, where he played the role of "Circuit" and received critical acclaim for his performance.
Some of his notable movies include "Lage Raho Munna Bhai" (2006), "Dhamaal" (2007), "Ishqiya" (2010), "Jolly LLB" (2013), and "Golmaal Again" (2017). Warsi has also received several awards for his performances, including the Filmfare Award for Best Supporting Actor for his performance in "Munna Bhai M.B.B.S." and the Star Screen Award for Best Actor for his performance in "Jolly LLB." He is also a successful producer and has produced films like "Hum Tum Aur Ghost" (2010) and "Krazzy 4" (2008).
Arshad Warsi Biography
Name
Arshad Warsi
Date of Birth
April 19, 1968
Place of Birth
Mumbai, Maharashtra, India
Occupation
Actor, Producer
Years Active
1996 – present
Spouse
Maria Goretti (m. 1999)
Children
Zeke Warsi and Zene Zoe Warsi
Debut Film
Tere Mere Sapne (1996)
Famous Role
Circuit in Munna Bhai M.B.B.S. (2003)
Awards
Filmfare Award for Best Performance in a Comic Role for Munna
Bhai M.B.B.S., Screen Award for Best Comedian for Lage Raho Munna
Bhai, Zee Cine Award for Best Actor in a Comic Role for Lage Raho Munna Bhai
Notable Films
Munna Bhai M.B.B.S., Lage Raho Munna Bhai, Golmaal: Fun Unlimited,
Sehar, Jolly LLB, Ishqiya, Dedh Ishqiya, Kabul Express, Hulchul, Dhamaal,
Jolly LLB 2, Golmaal Returns, Golmaal 3, Irada, Munnabhai 3 (upcoming)
List of Arshad Warsi Hits And Flops Movies
| S.No | Movie Name | Director | Year | Verdict |
| --- | --- | --- | --- | --- |
| 1 | Tere Mere Sapne | Joy Augustine | 1996 | Hit |
| 2 | Betaabi | Rajesh Kumar Singh | 1997 | Flop |
| 3 | Mere Do Anmol Ratan | K. Ravi Shankar | 1998 | Disaster |
| 4 | Hero Hindustani | Aziz Sejawal | 1998 | Flop |
| 5 | Hogi Pyar Ki Jeet | P. Vasu | 1999 | Semi Hit |
| 6 | Trishakti | Madhur Bhandarkar | 1999 | Disaster |
| 7 | Ghaath | Akashdeep | 2000 | Disaster |
| 8 | Mujhe Meri Biwi Se Bachaao | Harry Baweja | 2001 | Disaster |
| 9 | Jaani Dushman – Ek Anokhi Kahani | Rajkumar Kohli | 2002 | Flop |
| 10 | Waisa Bhi Hota Hai Part II | Shashanka Ghosh | 2003 | Disaster |
| 11 | Munnabhai M.B.B.S. | Rajkumar Hirani | 2003 | Hit |
| 12 | Hulchul | Priyadarshan | 2004 | Hit |
| 13 | Kuchh Meetha Ho Jaye | Samar Khan | 2005 | Disaster |
| 14 | Maine Pyaar Kyun Kiya? | David Dhawan | 2005 | Semi Hit |
| 15 | Sehar | Kabeer Kaushik | 2005 | Flop |
| 16 | Salaam Namaste | Siddharth Anand | 2005 | Hit |
| 17 | Chocolate | Vivek Agnihotri | 2005 | Flop |
| 18 | Vaah! Life Ho Toh Aisi! | Mahesh Manjrekar | 2005 | Flop |
| 19 | Golmaal – Fun Unlimited | Rohit Shetty | 2006 | Hit |
| 20 | Anthony Kaun Hai? | Raj Kaushal | 2006 | Disaster |
| 21 | Lage Raho Munnabhai | Rajkumar Hirani | 2006 | Blockbuster |
| 22 | Kabul Express | Kabir Khan | 2006 | Flop |
| 23 | Dhamaal | Indra Kumar | 2007 | Semi Hit |
| 24 | Dhan Dhana Dhan Goal | Vivek Agnihotri | 2007 | Flop |
| 25 | Sunday | Rohit Shetty | 2008 | Flop |
| 26 | Krazzy 4 | Jaideep Sen | 2008 | Average |
| 27 | Mr. White Mr. Black | Deepak Shivdasani | 2008 | Disaster |
| 28 | Golmaal Returns | Rohit Shetty | 2008 | Hit |
| 29 | Kisse Pyaar Karoon | Ajay Chandhok | 2009 | Disaster |
| 30 | Ek Se Bure Do | Tariq Khan | 2009 | Disaster |
| 31 | Short Kut – The Con Is On | Neeraj Vora | 2009 | Disaster |
| 32 | Ishqiya | Abhishek Chaubey | 2010 | Semi Hit |
| 33 | Hum Tum Aur Ghost | Kabeer Kaushik | 2010 | Disaster |
| 34 | Golmaal 3 | Rohit Shetty | 2010 | Blockbuster |
| 35 | F.A.L.T.U | Remo D'Souza | 2011 | Average |
| 36 | Double Dhamaal | Indra Kumar | 2011 | Average |
| 37 | Ajab Gazabb Love | Sanjay Gadhvi | 2012 | Disaster |
| 38 | Zilla Ghaziabad | Anand Kumar | 2013 | Flop |
| 39 | Jolly LLB | Subhash Kapoor | 2013 | Hit |
| 40 | Rabba Main Kya Karoon | Amrit Sagar | 2013 | Disaster |
| 41 | Mr. Joe B. Carvalho | Samir Tewari | 2014 | Disaster |
| 42 | Dedh Ishqiya | Abhishek Chaubey | 2014 | Flop |
| 43 | Welcome 2 Karachi | Ashish R. Mohan | 2015 | Disaster |
| 44 | Guddu Rangeela | Subhash Kapoor | 2015 | Disaster |
| 45 | The Legend Of Michael Mishra | Manish Jha | 2016 | Disaster |
| 46 | Irada | Aparnaa Singh | 2017 | Disaster |
| 47 | Golmaal Again | Rohit Shetty | 2017 | Blockbuster |
| 48 | Bhaiaji Superhittt | Neerraj Pathak | 2018 | Disaster |
| 49 | Fraud Saiyaan | Sourabh Shrivastava | 2019 | Disaster |
| 50 | Total Dhamaal | Indra Kumar | 2019 | Hit |
| 51 | Pagalpanti | Anees Bazmee | 2019 | Disaster |
| 52 | Rokda | Ramesh Kotar | 2020 | Average |
| 53 | Munnabhai 3 | Rajkumar Hirani | 2020 | Hit |
| 54 | Namune | Umesh Shukla | 2022 | Not yet released |
| 55 | Jeetenge Hum | Sunil Bohra | 2001 | Average |