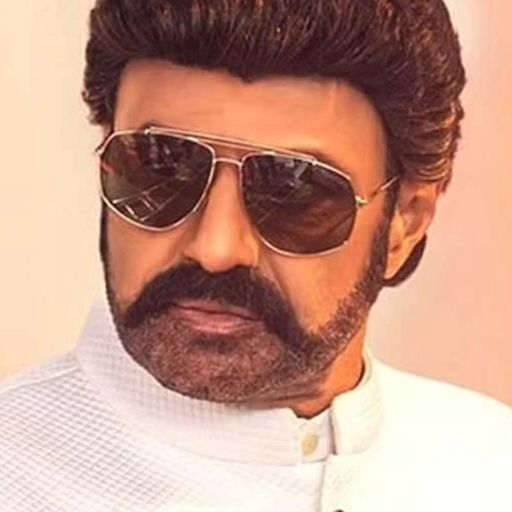 Check out Hit or Flop, blockbuster Balakrishna movies: Nandamuri Balakrishna is a renowned actor and politician in the Telugu film industry. He is the sixth son of legendary actor and politician N. T. Rama Rao. Balakrishna made his acting debut with the film "Tatamma Kala" in 1974, where he played a child artist role. His first lead role came in the 1984 film "Sahasame Jeevitham" directed by Vijaya Nirmala.
Balakrishna has acted in over 100 films in his career spanning more than three decades. Some of his notable films include "Mangamma Gari Manavadu", "Muddula Krishnayya", "Aditya 369", "Lorry Driver", "Nippu Ravva", "Legend" and many more.
Apart from acting, Balakrishna is also actively involved in politics. He is a member of the Telugu Desam Party and has been elected as a member of the Andhra Pradesh Legislative Assembly from the Hindupur constituency in 2014 and 2019.
He has received several awards and accolades for his performances, including two Nandi Awards for Best Actor. He is also the recipient of the prestigious Raghupathi Venkaiah Award, which is the highest honor given to individuals for their contribution to the Telugu film industry.
Balakrishna biography
| Full Name | Nandamuri Balakrishna |
| --- | --- |
| Date of Birth | June 10, 1960 |
| Place of Birth | Madras, Tamil Nadu, India |
| Father | N. T. Rama Rao |
| Mother | Basava Tarakam |
| Spouse | Vasundhara Devi (married in 1982) |
| Children | 3 (2 daughters and 1 son) |
| Debut Film | Punya Bhoomi (Telugu, 1984) |
| Occupation | Actor, Politician |
| Political Party | Telugu Desam Party (TDP) |
| Active Years | 1984 – Present |
| Total Films | 107 (as of 2021) |
| Awards | 2 Nandi Awards, 2 Filmfare Awards |
List of Balakrishna Hits and Flops Movies
| Sl.No. | Movie | Release Date | Director | Language | Verdict |
| --- | --- | --- | --- | --- | --- |
| 1 | Tatamma Kala | 30-Aug-74 | Dasari Narayana Rao | Telugu | Flop |
| 2 | Ram Raheem | 12-Dec-74 | B. Vittalacharya | Telugu | Flop |
| 3 | Annadammula Anubandham | 4-Jul-75 | S. D. Lal | Telugu | Hit |
| 4 | Vemulawada Bheemakavi | 8-Jan-76 | K. Bapaiah | Telugu | Flop |
| 5 | Daana Veera Soora Karna | 14-Jan-77 | N. T. Rama Rao | Telugu | Blockbuster |
| 6 | Akbar Salim Anarkali | 9-May-79 | N. T. Rama Rao | Telugu | Average |
| 7 | Sri Madvirata Parvam | 28-May-79 | N. T. Rama Rao | Telugu | Flop |
| 8 | Sri Tirupati Venkateswara Kalyanam | 28-Sep-79 | Bapu | Telugu | Semi Hit |
| 9 | Rowdy Ramudu Konte Krishnudu | 15-Aug-80 | K. Raghavendra Rao | Telugu | Average |
| 10 | Anuraga Devatha | 7-Jan-82 | K. Raghavendra Rao | Telugu | Semi Hit |
| 11 | Simham Navvindi | 3-Mar-83 | K. Raghavendra Rao | Telugu | Hit |
| 12 | Sahasame Jeevitham | 1-Jun-84 | Jandhyala | Telugu | Flop |
| 13 | Disco King | 7-Jun-84 | K. Bapaiah | Telugu | Flop |
| 14 | Janani Janmabhoomi | 27-Jul-84 | V. Madhusudhan Rao | Telugu | Flop |
| 15 | Palnati Puli | 31-Aug-84 | S. A. Chandrasekhar | Telugu | Flop |
| 16 | Mangammagari Manavadu | 7-Sep-84 | Kodi Ramakrishna | Telugu | Blockbuster |
| 17 | Shrimad Virat Veerabrahmendra Swami Charitra | 29-Nov-84 | N. T. Rama Rao | Telugu | Super Hit |
| 18 | Kathanayakudu | 14-Dec-84 | K. Raghavendra Rao | Telugu | Super Hit |
| 19 | Atmabhalam | 11-Jan-85 | A. Kodandarami Reddy | Telugu | Flop |
| 20 | Babai – Abbai | 5-Feb-85 | Jandhyala | Telugu | Average |
| 21 | Bharyabhartala Bhandam | 28-Mar-85 | A. Kodandarami Reddy | Telugu | Semi Hit |
| 22 | Bhale Thammudu | 27-Apr-85 | K. Raghavendra Rao | Telugu | Flop |
| 23 | Kattula Kondaiah | 11-Oct-85 | Relangi Narasimha Rao | Telugu | Flop |
| 24 | Pattabhishekam | 19-Dec-85 | K. Murali Mohana Rao | Telugu | Hit |
| 25 | Nippulanti Manishi | 7-Feb-86 | K. Raghavendra Rao | Telugu | Average |
| 26 | Muddula Krishnnayya | 28-Feb-86 | S. A. Chandrasekhar | Telugu | Blockbuster |
| 27 | Seetarama Kalyalam | 15-Apr-86 | M. S. Kodandarami Reddy | Telugu | Super Hit |
| 28 | Anasuyamma Gari Alludu | 2-Jul-86 | Vamsy | Telugu | Hit |
| 29 | Desoddarakudu | 7-Aug-86 | K. Raghavendra Rao | Telugu | Super Hit |
| 30 | Kaliyuga Krishnudu | 19-Sep-86 | K. Raghavendra Rao | Telugu | Hit |
| 31 | Apoorva Sahodarulu | 9-Oct-86 | Jandhyala | Telugu | Average |
| 32 | Bhargava Ramudu | 14-Jan-87 | K. Raghavendra Rao | Telugu | Average |
| 33 | Allari Krishnaiah | 26-Feb-87 | Mouli | Telugu | Flop |
| 34 | Sahasa Samrat | 13-Apr-87 | Kodi Ramakrishna | Telugu | Flop |
| 35 | President Gari Abbai | 12-May-87 | Tatineni Rama Rao | Telugu | Flop |
| 36 | Muvva Gopaludu | 19-May-87 | A. Kodandarami Reddy | Telugu | Hit |
| 37 | Ramu | 31-Jul-87 | Tatineni Rama Rao | Telugu | Super Hit |
| 38 | Bhanumati Gari Mogudu | 18-Nov-87 | Tatineni Rama Rao | Telugu | Flop |
| 39 | Inspector Pratap | 15-Jan-88 | K. Raghavendra Rao | Telugu | Hit |
| 40 | Donga Ramudu | 18-Feb-88 | A. Kodandarami Reddy | Telugu | Flop |
| 41 | Tiragabadda Telugubidda | 11-May-88 | Kodi Ramakrishna | Telugu | Flop |
| 42 | Bharatamlo Bala Chandrudu | 24-Jun-88 | Kodi Ramakrishna | Telugu | Flop |
| 43 | Ramudu Bheemudu | 17-Nov-88 | K. Raghavendra Rao | Telugu | Average |
| 44 | Raktabhishekam | 9-Dec-88 | A. Kodandarami Reddy | Telugu | Average |
| 45 | Bhale Donga | 10-Feb-89 | K. Raghavendra Rao | Telugu | Hit |
| 46 | Muddula Mavayya | 7-Apr-89 | K. Raghavendra Rao | Telugu | Blockbuster |
| 47 | Ashoka Chakravarthy | 29-Jun-89 | S. S. Ravichandra | Telugu | Flop |
| 48 | Bala Gopaludu | 13-Oct-89 | Kodi Ramakrishna | Telugu | Semi Hit |
| 49 | Prananiki Pranam | 12-Jan-90 | V. Madhusudhan Rao | Telugu | Flop |
| 50 | Nari Nari Naduma Murari | 25-Apr-90 | A. Kodandarami Reddy | Telugu | Super Hit |
| 51 | Muddula Menalludu | 7-Jul-90 | K. Raghavendra Rao | Telugu | Flop |
| 52 | Lorry Driver | 21-Dec-90 | B. Gopal | Telugu | Super Hit |
| 53 | Talli Tandrulu | 11-Feb-91 | Tatineni Rama Rao | Telugu | Hit |
| 54 | Dharmakshetram | 18-Feb-91 | A. Kodandarami Reddy | Telugu | Average |
| 55 | Brahmashri Vishwamitra | 19-Apr-91 | Dasari Narayana Rao | Telugu | Flop |
| 56 | Aditya 369 | 18-Jul-91 | Singeetam Srinivasa Rao | Telugu | Super Hit |
| 57 | Rowdy Inspector | 7-May-92 | B. Gopal | Telugu | Blockbuster |
| 58 | Aswamedham | 25-Dec-92 | K. Murali Mohana Rao | Telugu | Flop |
| 59 | Nippu Ravva | 3-Sep-93 | A. Kodandarami Reddy | Telugu | Semi Hit |
| 60 | Bangaru Bullodu | 3-Sep-93 | Ravi Raja Pinisetty | Telugu | Hit |
| 61 | Bhairava Dweepam | 14-Apr-94 | Singeetam Srinivasa Rao | Telugu | Super Hit |
| 62 | Gandeevam | 18-Aug-94 | Priyadarshan | Telugu | Flop |
| 63 | Bobbili Simham | 23-Sep-94 | K. Raghavendra Rao | Telugu | Hit |
| 64 | Top Hero | 9-Dec-94 | Kodi Ramakrishna | Telugu | Flop |
| 65 | Maatho Pettukoku | 28-Jul-95 | K. Ajay Kumar | Telugu | Flop |
| 66 | Vamsanikokkadu | 5-Jan-96 | Sarath | Telugu | Hit |
| 67 | Shri Krishnarjuna Vijayam | 15-May-96 | S. Gopal Reddy | Telugu | Flop |
| 68 | Peddannayya | 10-Jan-97 | Sarath | Telugu | Blockbuster |
| 69 | Muddula Mogudu | 25-Apr-97 | S. V. Krishna Reddy | Telugu | Flop |
| 70 | Devudu | 23-Oct-97 | B. Gopal | Telugu | Average |
| 71 | Yuvaratna Raana | 17-Apr-98 | S. Narayan | Kannada | Flop |
| 72 | Pavitra Prema | 4-Jun-98 | Muthyala Subbaiah | Telugu | Average |
| 73 | Samarasimha Reddy | 13-Jan-99 | B. Gopal | Telugu | Blockbuster |
| 74 | Sultan | 27-May-99 | Suresh Krishna | Telugu | Super Hit |
| 75 | Krishna Babu | 16-Sep-99 | S. V. Krishna Reddy | Telugu | Flop |
| 76 | Vamsoddarakudu | 14-Jan-00 | Sarath | Telugu | Flop |
| 77 | Goppinti Alludu | 21-Jul-00 | E. V. V. Satyanarayana | Telugu | Hit |
| 78 | Narasimha Naidu | 11-Jan-01 | B. Gopal | Telugu | Blockbuster |
| 79 | Bhalevadivi Basu | 15-Jun-01 | S. V. Krishna Reddy | Telugu | Flop |
| 80 | Seema Simham | 11-Jan-02 | G. Ram Prasad | Telugu | Average |
| 81 | Chennakesava Reddy | 25-Sep-02 | V.V. Vinayak | Telugu | Super Hit |
| 82 | Palnati Bramhanaidu | 5-Jun-03 | P. Vasu | Telugu | Flop |
| 83 | Lakshmi Narasimha | 14-Jan-04 | Jayanth C. Paranjee | Telugu | Hit |
| 84 | Vijayendra Varma | 15-Dec-04 | B. Gopal | Telugu | Flop |
| 85 | Veerabhadra | 29-Apr-05 | A. Kodandarami Reddy | Telugu | Flop |
| 86 | Allari Pidugu | 5-Oct-05 | Jayanth C. Paranjee | Telugu | Average |
| 87 | Maharadhi | 1-Feb-07 | P. Vasu | Telugu | Flop |
| 88 | Okka Magadu | 10-Jan-08 | Y. V. S. Chowdary | Telugu | Flop |
| 89 | Pandurangadu | 30-May-08 | K. Raghavendra Rao | Telugu | Flop |
| 90 | Mitrudu | 1-May-09 | Mahadev | Telugu | Flop |
| 91 | Simha | 30-Apr-10 | Boyapati Srinu | Telugu | Blockbuster |
| 92 | Parama Veera Chakra | 12-Jan-11 | Dasari Narayana Rao | Telugu | Flop |
| 93 | Sri Rama Rajyam | 17-Nov-11 | Bapu | Telugu | Average |
| 94 | Adhinayakudu | 1-Jun-12 | Paruchuri Murali | Telugu | Flop |
| 95 | Uu Kodathara? Ulikki Padathara? | 27-Jul-12 | Sekhar Raja | Telugu | Average |
| 96 | Srimannarayana | 30-Aug-12 | Ravi Chavali | Telugu | Average |
| 97 | Legend | 28-Mar-14 | Boyapati Srinu | Telugu | Blockbuster |
| 98 | Lion | 14-May-15 | Satyadev Janga | Telugu | Flop |
| 99 | Dictator | 14-Jan-16 | Sriwass | Telugu | Hit |
| 100 | Gautamiputra Satakarni | 12-Jan-17 | Krish Jagarlamudi | Telugu | Hit |
| 101 | Paisa Vasool | 1-Sep-17 | Puri Jagannadh | Telugu | Flop |
| 102 | Jai Simha | 12-Jan-18 | K. S. Ravikumar | Telugu | Hit |
| 103 | N.T.R: Kathanayakudu | 9-Jan-19 | Krish Jagarlamudi | Telugu | Flop |
| 104 | N.T.R: Mahanayakudu | 22-Feb-19 | Krish Jagarlamudi | Telugu | Flop |
| 105 | Ruler | 20-Dec-19 | K. S. Ravikumar | Telugu | Flop |
| 106 | Akhanda | 2-Dec-21 | Boyapati Srinu | Telugu | Super Hit |
| 107 | Veera Simha Reddy | 12-Jan-2023 | Gopichand Malineni | Telugu | TBA |