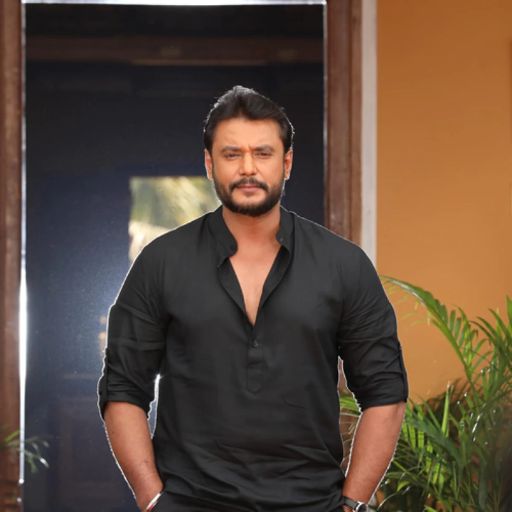 Check out Hit or Flop, blockbuster Darshan movies: Darshan is a popular Indian film actor and producer who primarily works in the Kannada film industry. He made his acting debut in 2001 with the film "Majestic", directed by PN Sathya.
Since his debut, Darshan has acted in several successful Kannada films and has established himself as a prominent actor in the industry. Some of his notable films include "Kariya", "Kalasipalya", "Gaja", "Sangolli Rayanna", and "Krantiveera Sangolli Rayanna", among others. He has won several awards and accolades for his performances, including four Filmfare Awards for Best Actor in Kannada.
In addition to acting, Darshan has also produced a few Kannada films, including "Jothe Jotheyali", "Bulbul", and "Ambareesha". He is also actively involved in philanthropic activities and has established the Darshan Foundation, which works towards the betterment of underprivileged children and their education. Darshan's journey in the Kannada film industry has been remarkable, and he continues to entertain and inspire his fans with his performances on the big screen.
Darshan biography
| Full Name | Darshan Thoogudeepa Srinivas |
| --- | --- |
| Date of Birth | February 16, 1977 |
| Place of Birth | Ponnampet, Kodagu, Karnataka, India |
| Profession | Actor, Film Producer, Screenwriter |
| First Film | Majestic (2002) |
| Awards | 3 Karnataka State Film Awards, 2 Filmfare Awards South |
| Wife | Vijayalakshmi |
| Children | Vineesh, Vivaan |
| Father | Thoogudeepa Srinivas |
| Mother | Meena |
List of Darshan Hits and Flops Movies
| S.No | movie Name | Release Date | Director | Language | Verdict |
| --- | --- | --- | --- | --- | --- |
| 1 | Majestic | 2002 | PN Sathya | Kannada | Hit |
| 2 | Ninagoskara | 2002 | TN Nagesh | Kannada | Flop |
| 3 | Kitty | 2002 | Ramesh Aravind | Kannada | Hit |
| 4 | Kariya | 2003 | Prem | Kannada | Blockbuster |
| 5 | Laali Haadu | 2003 | H Vasu | Kannada | Superhit |
| 6 | Neenandre Ishta | 2003 | Prakash | Kannada | Hit |
| 7 | Kushalave Kshemave | 2003 | S Mahendar | Kannada | Superhit |
| 8 | Namma Preethiya Ramu | 2003 | Sunil Kumar Desai | Kannada | Hit |
| 9 | Lankesh Patrike | 2003 | Indrajit Lankesh | Kannada | Above Average |
| 10 | Annavru | 2003 | Kavitha Lankesh | Kannada | Superhit |
| 11 | Dharma | 2004 | Ramesh | Kannada | Average |
| 12 | Darshan | 2004 | Dinakar Toogudeep | Kannada | Hit |
| 13 | Bhagawan | 2004 | H Vasu | Kannada | Blockbuster |
| 14 | Kalasipalya | 2004 | Om Prakash Rao | Kannada | Hit |
| 15 | Sardara | 2004 | Sadhu Kokila | Kannada | Flop |
| 16 | Ayya | 2005 | Om Prakash Rao | Kannada | Hit |
| 17 | Shastri | 2005 | P.N. Sathya | Kannada | Average |
| 18 | Swamy | 2005 | Shivamani | Kannada | Above Average |
| 19 | Mandya | 2006 | N Omprakash Rao | Kannada | Hit |
| 20 | Suntaragaali | 2006 | Sadhu Kokila | Kannada | Average |
| 21 | Dattha | 2006 | Naganna | Kannada | Hit |
| 22 | Thangigagi | 2006 | Om Sai Prakash | Kannada | Average |
| 23 | Bhoopathi | 2007 | Om Prakash Rao | Kannada | Hit |
| 24 | Snehana Preethina | 2007 | Vijayalakshmi Singh | Kannada | Superhit |
| 25 | Anatharu | 2007 | Sadhu Kokila | Kannada | Hit |
| 26 | Ee Bandhana | 2007 | Teshi Venkatesh | Kannada | Super Hit |
| 27 | Gaja | 2008 | K. Madesh | Kannada | Hit |
| 28 | Indra | 2008 | H. Vasu | Kannada | Hit |
| 29 | Arjun | 2008 | Ravi Chakravarthy | Kannada | Super Hit |
| 30 | Navagraha | 2008 | Dinakar Toogudeepa | Kannada | Blockbuster |
| 31 | Yodha | 2009 | Om Prakash Rao | Kannada | Average |
| 32 | Abhay | 2009 | Mahesh Babu | Kannada | Flop |
| 33 | Porki | 2010 | Prabhu Deva | Kannada | Blockbuster |
| 34 | Shourya | 2010 | Sadhu Kokila | Kannada | Average |
| 35 | Boss | 2011 | Ramesh | Kannada | Hit |
| 36 | Prince | 2011 | Om Prakash Rao | Kannada | Hit |
| 37 | Saarathi | 2011 | Dinakar Toogudeepa | Kannada | Blockbuster |
| 38 | Chingari | 2012 | Harsha | Kannada | Blockbuster |
| 39 | Sangolli Rayanna | 2012 | Naganna | Kannada | Blockbuster |
| 40 | Bulbul | 2013 | MD Sridhar | Kannada | Super Hit |
| 41 | Brindavana | 2013 | Madesh | Kannada | Hit |
| 42 | Ambareesha | 2014 | Mahesh Sukhadhare | Kannada | Hit |
| 43 | Mr. Airavata | 2015 | AP Arjun | Kannada | Average |
| 44 | Viraat | 2016 | H. Vasu | Kannada | Average |
| 45 | Jaggu Dada | 2016 | Raghavendra Hegde | Kannada | Hit |
| 46 | Chakravarthy | 2017 | Chintan A V | Kannada | Blockbuster |
| 47 | Tarak | 2017 | Prakash | Kannada | Hit |
| 48 | Yajamana | 2019 | V. Harikrishna | Kannada | Blockbuster |
| 49 | Kurukshetra | 2019 | Naganna | Kannada | Blockbuster |
| 50 | Odeya | 2019 | M. D. Shridhar | Kannada | Average |
| 51 | Roberrt | 2021 | Tharun Kishore Singh | Kannada | Blockbuster |