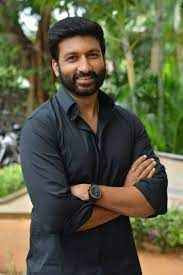 Check out Hit or Flop, blockbuster Gopichand movies: Gopichand is a popular actor in the Telugu film industry, also known as Tollywood. He made his debut in the Telugu film industry in 2001 with the film "Tholi Valapu". However, the film failed at the box office. After that, he acted in several films, but none of them became a hit. His breakthrough came in 2004 with the film "Yagnam," directed by AS Ravi Kumar Chowdary. The movie was a commercial success, and Gopichand's performance was appreciated by both the audience and the critics.
After the success of "Yagnam," Gopichand acted in several hit movies such as "Andhrudu," "Ranam," "Lakshyam," and "Shankar Dada Zindabad." In "Lakshyam," he played the role of a terrorist, which was a turning point in his career. His performance in the film was widely appreciated, and he received many awards and nominations for his acting.
Gopichand is known for his action roles and has carved a niche for himself in the Telugu film industry. He has acted in over 25 films in a career spanning over two decades. Some of his notable films include "Souryam," "Loukyam," "Oxygen," "Pantham," and "Chanakya." In his personal life, Gopichand got married to Reshma in 2012, who is the niece of Telugu actor Meka Srikanth. The couple has a son named Virat Krishna.
Overall, Gopichand has had a successful career in the Telugu film industry and has established himself as a versatile actor who can portray various roles. His journey in the cinema industry is an inspiration for aspiring actors who want to make it big in Tollywood.
Gopichand biography
| Name | Gopichand |
| --- | --- |
| Date Of Birth | June 12, 1979 |
| Place Of Birth | Hyderabad, India |
| Nationality | Indian |
| Occupation | Actor |
| Years Active | 2001-Present |
| Father | T. Krishna |
| Mother | Indira Devi |
| Siblings | T. Premchand (Brother) |
| Wife | Reshma |
| Children | Virat Krishna (Son) |
| S.NO | Movie | Director | Release Year | Verdict |
| --- | --- | --- | --- | --- |
| 1 | Tholi Valapu | Muthyala Subbaiah | 2001 | Average |
| 2 | Jayam | Teja | 2002 | Super Hit |
| 3 | Nijam | Teja | 2003 | Average |
| 4 | Jayam | M. Raja | 2003 | Hit |
| 5 | Varsham | Sobhan | 2004 | Blockbuster |
| 6 | Yagnam | A. S. Ravi Kumar Chowdary | 2004 | Super Hit |
| 7 | Andhrudu | Paruchuri Murali | 2005 | Average |
| 8 | Ranam | Amma Rajasekhar | 2006 | Super Hit |
| 9 | Raraju | V. Samudra | 2006 | Flop |
| 10 | Okkadunnadu | Chandra Sekhar Yeleti | 2007 | Average |
| 11 | Lakshyam | Srivas | 2007 | Hit |
| 12 | Ontari | B. V. Ramana | 2008 | Flop |
| 13 | Souryam | Siva | 2008 | Hit |
| 14 | Sankham | Siva | 2009 | Flop |
| 15 | Golimaar | Puri Jagannadh | 2010 | Average |
| 16 | Wanted | B. V. S. Ravi | 2011 | Flop |
| 17 | Mogudu | Krishna Vamsi | 2011 | Disaster |
| 18 | Sahasam | Chandra Sekhar Yeleti | 2013 | Above Average |
| 19 | Loukyam | Sriwass | 2014 | Hit |
| 20 | Jil | Radha Krishna Kumar | 2015 | Above Average |
| 21 | Soukhyam | A. S. Ravi Kumar Chowdary | 2015 | Flop |
| 22 | Goutham Nanda | Sampath Nandi | 2017 | Average |
| 23 | Oxygen | Jyothi Krishna | 2017 | Flop |
| 24 | Pantham | K. Chakravarthy Reddy | 2018 | Flop |
| 25 | Chanakya | Thiru | 2019 | Disaster |
| 26 | Seetimaarr | Sampath Nandi | 2021 | Average |
| 27 | Aaradugula Bullet | B. Gopal | 2021 | Disaster |
| 28 | Pakka Commercial | Maruthi | 2022 | TBA |