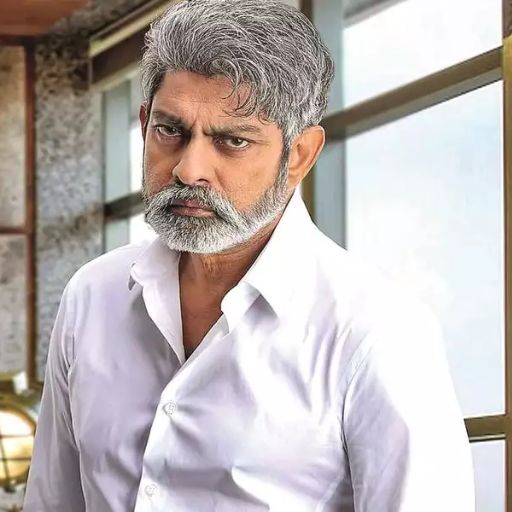 Check out Hit or Flop, & blockbuster movies of Jagapathi Babu: Jagapathi Babu is a prominent Telugu film actor who has appeared in over 130 films throughout his career. He was born on February 12, 1962, in Machilipatnam, Andhra Pradesh, India. He is the son of famous producer-director V. B. Rajendra Prasad.
Jagapathi Babu made his debut in the Telugu film industry with the movie "Simha Swapnam" in 1989. He played a lead role in the film and received critical acclaim for his performance. However, his breakthrough role came in the 1990 film "Peddarikam" directed by A. Mohan Gandhi. His performance as the male lead earned him his first Nandi Award for Best Actor.
Over the years, Jagapathi Babu has acted in a variety of roles and established himself as a versatile actor in the Telugu film industry. He has played both negative and positive characters with equal ease and has delivered outstanding performances in films like "Gaayam", "Subhakankshalu", "Antahpuram", "Kshemanga Velli Labhanga Randi", "Lakshyam", and many others.
In the early 2000s, Jagapathi Babu started to experiment with his roles and began to take up character roles in addition to lead roles. This move paid off, and he gained immense popularity for his supporting roles in films like "Athanokkade", "Manoharam", "Nannaku Prematho", and "Aravinda Sametha Veera Raghava". In recent years, Jagapathi Babu has also acted in other language films, including Tamil, Kannada, and Hindi. He has also worked as a television host and judge on various reality shows.
Overall, Jagapathi Babu's journey in the cinema industry has been an inspiring one. With his talent, hard work, and versatility, he has become one of the most sought-after actors in the Telugu film industry.
Jagapathi Babu Biography
Name
Jagapathi Babu
Date of Birth
February 12, 1962
Place of Birth
Machilipatnam, Andhra Pradesh, India
Father
V. B. Rajendra Prasad
Debut Film
"Simha Swapnam" (1989)
Breakthrough Film
"Peddarikam" (1990)
Awards
Nandi Award for Best Actor for "Peddarikam"
Notable Films
"Gaayam", "Subhakankshalu", "Antahpuram", "Kshemanga Velli
Labhanga Randi", "Lakshyam", "Athanokkade", "Manoharam",
"Nannaku Prematho", "Aravinda Sametha Veera Raghava"
Other Language Films
Tamil, Kannada, Hindi
Other Endeavors
Television hosting and judging reality shows
Total Films
Over 130 films
List of Jagapathi Babu Hits and Flops Movies
| S.No | Released Year | Movie Name | Director | Verdict |
| --- | --- | --- | --- | --- |
| 1 | 1974 | Manchi Manushulu | V. Madhusudhan Rao | Flop |
| 2 | 1989 | Simha Swapnam | V. Madhusudhan Rao | Hit |
| 3 | 1989 | Maavoori Magaadu | Kodi Ramakrishna | Super-Hit |
| 4 | 1989 | Adavilo Abhimanyudu | Kodi Ramakrishna | Average |
| 5 | 1990 | Chinnari Muddula Papa | Relangi Narasimha Rao | Hit |
| 6 | 1991 | Pandirimancham | Relangi Narasimha Rao | Hit |
| 7 | 1991 | Parishkaram | Kodi Ramakrishna | Average |
| 8 | 1991 | Jagannatakam | Sarath | Disaster |
| 9 | 1992 | Sahasam | S. V. Krishna Reddy | Flop |
| 10 | 1992 | Asadhyulu | Kodi Ramakrishna | Average |
| 11 | 1992 | Peddarikam | A. Mohan Gandhi | Hit |
| 12 | 1993 | Raguluthunna Bharatham | K. Raghavendra Rao | Flop |
| 13 | 1993 | Mother India | B. Subba Rao | Blockbuster |
| 14 | 1993 | Balaramakrishnulu | Kodi Ramakrishna | Flop |
| 15 | 1993 | Aashayam | S. V. Krishna Reddy | Average |
| 16 | 1994 | Pillalu Diddina Kapuram | B. V. Prasad | Hit |
| 17 | 1994 | Aadarsham | Kodi Ramakrishna | Flop |
| 18 | 1994 | Gaayam | Ram Gopal Varma | Flop |
| 19 | 1994 | Bhale Pellam | K. Raghavendra Rao | Super-Hit |
| 20 | 1994 | Allari Premikudu | K. Raghavendra Rao | Hit |
| 21 | 1990 | Jailor Gari Abbai | S. V. Krishna Reddy | Flop |
| 22 | 1994 | Subhalagnam | S. V. Krishna Reddy | Average |
| 23 | 1994 | Theerpu | B. Gopal | Super-Hit |
| 24 | 1995 | Chilakapachcha Kaapuram | E. V. V. Satyanarayana | Average |
| 25 | 1995 | Bhale Bullodu | K. Raghavendra Rao | Hit |
| 26 | 1995 | Sankalpam | A. M. Rathnam | Hit |
| 27 | 1995 | Money Money | Siva Nageswara Rao | Average |
| 28 | 1995 | Aayanaki Iddaru | E. V. V. Satyanarayana | Flop |
| 29 | 1995 | Shubhamastu | S. V. Krishna Reddy | Average |
| 30 | 1996 | Srikaram | K. Raghavendra Rao | Hit |
| 31 | 1996 | Maa Aavida Collector | Jayanth C. Paranjee | Hit |
| 32 | 1996 | Maavichiguru | S. V. Krishna Reddy | Flop |
| 33 | 1996 | Jabilamma Pelli | Kodi Ramakrishna | Super-Hit |
| 34 | 1997 | Subhakankshalu | K. Raghavendra Rao | Super-Hit |
| 35 | 1997 | Chilakkottudu | E. V. V. Satyanarayana | Average |
| 36 | 1997 | Pelli Pandiri | Kodi Ramakrishna | Average |
| 37 | 1997 | Priyaragalu | A. M. Rathnam | Flop |
| 38 | 1997 | Oka Chinna Maata | Muthyala Subbaiah | Average |
| 39 | 1997 | Dongata | Kodi Ramakrishna | Average |
| 40 | 1998 | Maavidaakulu | S. V. Krishna Reddy | Average |
| 41 | 1998 | Pelli Kanuka | K. Raghavendra Rao | Hit |
| 42 | 1998 | Pelli Peetalu | Kodi Ramakrishna | Average |
| 43 | 1999 | Antahpuram | Krishna Vamsi | Super-Hit |
| 44 | 1999 | Srimathi Vellostha | Srinivasa Murthy | Average |
| 45 | 1999 | Aahaa..! | S. V. Krishna Reddy | Hit |
| 46 | 1999 | Manasulo Maata | SV Krishna Reddy | Average |
| 47 | 1999 | Alludugaaru Vachcharu | Ravi Raja Pinisetty | Flop |
| 48 | 1999 | Ravoyi Chandamama | Jayanth C Paranjee | Average |
| 49 | 1999 | Samudram | K. Raghavendra Rao | Hit |
| 50 | 2000 | Manoharam | SV Krishna Reddy | Hit |
| 51 | 2000 | Sardukupodaam Randi | S.V. Krishna Reddy | Hit |
| 52 | 2000 | Choosoddaam Randi | Muppalaneni Shiva | Average |
| 53 | 2000 | Moodu Mukkalata | S.V. Krishna Reddy | Hit |
| 54 | 2001 | Bachi | Puri Jagannadh | Disaster |
| 55 | 2001 | Budget Padmanabham | E. V. V. Satyanarayana | Average |
| 56 | 2001 | Family Circus | Teja | Average |
| 57 | 2001 | Naalo Unna Prema | B. V. Ramana | Flop |
| 58 | 2001 | Hanuman Junction | M. Raja Mouli | Hit |
| 59 | 2002 | Siva Rama Raju | Suresh Verma | Below Average |
| 60 | 2002 | Sandade Sandadi | Muppalaneni Shiva | Super Hit |
| 61 | 2003 | Kabadi Kabadi | Prabhakar | Hit |
| 62 | 2003 | Dham | R. R. Shinde | Flop |
| 63 | 2004 | Athade Oka Sainyam | Surender Reddy | Flop |
| 64 | 2005 | Kushi Kushiga | G. Ram Prasad | Average |
| 65 | 2005 | Pedababu | K. Ravi Varma | Semi Hit |
| 66 | 2005 | Anukokunda Oka Roju | Chandra Sekhar Yeleti | Semi Hit |
| 67 | 2005 | Pandem | Devi Prasad | Flop |
| 68 | 2005 | Jagapati | Sarath | Flop |
| 69 | 2005 | That Is Pandu | T. Prabhakar | Average |
| 70 | 2006 | Samanyudu | R. P. Patnaik | Flop |
| 71 | 2006 | Brahmastram | Srinivas Reddy | Below Average |
| 72 | 2006 | Gopi – Goda Meedha Pilli | Janardhana Maharshi | Flop |
| 73 | 2006 | Pellaina Kothalo | Madan | Semi Hit |
| 74 | 2007 | Lakshyam | Srivas | Hit |
| 75 | 2008 | Swagatam | Dasarath | Average |
| 76 | 2008 | Nagaram | C. C. Srinivas | Flop |
| 77 | 2008 | Bhale Dongalu | Jonnalagadda Srinivasa Rao | Flop |
| 78 | 2008 | Kathanayakudu | P. Vasu | Flop |
| 79 | 2008 | Homam | J. D. Chakravarthy | Disaster |
| 80 | 2008 | Raksha | Vamsi Krishna Akella | Flop |
| 81 | 2009 | Siddham | J. D. Chakravarthy | Flop |
| 82 | 2009 | Adhineta | V. Samudra | Flop |
| 83 | 2009 | Bangaru Babu | Jonnalagadda Srinivasa Rao | Flop |
| 84 | 2009 | Ninnu Kalisaka | Siva Nageswara Rao | Flop |
| 85 | 2009 | Pravarakhyudu | Madan | Flop |
| 86 | 2010 | Maa Nanna Chiranjeevi | S. P. Rajkumar | Flop |
| 87 | 2010 | Sadhyam | Karthikeya Gopalakrishna | Flop |
| 88 | 2010 | Gaayam 2 | Praveen Sri | Semi Hit |
| 89 | 2011 | Jai Bolo Telangana | N. Shankar | Hit |
| 90 | 2011 | Chattam | P.A. Arun Prasad | Flop |
| 91 | 2011 | Nagaram Nidrapotunna Vela | Prem Raj | Flop |
| 92 | 2011 | Key | Nagendra Prasad | Below Average |
| 93 | 2011 | Kshetram | T.Venu Gopal | Flop |
| 94 | 2012 | Nandeeswarudu | Sreevas | Flop |
| 95 | 2012 | Six | Srikanth Lingaad | Flop |
| 96 | 2013 | Operation Duryodhana 2 | Nandam Harishchandra Rao | Average |
| 97 | 2014 | Legend | Boyapati Srinu | Blockbuster |
| 98 | 2014 | April Fool | Krishnaswamy Srikanth | Flop |
| 99 | 2014 | Ra Ra… Krishnayya | Mahesh P | Below Average |
| 100 | 2014 | Current Theega | Nageswara Reddy | Average |
| 101 | 2014 | Pilla Nuvvu Leni Jeevitam | A.S. Ravi Kumar Chowdary | Hit |
| 102 | 2014 | O Manishi Katha | Radha Swamy Veenapani | Below Average |
| 103 | 2015 | Srimanthudu | Koratala Siva | Blockbuster |
| 104 | 2015 | Hitudu | K.V. Anand | Flop |
| 105 | 2016 | Nannaku Prematho | Sukumar | Hit |
| 106 | 2016 | Attack | Ram Gopal Varma | Average |
| 107 | 2016 | Ism | Puri Jagannadh | Average |
| 108 | 2017 | Om Namo Venkatesaya | K. Raghavendra Rao | Hit |
| 109 | 2017 | Winner | Gopichand Malineni | Disaster |
| 110 | 2017 | Rarandoi Veduka Chudham | Kalyan Krishna Kurasala | Hit |
| 111 | 2017 | Patel S. I. R. | Vasu Parimi | Flop |
| 112 | 2017 | Jaya Janaki Nayaka | Boyapati Srinu | Flop |
| 113 | 2017 | Oxygen | A. M. Jyothi Krishna | Flop |
| 114 | 2017 | Hello! | Vikram Kumar | Disaster |
| 115 | 2018 | Rangasthalam | Sukumar | Blockbuster |
| 116 | 2018 | Nela Ticket | Kalyan Krishna Kurasala | Disaster |
| 117 | 2018 | Gangstars | Manoj Kumar R. | Average |
| 118 | 2018 | Saakshyam | Sriwass | Disaster |
| 119 | 2018 | Goodachari | Sashi Kiran Tikka | Blockbuster |
| 120 | 2018 | Aatagallu | Paruchuri Murali | Flop |
| 121 | 2018 | Aravinda Sametha Veera Raghava | Trivikram Srinivas | Blockbuster |
| 122 | 2019 | Yatra | Mahi V. Raghav | Above Average |
| 123 | 2019 | Maharshi | Vamsi Paidipally | Blockbuster |
| 124 | 2019 | Oh! Baby | B. V. Nandini Reddy | Blockbuster |
| 125 | 2019 | Sye Raa Narasimha Reddy | Surender Reddy | Average |
| 126 | 2020 | Miss India | Narendra Nath | Average |
| 127 | 2021 | FCUK: Father Chitti Umaa Karthik | Vidyasagar Raju | Disaster |
| 128 | 2021 | Pitta Kathalu | Nag Ashwin, Tharun Bhascker, Nandini Reddy, Sankalp Reddy | Average |
| 129 | 2021 | Tuck Jagadish | Shiva Nirvana | Average |
| 130 | 2021 | Republic | Deva Katta | Average |
| 131 | 2021 | Good Luck Sakhi | Nagesh Kukunoor | Flop |
| 132 | 2021 | Ghani | Kiran Korrapati | Average |
| 133 | 2021 | Pushpa | Sukumar | Blockbuster |
| 134 | 2021 | Maha Samudram | Ajay Bhupathi | Flop |
| 135 | 2022 | Lakshya | Dheerendra Santhossh Jagarlapudi | Flop |