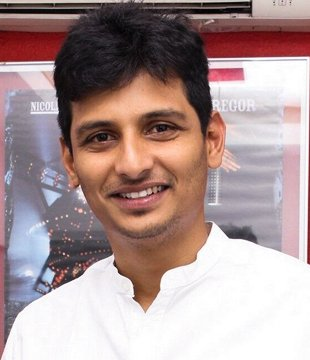 Check out Hit or Flop, & blockbuster movies of Jiiva: Jiiva is a popular Indian film actor who predominantly works in the Tamil film industry. He comes from a family with a strong background in the film industry, as his father is a film producer and his brother is also an actor.
Jiiva made his acting debut in the Tamil film industry with the film "Aasai Aasaiyai" in 2003, directed by Ravi Mariya. However, his breakthrough came in 2007 with the critically acclaimed film "Katradhu Tamil," directed by Ram. He received widespread recognition and critical acclaim for his performance in the film, which earned him several awards and nominations.
Over the years, Jiiva has established himself as a versatile actor and has appeared in a variety of roles, including romantic comedies, action films, and drama. Some of his popular films include "Ee," "Raam," "Siva Manasula Sakthi," "Ko," "Endrendrum Punnagai," and "Kavalai Vendam." Jiiva has also won several awards for his performances, including the Filmfare Award for Best Actor – Tamil for his role in "Raam." He has also been nominated for several awards for his work in various films.
Apart from acting, Jiiva has also been involved in various social causes and has actively participated in philanthropic work. He is also a trained Carnatic music vocalist and has performed in various music concerts. Overall, Jiiva has had a successful career in the Tamil film industry and has gained a reputation as a talented actor. He continues to act in films and has several upcoming projects in the pipeline.
Jiiva Biography
| Birth Name | Amar Choudary |
| --- | --- |
| Stage Name | Jiiva |
| Date of Birth | January 4, 1984 |
| Place of Birth | Chennai, Tamil Nadu, India |
| Occupation | Actor, Film Producer |
| Years Active | 1998 – Present |
| Spouse | Supriya |
| Children | Sparsh |
| Notable Films | Raam, E, Ko, Neethaane En Ponvasantham, Thirunaal, Kalathil Santhippom, Gypsy |
List of Jiiva Hits and Flops Movies
| S.No | Release Year | Movie Name | Director | Verdict |
| --- | --- | --- | --- | --- |
| 1 | 2003 | Aasai Aasaiyai | Ravi Mariya | Flop |
| 2 | 2003 | Thithikudhe | Brinda Sarathy | Flop |
| 3 | 2005 | Raam | Ameer Sultan | Super Hit |
| 4 | 2006 | Dishyum | Sasi | Average |
| 5 | 2006 | Keerthi Chakra | Major Ravi | Super Hit |
| 6 | 2006 | E | S. P. Jananathan | Hit |
| 7 | 2007 | Pori | Subramaniam Siva | Average |
| 8 | 2007 | Kattradhu Thamizh | Ram | Utter Flop |
| 9 | 2007 | Rameswaram | S. Selvam | Flop |
| 10 | 2008 | Thenavattu | V. V. Kathir | Utter Flop |
| 11 | 2009 | Siva Manasula Sakthi | Rajesh | Super Hit |
| 12 | 2010 | Kacheri Arambam | Thiraivannan | Flop |
| 13 | 2011 | Singam Puli | Sai Ramani | Flop |
| 14 | 2011 | Ko | K. V. Anand | Super Hit |
| 15 | 2011 | Rowthiram | Gokul | Utter Flop |
| 16 | 2011 | Vandhaan Vendraan | R. Kannan | Utter Flop |
| 17 | 2012 | Nanban | S. Shankar | Super Hit |
| 18 | 2012 | Mugamoodi | Mysskin | Average |
| 19 | 2012 | Neethaane En Ponvasantham | Gautham Menon | Hit |
| 20 | 2012 | Yeto Vellipoyindhi Manasu | Gautham Menon | Super Hit |
| 21 | 2013 | David | Bejoy Nambiar | Utter Flop |
| 22 | 2013 | Endrendrum Punnagai | I. Ahmed | Hit |
| 23 | 2014 | Yaan | Ravi K. Chandran | Utter Flop |
| 24 | 2016 | Pokkiri Raja | Ramprakash Rayappa | Utter Flop |
| 25 | 2016 | Thirunaal | P. S. Ramnath | Utter Flop |
| 26 | 2016 | Kadavul Irukaan Kumaru | M. Rajesh | Utter Flop |
| 27 | 2016 | Kavalai Vendam | Deekay | Flop |
| 28 | 2017 | Sangili Bungili Kadhava Thorae | Ike | Average |
| 29 | 2018 | Kalakalappu 2 | Sundar C | Average |
| 30 | 2019 | Kee | Kalees | Completed |
| 31 | 2019 | Gorilla | Don Sandy | Completed |
| 32 | 2019 | Gypsy | Raju Murugan | Completed |
| 33 | 2019 | Seeru | Rathina Shiva | Filming |
| 34 | 2020 | 83 | Kabir Khan | Pre Production |