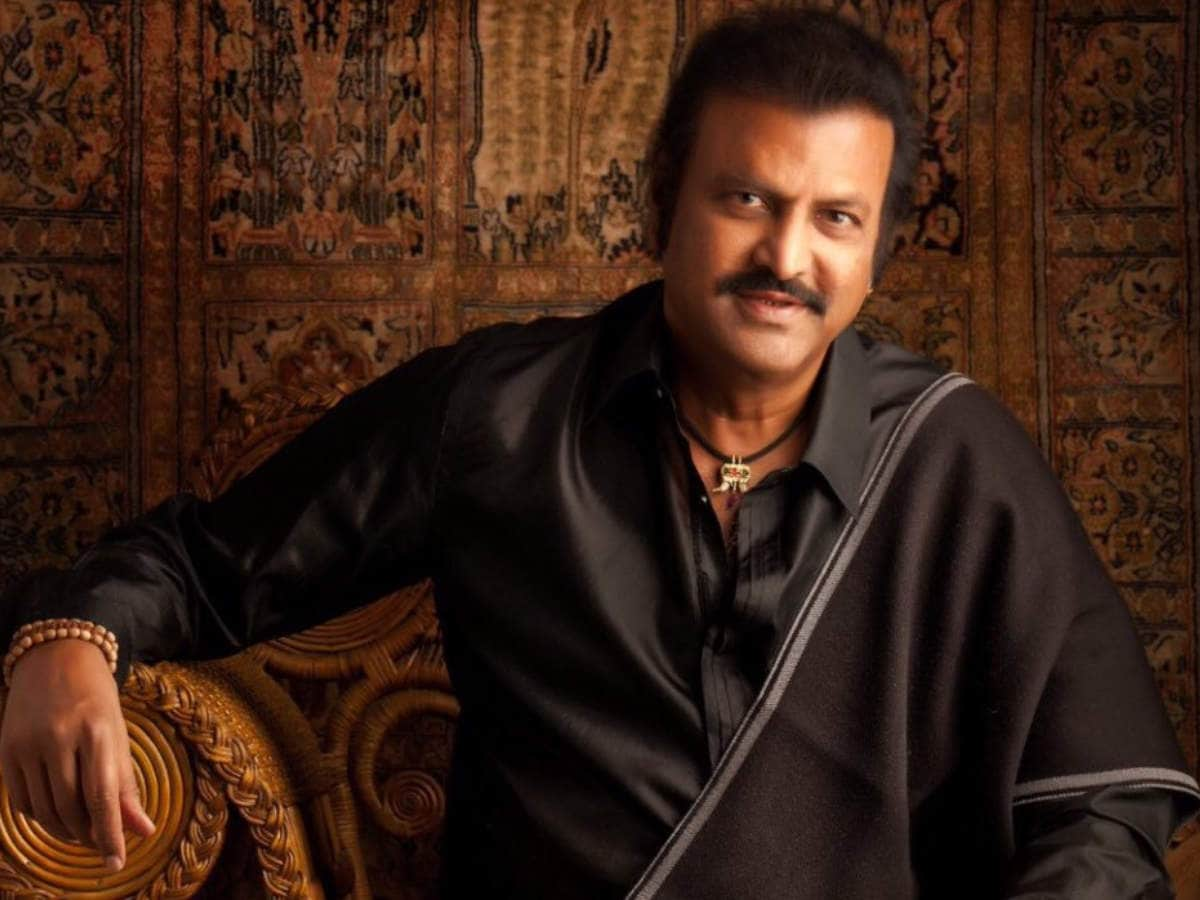 Check out Hit or Flop, blockbuster Mohan Babu movies: Mohan Babu is a veteran Indian film actor, director, and producer, who predominantly works in Telugu cinema. He made his acting debut in 1975 with the film "Swargam Narakam" directed by Dasari Narayana Rao.
Mohan Babu started his career as a supporting actor and gradually rose to fame with his impressive performances. He acted in several hit films like "Kodama Simham," "Rowdy Gari Pellam," "Allari Mogudu," and "Pedarayudu," which cemented his position as one of the leading actors of Telugu cinema. He is also known for his roles in mythological films like "Sri Ramulayya" and "Annamayya," where he played the lead roles of Lord Rama and Lord Venkateswara, respectively.
Apart from acting, Mohan Babu also directed and produced several films under his production banner, Sree Lakshmi Prasanna Pictures. Some of the notable films produced under his banner include "Assembly Rowdy," "Rowdy Inspector," and "Peda Rayudu."
In addition to his film career, Mohan Babu is also known for his philanthropic work. He established the Sree Vidyanikethan Educational Trust in 1993, which runs several educational institutions ranging from schools to engineering and medical colleges. Overall, Mohan Babu's journey in the Telugu film industry has been remarkable, spanning over four decades, with over 500 films to his credit as an actor, director, and producer. He has won several awards throughout his career, including the prestigious Filmfare Award for Best Actor – Telugu and the Nandi Award for Best Actor.
Mohan Babu biography
Sl. No.
Details
Information
1
Full Name
Manchu Bhakthavatsalam Naidu
2
Popularly known as
Mohan Babu
3
Date of Birth
March 19, 1950
4
Age
73 years (as of 2023)
5
Place of Birth
Modhugulapalem, Andhra Pradesh, India
6
Occupation
Actor, Producer, Politician
7
Wife
Manchu Vidya Devi
8
First Film
Swargam Narakam (1975)
9
Famous Films
Pedarayudu (1995), Rayalaseema Ramanna Chowdary
(2000), Sri Ramulayya (1999), Assembly Rowdy (1991)
10
Political Party
Telugu Desam Party (TDP), later joined YSR Congress Party
11
Awards
National Film Award for Best Feature Film in Telugu as
a producer for the film "Pratigna Palana" (1976), Nandi Award
for Best Actor for "Peddarayudu" (1995) and "Rayalaseema
Ramanna Chowdary" (2000), Filmfare Lifetime Achievement
– South (2007), Padma Shri by the Government of India (2007)
List of Mohan Babu Hits and Flops Movies
S.No
Movie Name
Director
Release Year
Verdict
1
Yamadonga
SS Rajamouli
2007
Super Hit
2
Pandavulu Pandavulu Tummeda
Sriwass
2014
Flop
3
Pedarayudu
Ravi Raja Pinisetty
1995
Industry Hit
4
Sardar Papa Rayudu
Dasari Narayana Rao
1980
Blockbuster
5
Devatha 1982
K. Raghavendra Rao
1982
Super Hit
6
Chakravarthy
Kodi Ramakrishna
1987
Hit
7
Annamayya
K. Raghavendra Rao
1997
Blockbuster
8
Yuddha Bhoomi 1988
K. Raghavendra Rao
1988
Hit
9
Two Town Rowdy
Janardhana Maharshi
1989
Flop
10
YamaLeela 2
SV Krishna Reddy
2014
Flop
11
Saleem
YVS Chowdary
2009
Flop
12
Rayalaseema Ramanna
Chowdary
Suresh Krishna
2000
Hit
13
Kondaveeti Donga
A. Kodandarami Reddy
1990
Blockbuster
14
Adhipathi
Ravi Raja Pinisetty
2001
Above Average
15
Dhruva Nakshatram
Muthyala Subbaiah
1989
Hit
16
Simha Baludu
K. Raghavendra Rao
1978
Hit
17
Sri Ramulayya
N. Shankar
1999
Hit
18
Major Chandrakanth
K. Raghavendra Rao
1993
Blockbuster
19
Allari Mogudu
K. Raghavendra Rao
1992
Hit
20
Hero 2008
G. V. Sudhakar Naidu
2008
Disaster
21
Assembly Rowdy
B. Gopal
1991
Super Hit
22
Jagadguru Adi Shankara
J. K. Bharavi
2013
Average
23
Kodama Simham
K. Raghavendra Rao
1990
Above Average
24
Krishnarjuna
P. Vasu
2008
Flop
25
Adavilo Anna
B. Gopal
1997
Hit
26
Brahma Puthrudu
Dasari Narayana
1988
Super Hit
27
Soggadi Pellam
Muthyala Subbaiah
1996
Hit
28
Lankeswarudu
Dasari Narayana
1989
Average
29
Koduku Diddina Kapuram
Vijaya Bapineedu
1989
Super Hit
30
Political Rowdy
Adi Narayana
2005
Flop
31
Janaki Ramudu
K. Raghavendra Rao
1988
Super Hit
32
Punya Bhoomi Naa Desam
A. Kodandarami Reddy
1994
Flop
33
Tappu Chesi Pappu Koodu
K. Raghavendra Rao
2002
Hit
34
Gayatri
Madan
2018
Flop
35
Tandra Paparayudu
Dasari Narayana
1986
Super Hit
36
Chal Mohana Ranga
B. Bhaskara Rao
1978
Hit
37
Khaidi No 786
Vijaya Bapineedu
1988
Blockbuster
38
Veedevadandi Babu
EVV Satyanarayana
1997
Hit
39
Rowdy
Ram Gopal Varma
2014
Hit
40
Rangoon Rowdy
Dasari Narayana
1979
Hit
41
Premabhishekam 1980
Dasari Narayana
1980
Industry Hit
42
Kaksha
Vijaya Nirmala
1980
Below Average
43
Coolie No 1
K. Raghavendra Rao
1991
Super Hit
44
Suryam
Vinod Kumar
2004
Flop
45
Bujjigadu
Puri Jagannadh
2008
Hit
46
Son Of India
Diamond Ratna Babu
2022
Disaster