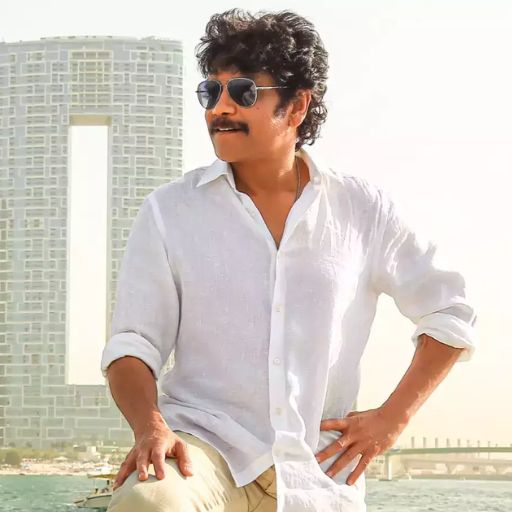 Check out Hit or Flop, blockbuster Nagarjuna movies: Nagarjuna Akkineni, also known as King Nagarjuna, is a prominent Indian actor, producer, and entrepreneur who predominantly works in Telugu cinema. Nagarjuna is the son of legendary actor Akkineni Nageswara Rao and is married to actress Amala Akkineni. He has received several awards, including nine Nandi Awards, three Filmfare Awards South, and a National Film Award.
Nagarjuna made his acting debut in 1986 with the Telugu film "Vikram," directed by V. Madhusudhana Rao. The movie was a commercial success. After his debut, Nagarjuna went on to act in several successful films, including "Geetanjali," "Shiva," "Hello Brother," and "Manam," among others. He is also known for his roles in Hindi films like "Zakhm," "Criminal," and "LOC Kargil."
Apart from acting, Nagarjuna is also a successful film producer, having produced films such as "Ninne Pelladatha," "Santosham," and "Manam." He is also a co-owner of the Telugu television channel Maa TV. Nagarjuna is considered one of the most versatile actors in Indian cinema and has made a significant contribution to Telugu cinema.
Nagarjuna biography
| Full Name | Akkineni Nagarjuna |
| --- | --- |
| Date of Birth | 29 August 1959 |
| Place of Birth | Chennai, Tamil Nadu, India |
| Occupation | Actor, Producer, Businessman |
| Debut Film | Vikram (1986) |
| Languages | Telugu, Hindi, Tamil, English |
| Awards | National Film Award for Best Popular Film Providing Wholesome Entertainment (Producer) – Ninne Pelladatha, Nandi Award for Best Actor – Annamayya, Filmfare Lifetime Achievement Award – South, and several other awards and nominations |
List of Nagarjuna Hits and Flops Movies
| Sl.no | Movie Name | Release Date | Director | Language | Verdict |
| --- | --- | --- | --- | --- | --- |
| 1 | Vikram | 23-May-86 | V. Madhusudhana Rao | Telugu | Hit |
| 2 | Captain Nagarjun | 29-Aug-86 | Rajendra Prasad | Telugu | Flop |
| 3 | Aranyakanda | 29-Dec-86 | Kodi Ramakrishna | Telugu | Flop |
| 4 | Majnu | 14-Jan-87 | Dasari Narayana Rao | Telugu | Blockbuster |
| 5 | Sankeertana | 26-Feb-87 | Bapu | Telugu | Flop |
| 6 | Collector Gari Abbai | 8-Apr-87 | Bhargava | Telugu | Super Hit |
| 7 | Agni Putrudu | 14-Aug-87 | V. Madhusudhana Rao | Telugu | Average |
| 8 | Kirai Dada | 9-Nov-87 | A. Kodandarami Reddy | Telugu | Hit |
| 9 | Aakhari Poratam | 12-Mar-88 | K. Raghavendra Rao | Telugu | Super Hit |
| 10 | Chinababu | 6-May-88 | Bapu | Telugu | Average |
| 11 | Murali Krishnudu | 31-May-88 | A. Kodandarami Reddy | Telugu | Average |
| 12 | Janaki Ramudu | 19-Aug-88 | K. Raghavendra Rao | Telugu | Hit |
| 13 | Vijay | 19-Jan-89 | A. Kodandarami Reddy | Telugu | Average |
| 14 | Vicky Daada | 9-Mar-89 | A. Kodandarami Reddy | Telugu | Super Hit |
| 15 | Geetanjali | 10-May-89 | Mani Ratnam | Telugu | Blockbuster |
| 16 | Agni | 9-Aug-89 | K. Balachander | Telugu | Flop |
| 17 | Siva | 5-Oct-89 | Ram Gopal Varma | Telugu | Blockbuster |
| 18 | Prema Yuddham | 23-Mar-90 | V. Madhusudhana Rao | Telugu | Flop |
| 19 | Neti Siddhartha | 15-Jun-90 | K. Raghavendra Rao | Telugu | Average |
| 20 | Iddaru Iddare | 5-Sep-90 | A. Kodandarami Reddy | Telugu | Flop |
| 21 | Shiva | 7-Dec-90 | Ram Gopal Varma | Telugu | Blockbuster |
| 23 | Chaitanya | 7-Jun-91 | Prathap K. Pothan | Telugu | Flop |
| 24 | Shanti Kranti | 19-Sep-91 | V. Ravichandran | Telugu | Flop |
| 25 | Jaitra Yatra | 13-Nov-91 | S. V. Krishna Reddy | Telugu | Semi Hit |
| 26 | Killer | 10-Jan-92 | Fazil | Telugu | Semi Hit |
| 27 | Aavida Maa Aavide | 14-Jan-92 | E. V. V. Satyanarayana | Telugu | Average |
| 28 | Khuda Gawah | 7-May-92 | Mukul S. Anand | Hindi | Super Hit |
| 29 | Antham | 11-Sep-92 | Ram Gopal Varma | Telugu | Flop |
| 30 | Drohi | 25-Oct-92 | Ram Gopal Varma | Telugu | Flop |
| 31 | President Gari Pellam | 30-Oct-92 | A. Kodandarami Reddy | Telugu | Super Hit |
| 32 | Rakshana | 18-Feb-93 | Uppalapati Narayana Rao | Telugu | Average |
| 33 | Varasudu | 5-May-93 | S. V. Krishna Reddy | Telugu | Hit |
| 34 | Allari Alludu | 6-Oct-93 | A. Kodandarami Reddy | Telugu | Blockbuster |
| 35 | Govinda Govinda | 21-Jan-94 | Ram Gopal Varma | Telugu | Flop |
| 36 | Hello Brother | 20-Apr-94 | E. V. V. Satyanarayana | Telugu | Super Hit |
| 37 | Criminal | 14-Oct-94 | Mahesh Bhatt | Hindi | Hit |
| 38 | Gharana Bullodu | 27-Apr-95 | K. Raghavendra Rao | Telugu | Blockbuster |
| 39 | Criminal | 21-Jul-95 | S. Mahendar | Kannada | Flop |
| 40 | Sisindri | 14-Sep-95 | Shiva Nageswara Rao | Telugu | Hit |
| 41 | Vajram | 5-Nov-95 | S. V. Krishna Reddy | Telugu | Flop |
| 42 | Ramudochadu | 25-Apr-96 | K. Raghavendra Rao | Telugu | Flop |
| 43 | Mr. Bechara | 30-Aug-96 | K. Bhagyaraj | Hindi | Flop |
| 44 | Ninne Pelladata | 4-Oct-96 | Krishna Vamsi | Telugu | Super Hit |
| 45 | Annamayya | 22-May-97 | K. Raghavendra Rao | Telugu | Hit |
| 46 | Ratchagan | 30-Oct-97 | Praveen Gandhi | Tamil | Flop |
| 47 | Auto Driver | 24-Apr-98 | Suresh Krishna | Telugu | Flop |
| 48 | Angaarey | 24-Jul-98 | Shashilal K. Nair | Hindi | Flop |
| 49 | Chandralekha | 30-Jul-98 | Krishna Vamsi | Telugu | Average |
| 50 | Zakhm | 25-Dec-98 | Mahesh Bhatt | Hindi | Flop |
| 51 | Seetharama Raju | 5-Feb-99 | YVS Chowdary | Telugu | Semi Hit |
| 52 | Ravoyi Chandamama | 15-Oct-99 | Jayanth C. Paranjee | Telugu | Average |
| 53 | Nuvvu Vastavani | 5-Apr-00 | V. R. Prathap | Telugu | Blockbuster |
| 54 | Azad | 29-Sep-00 | Tirupathi Swamy | Telugu | Hit |
| 55 | Eduruleni Manishi | 30-Mar-01 | Jonnalagadda Srinivasa Rao | Telugu | Average |
| 56 | Bava Nachadu | 7-Jun-01 | Puri Jagannadh | Telugu | Semi Hit |
| 57 | Akasa Veedhilo | 23-Aug-01 | Singeetam Srinivasa Rao | Telugu | Flop |
| 58 | Adhipathi | 19-Sep-01 | Ravi Raja Pinisetty | Telugu | Average |
| 59 | Snehamante Idera | 26-Oct-01 | Balasekaran | Telugu | Average |
| 60 | Santosham | 9-May-02 | Dasarath | Telugu | Hit |
| 61 | Agni Varsha | 30-Aug-02 | Arjun Sajnani | Hindi | Flop |
| 62 | Manmadhudu | 20-Dec-02 | K. Vijaya Bhaskar | Telugu | Super Hit |
| 63 | Sivamani | 23-Oct-03 | Puri Jagannadh | Telugu | Super Hit |
| 64 | LOC Kargil | 26-Dec-03 | J. P. Dutta | Hindi | Flop |
| 65 | Nenunnanu | 7-Apr-04 | V. N. Aditya | Telugu | Super Hit |
| 66 | Mass | 24-Dec-04 | Lawrence Raghavendra | Telugu | Super Hit |
| 67 | Super | 22-Jul-05 | Puri Jagannadh | Telugu | Average |
| 68 | Sri Ramadasu | 30-Mar-06 | K. Raghavendra Rao | Telugu | Super Hit |
| 69 | Boss – I Love You | 27-Sep-06 | V. N. Aditya | Telugu | Hit |
| 70 | Don | 20-Dec-07 | Lawrence Raghavendra | Telugu | Average |
| 71 | Krishnarjuna | 1-Feb-08 | P. Vasu | Telugu | Flop |
| 72 | King | 25-Dec-08 | Sreenu Vaitla | Telugu | Super Hit |
| 73 | Kedi | 12-Feb-10 | Jyothi Krishna | Telugu | Semi Hit |
| 74 | Ragada | 24-Dec-10 | Veeru Potla | Telugu | Super Hit |
| 75 | Gaganam/Payanam | 11-Feb-11 | Radha Mohan | Telugu/Tamil | Hit |
| 76 | Rajanna | 22-Dec-11 | V. Vijayendra Prasad | Telugu | Semi Hit |
| 77 | Shirdi Sai | 6-Sep-12 | K. Raghavendra Rao | Telugu | Average |
| 78 | Damarukam | 23-Nov-12 | Srinivasa Reddy | Telugu | Average |
| 79 | Greeku Veerudu | 3-May-13 | Dasarath | Telugu | Flop |
| 80 | Sri Jagadguru Aadi Sankara | 15-Aug-13 | J. K. Bharavi | Telugu | Average |
| 81 | Bhai | 25-Oct-13 | Veerabhadram | Telugu | Hit |
| 82 | Manam | 23-May-14 | Vikram Kumar | Telugu | Hit |
| 83 | Soggade Chinni Nayana | 15-Jan-16 | Kalyan Krishna Kurasala | Telugu | Super Hit |
| 84 | Oopiri | 25-Mar-16 | Vamshi Paidipally | Telugu | Hit |
| 85 | Nirmala Convent | 16-Sep-16 | G. Naga Koteswara Rao | Telugu | Hit |
| 86 | Om Namo Venkatesaya | 10-Feb-17 | K. Raghavendra Rao | Telugu | Flop |
| 87 | Raju Gari Gadhi 2 | 13-Oct-17 | Ohmkar | Telugu | Average |
| 88 | Officer | 1-Jun-18 | Ram Gopal Varma | Telugu | Flop |
| 89 | Devadas | 27-Sep-18 | Sriram Aditya | Telugu | Hit |
| 90 | Manmadhudu 2 | 9-Aug-19 | Rahul Ravindran | Telugu | Flop |
| 91 | Wild Dog | 2-Apr-21 | Ahishor Solomon | Telugu | Flop |
| 92 | Bangarraju | 14-Jan-22 | Kalyan Krishna Kurasala | Telugu | Super Hit |