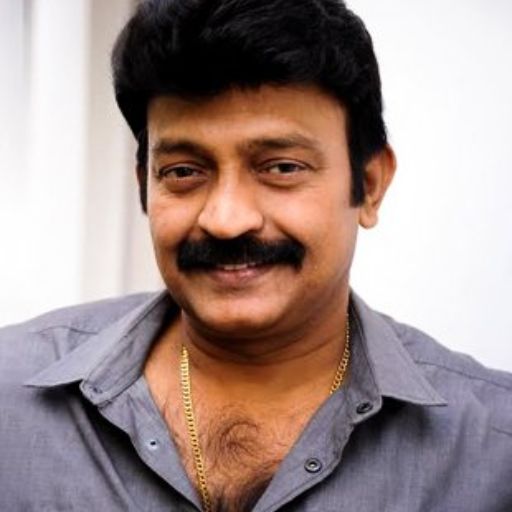 Check out Hit or Flop, blockbuster Dr. Rajashekar Movies: Dr. Rajashekar is a popular actor in the Telugu film industry. He was born on February 4, 1962, in Tamil Nadu, India. He did his medical studies in Chennai and worked as a physician for a few years before entering the film industry.
Rajasekhar started his acting career in Telugu cinema with the movie "Vandemataram" in 1985, directed by T. Krishna. His second movie, "Ankusham," directed by Vamsy, which gave him a breakthrough in the industry. which was a commercial and critical success. After the success of "Ankusham," Rajashekar acted in several successful films like "Magadu," "Maga Maharaju," and "Allari Priyudu." He established himself as one of the top actors in the industry in the 1990s. He won several Nandi Awards for his performances in movies like "Aahuti" and "Maa Annayya." He continued to work in the industry in the 2010s with movies like "Gaddam Gang" and "PSV Garuda Vega."
Rajashekar has had a successful career in Telugu cinema, spanning over three decades. With his dedication and hard work, he has become one of the most respected actors in the industry.
Rajashekar Biography
Name
Rajashekar
Date of Birth
4th February 1962
Place of Birth
Chennai, Tamil Nadu, India
Occupation
Actor, Producer, Director
Spouse
Jeevitha Rajashekar
Children
Shivani Rajashekar, Shivathmika Rajashekar
Debut Film
Vande Mataram (Telugu, 1985)
Famous Films
Ankusham, Aahuthi, Evadaithe Nakenti, Talambralu, etc.
Awards
Nandi Award for Best Actor for Ankusham (1991), Filmfare Award for
Best Actor for Talambralu (1987), Andhra Pradesh State Film Award
for Aahuthi (1988), Cinema Express Award for Best Actor for
Ankusham (1991), Filmfare Lifetime Achievement Award-South (2009)
List of Rajashekar Hits And Flops Movies
| S.No | Movie Name | Year | Director | Verdict |
| --- | --- | --- | --- | --- |
| 1 | Pudhumai Penn | 1984 | Bharathi Vasu | Hit |
| 2 | Puthiya Theerppu | 1985 | K. Raghavendra Rao | Average |
| 3 | Pratighatana | 1985 | T. Krishna | Average |
| 4 | Vande Mataram | 1985 | Tatineni Rama Rao | Hit |
| 5 | Ee Prashnaku Baduledi | 1986 | Vijaya Nirmala | Average |
| 6 | Dora Bidda | 1986 | A. Kodandarami Reddy | Average |
| 7 | Challani Ramaiah Chakkani Sitamma | 1986 | Jandhyala | Average |
| 8 | Talambralu | 1986 | Kodi Ramakrishna | Average |
| 9 | Repati Pourulu | 1986 | Narayana Rao Dasari | Flop |
| 10 | Aruna Kiranam | 1986 | K. Balachander | Flop |
| 11 | Kashmora | 1986 | Rajasekhar | Flop |
| 12 | Mister Bharat | 1986 | Kodi Ramakrishna | Average |
| 13 | America Abbayi | 1987 | Satyanarayana | Average |
| 14 | Prajaswamyam | 1987 | Vijaya Nirmala | Average |
| 15 | Aahuti | 1987 | Kodi Ramakrishna | Super-Hit |
| 16 | Yuga Kartalu | 1987 | K. Raghavendra Rao | Average |
| 17 | Idaa Prapancham | 1987 | Narayana Rao Dasari | Flop |
| 18 | Shrutilayalu | 1987 | Kodi Ramakrishna | Flop |
| 19 | Aradhana | 1987 | Bharathi Vasu | Flop |
| 20 | Nyayam Kosam | 1988 | Narayana Rao Dasari | Average |
| 21 | Nava Bharatam | 1988 | Kodi Ramakrishna | Average |
| 22 | Annapurnamma Gaari Alludu | 1988 | Relangi Narasimha Rao | Average |
| 23 | Neeku Naaku Pellanta | 1988 | Jandhyala | Flop |
| 24 | Mr. Hero | 1988 | Vijaya Nirmala | Flop |
| 25 | Indra Dhanassu | 1988 | Kodi Ramakrishna | Flop |
| 26 | Station Master | 1988 | K. Raghavendra Rao | Average |
| 27 | Bava Marudula Saval | 1988 | Relangi Narasimha Rao | Average |
| 28 | Aarta Nadam | 1989 | Vijaya Nirmala | Average |
| 29 | Mamatala Kovela | 1989 | Muthyala Subbaiah | Average |
| 30 | Ankusham | 1989 | Kodi Ramakrishna | Super-Hit |
| 31 | Prajaa Teerpu | 1989 | Dasari Narayana Rao | Average |
| 32 | Chennapatnam Chinnollu | 1989 | Relangi Narasimha Rao | Average |
| 33 | Yamapasham | 1989 | Ravi Raja Pinisetty | Hit |
| 34 | Dharma Yuddham | 1989 | A. Kodandarami Reddy | Average |
| 35 | Manchivaaru Maavaaru | 1989 | Kodi Ramakrishna | Average |
| 36 | Vinta Dongalu | 1989 | Kodi Ramakrishna | Flop |
| 37 | Rowdyism Nashinchali | 1990 | S. A. Chandrasekhar | Flop |
| 38 | Shilashasanam | 1990 | S. A. Chandrasekhar | Average |
| 39 | Papa Kosam | 1990 | Vijaya Bapineedu | Average |
| 40 | Magaadu | 1990 | K. Raghavendra Rao | Flop |
| 41 | Moratodu Naa Mogudu | 1992 | A. Kodandarami Reddy | Flop |
| 42 | Akka Mogudu(film) | 1992 | K. Raghavendra Rao | Average |
| 43 | Ahankari | 1992 | V. Madhusudhan Rao | Average |
| 44 | Balarama Krishnulu | 1992 | Raja Chandra | Average |
| 45 | Aagraham | 1993 | Suresh Krishna | Hit |
| 46 | Amma Koduku | 1993 | Dasari Narayana Rao | Average |
| 47 | Allari Priyudu | 1993 | K. Raghavendra Rao | Super-Hit |
| 48 | Gangmaster | 1994 | Ravi Raja Pinisetty | Flop |
| 49 | Anga Rakshakudu | 1994 | Kodandarami Reddy | Flop |
| 50 | Aavesham | 1994 | Kodi Ramakrishna | Average |
| 51 | Anna | 1994 | Muthyala Subbaiah | Average |
| 52 | Raja Simham | 1995 | K. Raghavendra Rao | Flop |
| 53 | Ghatotkachudu | 1995 | Singeetam Srinivasa Rao | Average |
| 54 | Vetagaadu | 1996 | K. Raghavendra Rao | Average |
| 55 | RathaYatra | 1997 | Kodi Ramakrishna | Flop |
| 56 | Omkaram | 1997 | Upendra | Flop |
| 57 | Maa Aayana Bangaram | 1997 | Muthyala Subbaiah | Average |
| 58 | Suryudu | 1998 | S. V. Krishna Reddy | Hit |
| 59 | Deergha Sumangali Bhava | 1998 | S. V. Krishna Reddy | Hit |
| 60 | Sivayya | 1998 | S. V. Krishna Reddy | Average |
| 61 | Neti Gandhi | 1999 | Ram Gopal Varma | Hit |
| 62 | Bobbili Vamsham | 1999 | S. V. Krishna Reddy | Average |
| 63 | Mechanic Mavayya | 2000 | Kodi Ramakrishna | Average |
| 64 | Maa Annayya | 2000 | Ravi Raja Pinisetty | Super-Hit |
| 65 | Okkadu Chaalu | 2000 | N. Shankar | Average |
| 66 | Manasunna Maaraju | 2000 | V. Samudra | Hit |
| 67 | Ravanna | 2000 | Ravi Raja Pinisetty | Flop |
| 68 | Simharasi | 2001 | S. S. Rajamouli | Super-Hit |
| 69 | Seshu | 2002 | Suresh Krishna | Flop |
| 70 | Bharatasimha Reddy | 2002 | Suresh Krishna | Hit |
| 71 | Aayudham | 2003 | S. V. Krishna Reddy | Super-Hit |
| 72 | Villain | 2003 | K. S. Ravikumar | Flop |
| 73 | Aapthudu | 2004 | K. R. Vishnu | Average |
| 74 | Nayakudu | 2005 | Suseenthiran | Hit |
| 75 | Evadaithe Nakenti | 2007 | V. Samudra | Hit |
| 76 | Gorintaku | 2008 | V. R. Pratap | Average |
| 77 | Satyameva Jayate | 2009 | Jeevitha | Hit |
| 78 | Naa Style Veru | 2009 | R. R. Shinde | Average |
| 79 | Maa Annayya Bangaram | 2010 | Jonnalagadda Srinivasa Rao | Hit |
| 80 | Mahankali | 2013 | Jeevitha | Average |
| 81 | Gaddam Gang | 2015 | Santhosh P. Jayakumar | Flop |
| 82 | PSV Garuda Vega | 2017 | Praveen Sattaru | Average |
| 83 | Kalki | 2019 | Prasanth Varma | Average |