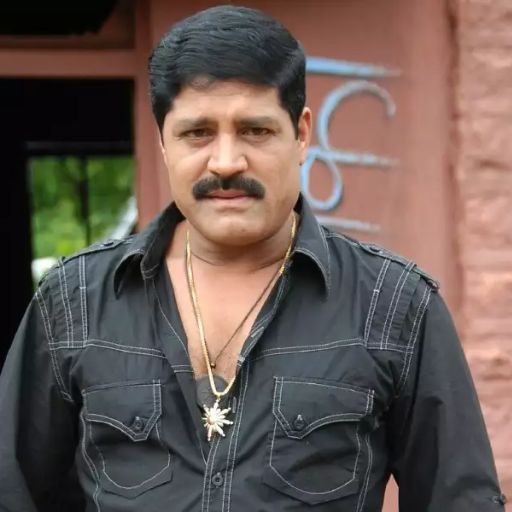 Check out Hit or Flop, blockbuster Vikram Prabhu Movies: Srihari was a talented actor in the Tollywood industry who rose to fame with his impeccable acting skills and captivating on-screen presence. He was born on August 15, 1964, in the town of Balanagar in Hyderabad, Telangana. Srihari started his career in the film industry in 1986 as a stunt fighter, and later he made his debut as a lead actor in the movie "Police" in 1999.
Srihari's first film "Police" was a commercial success and established him as a versatile actor. After that, he appeared in numerous Telugu movies and received critical acclaim for his performances in films like "Nuvvostanante Nenoddantana," "Magadheera," and "Dhee." Srihari's journey in the cinema industry was not an easy one. He faced several setbacks in his early career and struggled to make a mark in the industry. However, his hard work and dedication towards his craft helped him overcome these challenges and become one of the most sought-after actors in Tollywood.
Throughout his career, Srihari acted in over 100 movies and won several awards for his performances. He was particularly known for his powerful dialogue delivery and impressive action sequences. His versatility as an actor was also evident in his ability to play both negative and positive roles with equal ease.
Sadly, Srihari passed away on October 9, 2013, due to a liver ailment. He was just 49 years old at the time of his death, and his sudden demise left the film industry and his fans in shock. Srihari's contributions to the Telugu film industry will always be remembered, and he will forever be known as one of the finest actors in Tollywood's history.
Srihari Biography
| Name | Srihari |
| --- | --- |
| Born | August 15, 1964 |
| Birthplace | Balanagar, Hyderabad, Telangana, India |
| Occupation | Actor, Stunt fighter |
| Debut Film | "Police" (1999) |
| Career Highlights | Appeared in over 100 Telugu movies; won several awards; known for his powerful dialogue delivery and impressive action sequences |
| Famous Films | "Nuvvostanante Nenoddantana," "Magadheera," and "Dhee" |
| Death | October 9, 2013 |
| Age at Death | 49 years old |
List of Srihari Hits and Flops Movies
S.NO

Movie

Release Year

Director

Verdict

1
Brahma Nayudu
1987
B. Gopal
Average
2
Mappillai
1989
Rajasekhar
Blockbuster
3
Dharma Kshetram
1992
A. Kodandarami Reddy
Above Average
4
Rowdy Inspector
1992
B. Gopal
Blockbuster
5
Bharathan
1992
Suresh Krishna
Hit
6
Rajadhi Raja Raja Kulothunga
Raja Marthanda Raja Gambeera
Kathavaraya Krishna Kamarajan
1993
R. Sundarrajan
Average
7
Mutha Mestri
1993
A. Kodandarami Reddy
Super-Hit
8
Major Chandrakanth
1993
K. Raghavendra Rao
Super-Hit
9
Allari Premikudu
1994
K. Raghavendra Rao
Hit
10
Doragariki Donga Pellam
1994
Sarath
Flop
11
Hello Brother
1994
E. V. V. Satyanarayana
Super-Hit
12
Hello Alludu
1994
E. V. V. Satyanarayana
Flop
13
Street Fighter
1995
G. Selva
Flop
14
Gharana Bullodu
1995
K. Raghavendra Rao
Blockbuster
15
Taj Mahal
1995
Muppalaneni Shiva
Hit
16
Alluda Majaka
1995
E. V. V. Satyanarayana
Hit
17
Shri Krishnarjuna Vijayam
1996
T. Krishna
Hit
18
Ramudochadu
1996
K. Raghavendra Rao
Flop
19
Alexander
1996
Keyaar
Average
20
Jai Bajrangbali
1997
Keshu Ramsay
Flop
21
Veedevadandi Babu
1997
E. V. V. Satyanarayana
Average
22
Gokulamlo Seeta
1997
Muthyala Subbaiah
Hit
23
Bobbili Dora
1997
K. Raghavendra Rao
Average
24
Muddula Mogudu
1997
Kodi Ramakrishna
Hit
25
Preminchukundam Raa
1997
Jayanth C. Paranjee
Super-Hit
26
Ullaasam
1997
J. D. Jerry
Flop
27
Pellaadi Choopista
1998
Sasi
Flop
28
Rayudu
1998
Ravi Raja Pinisetty
Flop
29
Subhavartha
1998
Not available
Average
30
Vaibhavam
1998
Sangeet Sivan
Average
31
Suryudu
1998
Not available
Average
32
Bavagaru Bagunnara?
1998
Jayanth C. Paranjee
Super-Hit
33
Aavida Maa Aavide
1998
E. V. V. Satyanarayana
Hit
34
Premante Idera
1998
Jayanth C. Paranjee
Super-Hit
35
O Panai Pothundi Babu
1998
E. V. V. Satyanarayana
Flop
36
Sri Ramulayya
1998
B. Gopal
Super-Hit
37
Mannavaru Chinnavaru
1999
Vamsy
Flop
38
Preminche Manasu
1999
Not available
Flop
39
Raja Kumarudu
1999
K. Raghavendra Rao
Hit
40
Preyasi Rave
1999
Chandra Mahesh
Blockbuster
41
Alludugaru Vacharu
1999
Ravi Raja Pinisetty
Flop
42
Premaku Velayara
1999
Not available
Average
43
Bobbili Vamsham
1999
B. Gopal
Hit
44
Pedda Manushulu
1999
Not available
Flop
45
Samudram
1999
K. Raghavendra Rao
Hit
46
Telangana
1999
Kodi Ramakrishna
Flop
47
Sambayya
1999
Not available
Flop
48
Police
1999
V. V. Vinayak
Flop
49
Deva
1999
Kodi Ramakrishna
Average
50
O Premave
1999
Naganan
Flop
51
Balaram
2000
Vijay Anand
Flop
52
Vijayaramaraju
2000
Veera Shankar
Hit
53
Ayodhya Ramaiah
2000
Mahesh Chandra
Hit
54
Sivaji
2000
S. Shankar
Average
55
Bagunnara
2000
Kodi Ramakrishna
Average
56
Mechanic Mavayya
2000
Rajendra Singh Babu
Flop
57
Cheliya Cheliya Chirukopama
2001
Rohit Posina
Flop
58
Maa Aayana Sundarayya
2001
Mohan Gandhi
Average
59
Orey Thammudu
2001
Sai Balaji
Flop
60
Evadra Rowdy
2001
Posani Krishna Murali
Flop
61
Thank You Subbarao
2001
Vikram K. Kumar
Average
62
Apparao Ki Oka Nela Thappindi
2001
Relangi Narasimha Rao
Flop
63
Bhadrachalam
2001
N. Shankar
Average
64
Prema Donga
2002
Mohan Gandhi
Flop
65
Kubusam
2002
L. Srinadh
Flop
66
Prudhvi Narayana
2002
P. Vasu
Flop
67
Parasuram
2002
Ravi Raja Pinisetty
Average
68
Coolie
2003
Manmohan Desai, Prayag Raj
Average
69
Ondagona Baa
2003
Udayshankar
70
Seshadri Nayudu
2004
T. Prabhakar
Flop
71
Guri
2004
Visu
Flop
72
K.D. No.1
2004
Dasari Narayana Rao
Average
73
Okkade
2005
Chandra Sekhar Yeleti
Average
74
Mahanandi
2005
Samudra V.
Average
75
Nuvvostanante Nenoddantana
2005
Prabhu Deva
Blockbuster
76
Hanumanthu
2006
M. Raja
Average
77
Dhee
2007
Srinu Vaitla
Hit
78
Sri Mahalakshmi
2007
K. Raghavendra Rao
Average
79
Viyyalavari Kayyalu
2007
E. Satti Babu
Flop
80
Premabhishekam
2008
Jaya Ravindra
Hit
81
Ganapathi
2008
Krishna Vamshi
Average
82
Saroja
2008
Venkat Prabhu
Hit
83
Poru
2008
Rajasekhar Reddy
Flop
84
King
2008
Sreenu Vaitla
Hit
85
Mesthri
2009
Srinu Vaitla
Average
86
Vettaikkaaran
2009
B. Babusivan
Hit
87
Magadheera
2009
S. S. Rajamouli
Blockbuster
88
Samrajyam
2009
Karanam P. Babji
Flop
89
Srisailam
2009
Ravi Kumar Chavali
Average
90
Dasanna
2010
Unknown
Flop
91
Bhairava
2010
Madesh
Flop
92
Don Seenu
2010
Gopichand Malineni
Super-Hit
93
Broker
2010
M. A. Nishad
Hit
94
Brindavanam
2010
Vamsi Paidipally
Hit
95
Markandeyan
2011
T. P. Gajendran
Flop
96
Aha Naa Pellanta
2011
Veerabhadram Chowdary
Super-Hit
97
Ko Ko
2012
K. V. Anand
Hit
98
Ko Ante Koti
2012
Anish Kuruvilla
Average
99
Shirdi Sai
2012
K. Raghavendra Rao
Super-Hit
100
Yamaho Yama
2012
Jitender Y.
Flop
101
Jabardasth
2013
Nandini Reddy
Hit
102
Sri Jagadguru Aadi Sankara
2013
J. K. Bharavi
Flop
103
Toofan
2013
Apoorva Lakhia
Flop
104
Police Game
2013
Unknown
Flop
105
R… Rajkumar
2013
Prabhu Deva
Average
106
Romeo
2014
Gopi Ganesh
Flop
107
Yuddham
2014
Bharathi Ganesh
Flop
108
Jabilli Kosam Aakashamalle
2014
Unknown
Flop
109
Rough
2014
C. H. Subba Reddy
Flop
110
Pallikoodam Pogamale
2015
A. J. Edwin
Average
111
Narthanasala
2020
Srinivas Chakravarthi
Flop