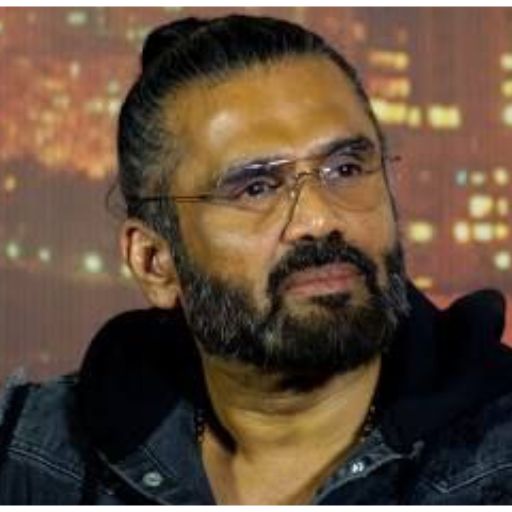 Check out Hit or Flop, blockbuster Sunil Shetty movies: Sunil Shetty is a popular Bollywood actor who has appeared in over 100 Hindi films, as well as several Kannada, Marathi, and Tamil movies. He was born on August 11, 1961, in Mulki, Mangalore, India, and raised in Mumbai.
Sunil Shetty began his acting career in 1992 with the film "Balwaan". In the movie, he played the lead role of a young man who becomes a gangster to avenge his father's death. It marked the beginning of his career in Bollywood. After his debut, Sunil Shetty appeared in several action films, and soon gained a reputation as an action hero.
Some of his popular films during the 1990s and early 2000s include "Mohra", "Krishna", "Sapoot", "Dhadkan", and "Hera Pheri", among others. He also acted in films that were critically acclaimed, such as "Border" and "Pukar". In addition to acting, Sunil Shetty has also produced several films, including "Khel – No Ordinary Game", "Rakht", and "Bhagam Bhag".
Sunil Shetty has evolved as an actor and has experimented with different genres of films. He has worked with some of the most prominent filmmakers in Bollywood and has won several awards and nominations for his performances.
Sunil Shetty Biography
| Name | Sunil Shetty |
| --- | --- |
| Date of Birth | August 11, 1961 |
| Place of Birth | Mulki, Mangalore, India |
| Occupation | Actor, Producer, Entrepreneur |
| First Film | Balwaan (1992) |
| Major Films | Mohra (1994), Border (1997), Dhadkan (2000), Hera Pheri (2000) |
| Production House | Popcorn Motion Pictures, S2 Reality TV |
| Awards | Filmfare Award for Best Supporting Actor for Dilwale (1995) |
| Philanthropy | Supports education initiatives for underprivileged children, and provides relief to victims of natural disasters |
List of Sunil Shetty Hits And Flops Movies
| S.No | Movie Name | Release Date | Verdict | Director |
| --- | --- | --- | --- | --- |
| 1 | Waqt Hamara Hai | 02-07-1993 | Average | Bharat Rangachary |
| 2 | Pehchaan | 08-10-1993 | Average | Deepak S. Shivdasani |
| 3 | Dilwale | 04-02-1994 | Super Hit | Harry Baweja |
| 4 | Anth | 10-06-1994 | Semi Hit | Sanjay Khanna |
| 5 | Mohra | 01-07-1994 | Blockbuster | Rajiv Rai |
| 6 | Gopi Kishan | 02-12-1994 | Hit | Mukesh Duggal |
| 7 | Hum Hain Bemisaal | 16-12-1994 | Flop | Deepak Bahry |
| 8 | Surakshaa | 03-03-1995 | Below Average | Raju Mavani |
| 9 | Raghuveer | 19-05-1995 | Below Average | K. Pappu |
| 10 | Gaddaar | 09-06-1995 | Flop | Deepak Sareen |
| 11 | Takkar | 14-07-1995 | Flop | Bharat Rangachary |
| 12 | Ek Tha Raja | 12-01-1996 | Flop | Dayal Nihalani |
| 13 | Vishwasghaat | 19-01-1996 | Flop | Himanshu Brahmbhatt |
| 14 | Krishna | 02-08-1996 | Average | Deepak Shivdasani |
| 15 | Shastra | 04-10-1996 | Flop | Sanjay Khanna |
| 16 | Sapoot | 08-11-1996 | Flop | Jagdish A. Sharma |
| 17 | Rakshak | 29-11-1996 | Flop | Ashok Honda |
| 18 | Border | 13-06-1997 | All Time Blockbuster | J. P. Dutta |
| 19 | Prithvi | 29-08-1997 | Flop | Nitin Manmohan |
| 20 | Judge Mujrim | 12-09-1997 | Average | Jagdish A. Sharma |
| 21 | Bhai | 31-10-1997 | Semi Hit | Deepak Shivdasani |
| 22 | Dhaal | 28-11-1997 | Flop | Sameer Malkan |
| 23 | Qahar | 05-12-1997 | Average | Rajkumar Kohli |
| 24 | Vinashak | 30-01-1998 | Flop | Ravi Dewan |
| 25 | Aakrosh | 03-04-1998 00:00:00 | Flop | Lateef Binny |
| 26 | Humse Badhkar Kaun | 12-06-1998 | Flop | Deepak Anand |
| 27 | Hu Tu Tu | 22-01-1999 | Flop | Gulzar |
| 28 | Bade Dilwala | 22-01-1999 | Disaster | Shakeel Noorani |
| 29 | Kaala Samrajya | 12-03-1999 | Disaster | Deepak Bahry |
| 30 | Krodh | 17-03-2000 | Flop | Ashok Honda |
| 31 | Hera Pheri | 31-03-2000 | Average | Priyadarshan |
| 32 | Refugee | 30-06-2000 | Average | J.P. Dutta |
| 33 | Jungle | 14-07-2000 | Average | Ram Gopal Varma |
| 34 | Dhadkan | 11-08-2000 | Above Average | Dharmesh Darshan |
| 35 | Aaghaaz | 06-10-2000 | Flop | Yogesh Ishwar |
| 36 | Kuch Khatti Kuch Meethi | 19-01-2001 | Flop | Rahul Rawail |
| 37 | Officer | 02-03-2001 | Flop | Naeem Sha |
| 38 | Pyaar Ishq Aur Mohabbat | 03-08-2001 | Disaster | Rajiv Rai |
| 39 | Ittefaq | 14-09-2001 | Disaster | Sanjay Khanna |
| 40 | Yeh Teraa Ghar Yeh Meraa Ghar | 12-10-2001 | Flop | Priyadarshan |
| 41 | Ehsaas | 30-11-2001 | Disaster | Mahesh Manjrekar |
| 42 | Awara Paagal Deewana | 21-06-2002 | Average | Vikram Bhatt |
| 43 | Jaani Dushman – Ek Anokhi Kahani | 15-08-2002 | Flop | Rajkumar Kohli |
| 44 | Annarth | 01-11-2002 | Disaster | Ravi Dewan |
| 45 | Karz – The Burden of Truth | 06-12-2002 | Flop | Harry Baweja |
| 46 | Maseeha | 13-12-2002 | Disaster | Partho Ghosh |
| 47 | Kaante | 20-12-2002 | Below Average | Sanjay Gupta |
| 48 | Baaz – A Bird in Danger | 07-02-2003 | Disaster | Tinnu Verma |
| 49 | Khanjar | 27-06-2003 | Disaster | Chander Sharma |
| 50 | Qayamat | 11-07-2003 | Average | Harry Baweja |
| 51 | Ek Hindustani | 01-10-2003 | Disaster | Tinnu Verma |
| 52 | Khel | 03-10-2003 | Flop | Yusuf Khan |
| 53 | L.O.C Kargil | 26-12-2003 | Flop | J. P. Dutta |
| 54 | Rudraksh | 13-02-2004 | Disaster | Mani Shankar |
| 55 | Main Hoon Na | 30-04-2004 | Hit | Farah Khan |
| 56 | Lakeer | 14-05-2004 | Disaster | Ahmed Khan |
| 57 | Aan – Men at Work | 04-06-2004 | Disaster | Madhur Bhandarkar |
| 58 | Rakht | 03-09-2004 | Disaster | Mahesh Manjrekar |
| 59 | Ek Se Badhkar Ek | 17-09-2004 | Disaster | Kundan Shah |
| 60 | Hulchul | 26-11-2004 | Hit | Priyadarshan |
| 61 | Blackmail | 28-01-2005 | Disaster | Anil Devgan |
| 62 | Padmashree Laloo Prasad Yadav | 28-01-2005 | Disaster | Mahesh Manjrekar |
| 63 | Paheli | 24-06-2005 | Below Average | Amol Palekar |
| 64 | Dus | 08-07-2005 | Average | Anubhav Sinha |
| 65 | Chocolate | 23-09-2005 | Flop | Vivek Agnihotri |
| 66 | Deewane Huye Paagal | 25-11-2005 | Flop | Vikram Bhatt |
| 67 | Fight Club | 17-02-2006 | Flop | Vikram Chopra |
| 68 | Shaadi Se Pehle | 07-04-2006 | Flop | Satish Kaushik |
| 69 | Chup Chup Ke | 09-06-2006 | Average | Priyadarshan |
| 70 | Phir Hera Pheri | 09-06-2006 | Super Hit | Neeraj Vora |
| 71 | Aap Ki Khatir | 25-08-2006 | Disaster | Dharmesh Darshan |
| 72 | Umrao Jaan | 03-11-2006 | Disaster | J.P. Dutta |
| 73 | Apna Sapna Money Money | 10-11-2006 | Semi Hit | Sangeeth Sivan |
| 74 | Shootout At Lokhandwala | 25-05-2007 | Semi Hit | Apoorva Lakhia |
| 75 | Cash | 03-08-2007 | Flop | Anubhav Sinha |
| 76 | One Two Three | 28-03-2008 | Average | Ashwani Dhir |
| 77 | Mr. White Mr. Black | 02-05-2008 | Disaster | Deepak Shivdasani |
| 78 | Mission Istaanbul | 25-07-2008 | Disaster | Apoorva Lakhia |
| 79 | Mukhbiir | 29-08-2008 | Disaster | Mani Shankar |
| 80 | Daddy Cool – Join The Fun | 28-08-2009 | Flop | K. Murli Mohan Rao and Aashish |
| 81 | De Dana Dan | 27-11-2009 | Average | Priyadarshan |
| 82 | Tum Milo Toh Sahi | 02-04-2010 | Disaster | Kabir Sadanand |
| 83 | Red Alert – The War Within | 09-07-2010 | Disaster | Anant Mahadevan |
| 84 | Barood – The Fire A Love Story | 12-11-2010 | Disaster | Jagdish A. Sharma |
| 85 | No Problem | 10-12-2010 | Flop | Anees Bazmee |
| 86 | Thank You | 08-04-2011 | Average | Anees Bazmee |
| 87 | Loot | 04-11-2011 | Disaster | Rajneesh Thakur |
| 88 | Mere Dost Picture Abhi Baaki Hai | 20-07-2012 | Disaster | Rajnish Raj Thakur |
| 89 | Enemmy | 21-06-2013 | Disaster | Ashu Trikha |
| 90 | Koyelaanchal | 09-05-2014 | Disaster | Ashu Trikha |
| 91 | Desi Kattey | 26-09-2014 | Disaster | Anand Kumar |
| 92 | 2 Chehare | 10-07-2015 | Disaster | Rohit Kaushik |
| 93 | A Gentleman – Sundar Susheel Risky | 25-08-2017 | NA | Krishna D.K, Raj Nidimoru |
| 94 | Pailwaan | 12-09-2019 | Super Hit | S. Krishna |
| 95 | Darbar | 09-01-2020 | Semi Hit | AR Murugadoss |
| 96 | Mosagallu | 19-03-2021 | Flop | Jeffrey Gee Chin |
| 97 | Marakkar | 02-12-2021 | Flop | Priyadarshan |