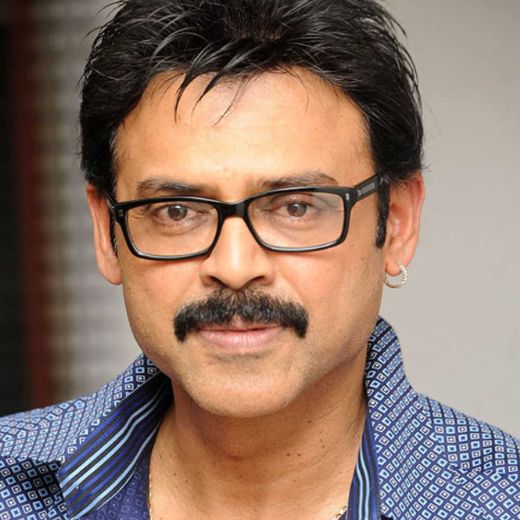 Check out Hit or Flop, blockbuster Venkatesh Daggubati Movies: Venkatesh Daggubati is a actor in the Telugu film industry. Born on December 13, 1960, in Karamchedu, Andhra Pradesh, he is the son of popular film producer D. Ramanaidu. Venkatesh made his acting debut with the film "Kaliyuga Pandavulu" in 1986. He has acted in more than 70 films. he has become one of the most successful actors in Tollywood. He is known for his versatility and has acted in a wide range of films, including romantic comedies, family dramas, action movies, and social dramas. He has received several awards for his performances, including seven Nandi Awards and four Filmfare Awards.
Some of Venkatesh's most notable films include "Bobbili Raja," "Chanti," "Preminchukundam Raa," "Ganesh," "Nuvvu Naaku Nachav," "Sankranti," "Lakshmi," "Adavari Matalaku Ardhale Verule," "Drishyam," and "F2: Fun and Frustration." He has also acted in several multistarrer films such as "Seethamma Vakitlo Sirimalle Chettu," "Masala," and "Gopala Gopala."
His journey in the industry is an inspiration to many aspiring actors. He continues to be a popular and respected figure in Tollywood and his fans eagerly await his upcoming films.
Venkatesh Daggubati Biography
| | |
| --- | --- |
| Name | Venkatesh Daggubati |
| Date of Birth | December 13, 1960 |
| Place of Birth | Karamchedu, Andhra Pradesh, India |
| Occupation | Actor, Producer |
| Spouse(s) | Neeraja Daggubati (m. 1985) |
| Children | 4 (3 daughters and 1 son) |
| Parents | Ramanaidu Daggubati, Rajeswari Daggubati |
| Siblings | Suresh Babu (elder brother), Lakshmi Daggubati (sister) |
| Education | Bachelor of Commerce |
| Awards | 7 Nandi Awards, 4 Filmfare Awards South, Padma Shri (2017) |
List of Venkatesh Daggubati Hits And Flops Movies
| Sl.No | Movie Name | Release Date | Verdict | Director |
| --- | --- | --- | --- | --- |
| 1 | Kaliyuga Pandavulu | 14-08-1986 | Hit | K. Raghavendra Rao |
| 2 | Brahma Rudrulu | 14-11-1986 | Flop | Bapu |
| 3 | Ajeyudu | 08-05-987 | Average | Ravi Raja Pinisetty |
| 4 | Bharatamlo Arjunudu | 29-05-1987 | Flop | K. Raghavendra Rao |
| 5 | Trimurtulu | 29-05-1987 | Average | K. Murali Mohana Rao |
| 6 | Vijetha Vikram | 14-08-1987 | Flop | K. Raghavendra Rao |
| 7 | Srinivasa Kalyanam | 25-09-1987 | Blockbuster | Kodi Ramakrishna |
| 8 | Raktha Tilakam | 14-01-1988 | Super Hit | Bapu |
| 9 | Swarna Kamalam | 15-07-1988 | Flop | K. Viswanath |
| 10 | Brahma Puthrudu | 27-08-1988 | Super Hit | Dasari Narayana Rao |
| 11 | Varasudochhadu | 03-10-1988 | Hit | A. Kodandarami Reddy |
| 12 | Prema | 12-01-1989 | Hit | Suresh Krissna |
| 13 | Ontari Poratam | 18-05-1989 | Hit | Bapu |
| 14 | Dhruva Nakshatram | 29-06-1989 | Super Hit | V. Madhusudhan Rao |
| 15 | Two Town Rowdy | 29-12-1989 | Average | Dharma Rao J. |
| 16 | Aggiramudu | 17-04-1990 | Flop | S. S. Ravichandra |
| 17 | Bobbili Raja | 14-09-1990 | Blockbuster | B. Gopal |
| 18 | Shatruvu | 02-01-1991 | Hit | Kodi Ramakrishna |
| 19 | Coolie No.1 | 12-06-1991 | Hit | K. Raghavendra Rao |
| 20 | Surya IPS | 05-09-1991 | Average | A. Kodandarami Reddy |
| 21 | Kshana Kshanam | 09-10-1991 | Hit | Ram Gopal Varma |
| 22 | Chanti | 10-01-1992 | Blockbuster | Ravi Raja Pinisetty |
| 23 | Chinarayudu | 07-08-1992 | Flop | B. Gopal |
| 24 | Sundarakanda | 02-10-1992 | Super Hit | K. Raghavendra Rao |
| 25 | Anari | 26-03-1993 | Super Hit | K. Murali Mohana Rao |
| 26 | Kondapalli Raja | 09-07-1993 | Flop | Ravi Raja Pinisetty |
| 27 | Abbaigaru | 30-09-1993 | Semi Hit | E. V. V. Satyanarayana |
| 28 | Super Police | 23-06-1994 | Flop | K. Murali Mohana Rao |
| 29 | Muddula Priyudu | 01-10-1994 | Hit | K. Raghavendra Rao |
| 30 | Pokiri Raja | 12-01-1995 | Flop | A. Kodandarami Reddy |
| 31 | Taqdeerwala | 12-05-1995 | Flop | K. Murali Mohana Rao |
| 32 | Dharma Chakram | 13-01-1996 | Blockbuster | Suresh Krissna |
| 33 | Sahasa Veerudu Sagara Kanya | 09-02-1996 | Flop | K. Raghavendra Rao |
| 34 | Intlo Illalu Vantintlo Priyuralu | 22-05-1996 | Hit | E. V. V. Satyanarayana |
| 35 | Saradha Bullodu | 09-08-1996 | Flop | Ravi Raja Pinisetty |
| 36 | Pavithra Bandham | 17-10-1996 | Super Hit | Muthyala Subbaiah |
| 37 | Chinnabbayi | 10-01-1997 | Flop | K. Raghavendra Rao |
| 38 | Preminchukundam Raa | 09-05-1997 | Blockbuster | Jayanth C. Paranjee |
| 39 | Pellichesukundam | 09-10-1997 | Semi Hit | Muthyala Subbaiah |
| 40 | Suryavamsam | 25-02-1998 | Super Hit | Bhimaneni Srinivasa Rao |
| 41 | Ganesh | 19-06-1998 | Hit | Thirupathisamy |
| 42 | Premante Idera | 30-10-1998 | Average | Jayanth C. Paranjee |
| 43 | Raja | 18-03-1999 | Blockbuster | Muppalaneni Shiva |
| 44 | Seenu | 27-08-1999 | Super Hit | Sasi |
| 45 | Kalisundam Raa | 14-01-2000 | Super Hit | Udayasankar |
| 46 | Jayam Manade Raa | 07-10-2000 | Semi Hit | N. Shankar |
| 47 | Devi Putrudu | 14-01-2001 | Flop | Kodi Ramakrishna |
| 48 | Prematho Raa | 09-05-2001 | Flop | Udayasankar |
| 49 | Nuvvu Naaku Nachav | 15-09-2001 | Hit | K. Vijaya Bhaskar |
| 50 | Vasu | 10-04-2002 | Average | A. Karunakaran |
| 51 | Gemeni | 11-10-2002 | Flop | Saran |
| 52 | Vasantham | 11-07-2003 | Super Hit | Vikraman |
| 53 | Malliswari | 18-02-2004 | Hit | K. Vijaya Bhaskar |
| 54 | Gharshana | 30-07-2004 | Flop | Gautham Menon |
| 55 | Sankranthi | 18-02-2005 | Semi Hit | Muppalaneni Shiva |
| 56 | Subash Chandra Bose | 22-04-2005 | Flop | Puri Jagannadh |
| 57 | Lakshmi | 14-01-2006 | Blockbuster | V.V. Vinayak |
| 58 | Adavari Matalaku Ardhalu Verule | 27-04-2007 | Super Hit | Selvaraghavan, K. Selvaraghavan |
| 59 | Tulasi | 12-10-2007 | Hit | Boyapati Srinu |
| 60 | Chintakayala Ravi | 02-10-2008 | Average | Yogi |
| 61 | Eenaadu | 18-09-2009 | Hit | Chakri Toleti |
| 62 | Namo Venkatesa | 14-01-2010 | Hit | Sreenu Vaitla |
| 63 | Nagavalli | 16-12-2010 | Hit | P. Vasu |
| 64 | Bodyguard | 14-01-2012 | Hit | Gopichand Malineni |
| 65 | Seethamma Vakitlo Sirimalle Chettu | 11-01-2013 | Super Hit | Srikanth Addala |
| 66 | Shadow | 26-04-2013 | Flop | Meher Ramesh |
| 67 | Masala | 14-11-2013 | Average | K. Vijaya Bhaskar |
| 68 | Drushyam | 11-07-2014 | Blockbuster | Sripriya |
| 69 | Gopala Gopala | 10-01-2015 | Hit | Kishore Kumar Pardasani |
| 70 | Babu Bangaram | 12-08-2016 | Semi Hit | Maruthi Dasari |
| 71 | Guru | 31-03-2017 | Average | Sudha Kongara |
| 72 | F2: Fun and Frustration | 12-01-2019 | Super Hit | Anil Ravipudi |
| 73 | Venky Mama | 13-12-2019 | Hit | K. S. Ravindra |
| 74 | Narappa | 20-07-2021 | Hit | Srikanth Addala |
| 75 | Drusyam 2 | 25-11-2021 | Hit | Jeethu Joseph |
| 76 | F3 | 27-05-2022 | Hit | Anil Ravipudi |
| 77 | Kabhi Eid Kabhi Diwali | Not Released | Not Declared | Farhad Samji |