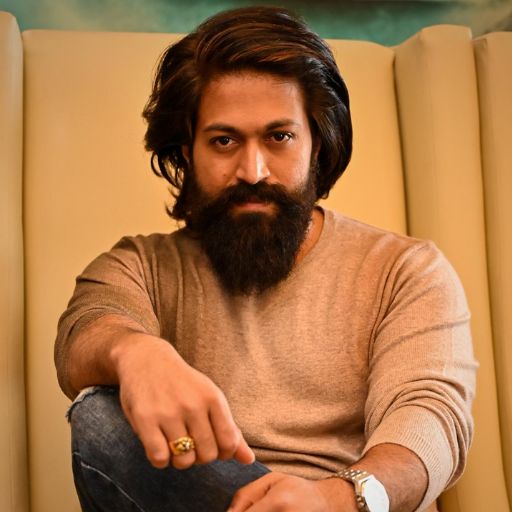 Check out Hit or Flop, blockbuster Yash movies: Yash is a popular actor in the Sandalwood (Kannada film industry) who has made a mark with his acting skills and screen presence. His real name is Naveen Kumar Gowda, and he was born on January 8, 1986, in Hassan district of Karnataka, India. He pursued his studies in Mysuru and later moved to Bengaluru to pursue a career in acting.
Yash started his acting career with the Kannada film "Jambada Hudugi" in 2007, where he played a supporting role. His first leading role came in the movie "Moggina Manasu" in 2008, which went on to become a blockbuster hit. Since then, Yash has starred in several successful films and established himself as one of the leading actors in Sandalwood.
Some of Yash's notable movies include "Raja Huli" (2013), "Mr. and Mrs. Ramachari" (2014), "Masterpiece" (2015), "Santhu Straight Forward" (2016), "KGF: Chapter 1" (2018), and "KGF: Chapter 2" (2021). Yash's performances in these movies have been critically acclaimed, and he has won several awards for his acting skills. In 2019, he launched his own production company called "Hombale Films" and produced the movie "KGF: Chapter 1", which turned out to be a massive success at the box office.
Yash's journey in the cinema industry has been nothing short of spectacular. He has come a long way from his humble beginnings and has established himself as one of the top actors in the Kannada film industry.
Yash Biography
Full Name
Naveen Kumar Gowda
Popular Name
Yash
Date of Birth
January 8, 1986
Place of Birth
Bhuvanahalli, Hassan, Karnataka, India
Nationality
Indian
Profession
Actor
Spouse
Radhika Pandit (married in 2016)
Children
Ayra (daughter) and Yatharv (son)
Notable Works
Moggina Manasu, Mr. and Mrs. Ramachari, KGF Chapter 1, KGF Chapter 2
Awards
Filmfare Awards South for Best Actor (2014, 2018), SIIMA Awards
for Best Actor (2014, 2018), IIFA Utsavam for Best Actor (2015),
National Film Award for Best Action Direction (2019, as a producer of KGF Chapter 1)
List of Yash Hits And Flops Movies
| SL.No | Movie | Year | Director | Verdict |
| --- | --- | --- | --- | --- |
| 1 | Jambada Hudugi | 2007 | Priya Hassan | Average |
| 2 | Moggina Manasu | 2008 | Shashank | Super Hit |
| 3 | Rocky | 2008 | S. K. Nagendra | Flop |
| 4 | Kallara Santhe | 2009 | Sumana Kittur | Flop |
| 5 | Gokula | 2009 | Prashant Raj | Flop |
| 6 | Modalasala | 2010 | Purushottam Berde | Hit |
| 7 | Rajadhani | 2011 | B. Rajshekar | Average |
| 8 | Kirataka | 2011 | Pradeep Raj | Hit |
| 9 | Lucky | 2012 | Dr. Suri | Hit |
| 10 | Jaanu | 2012 | Preetham Gubbi | Average |
| 11 | Drama | 2012 | Yograj Bhat | Hit |
| 12 | Googly | 2013 | Pawan Wadeyar | Hit |
| 13 | Raja Huli | 2013 | Guru Deshpande | Super Hit |
| 14 | Gajakesari | 2014 | Krishna | Hit |
| 15 | Mr. and Mrs. Ramachari | 2014 | Santhosh Ananddram | Blockbuster |
| 16 | Masterpiece | 2015 | Manju Mandavya | Super Hit |
| 17 | Santhu Straight Forward | 2016 | Mahesh Rao | Average |
| 18 | K.G.F: Chapter 1 | 2018 | Prashanth Neel | Blockbuster |
| 19 | K.G.F: Chapter 2 | 2022 | Prashanth Neel | All Time Blockbuster |