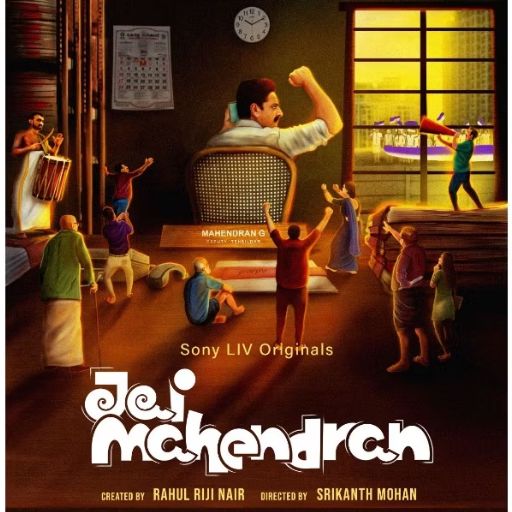 Jai Mahendran an upcoming Malayalam original series ott rights has been obtained by Sonyliv. 'Jai Mahendran' is SonyLIV first Malayalam original web series to stream on their Platform. Expecting that 'Jai Mahendran' is likely to be an exciting addition to the world of Malayalam web series. The show is under the responsibility of Rahul Riji Nair. According to its description, it is considered a political drama series. Rahul Riji Nair, who has won awards at the state and national levels, is helming the project. We can expect the series 'Jai Mahendran' to stream soon on SonyLIV Platform.
By acquiring the rights to 'Jai Mahendran,' SonyLIV is showcasing its commitment to diversifying its content offerings across different languages and regions. The move is likely to attract a wider audience to the platform and help SonyLIV establish a stronger foothold in the South Indian market.
Furthermore, the fact that 'Jai Mahendran' is being Produced by Rahul Riji Nair, who is known for his critically acclaimed films, suggests that the series is likely to be of high quality and well-received by audiences. With the series scheduled to begin streaming by the end of the year, Malayalam viewers can look forward to enjoying this exciting new offering on SonyLIV.
Jai Mahendran Series Details
Series Name
Jai Mahendran
Language
Malayalam
Industry
Mollywood
producer
Rahul Riji Nair
writer
Rahul Riji Nair
Director
Srikanth Mohan
Genre
political
Staring
Saiju Kurup, Suresh Krishna, Suhasini, Maniyanpilla Raju, Miya,
Vishnu Govindan, Balachandran Chullikad, Rahul Riji Nair, and Sidhartha Siva
OTT Platform
Sony liv
OTT Release Date
Yet to be announced!
The series will tell a story that is both relatable and entertaining while showing "a balanced portrayal of an officer's life from various perspectives." It is scheduled to go on floors soon, and to begin streaming by the end of the year. It is a political drama series that aims to offer a balanced portrayal of an officer's life from various perspectives.
We can assume that the series will revolve around the life of Jai Mahendran, the titular character, who is likely to be an officer in the political or administrative field. The series may showcase the challenges and struggles that Jai faces in his professional and personal life. It may also explore the dynamics of power and politics in contemporary society. The series is likely to be an intense and thought-provoking drama that addresses some of the pertinent issues in society today.
Disclaimer: This group is only for movie updates and movie details, it will not promote/contains any piracy (or) movie downloads. The content in this website is for informational purposes only and should not be construed as legal advice.
Movie Faq Questions
The Movie OTT Platform name is .
The OTT Release date of is .
The Theatrical Release date is .
The Movie is released on Language.
The Music director of Movie is .
is the director of Movie.
The is the Editor of Film.
have done the Cinematography of Movie.