Navigation
---
List of Upcoming Movies and Web Series in February 2023
Last updated on:
March 17th, 2023 at 9:36 pm
Edited by:
Harshini
---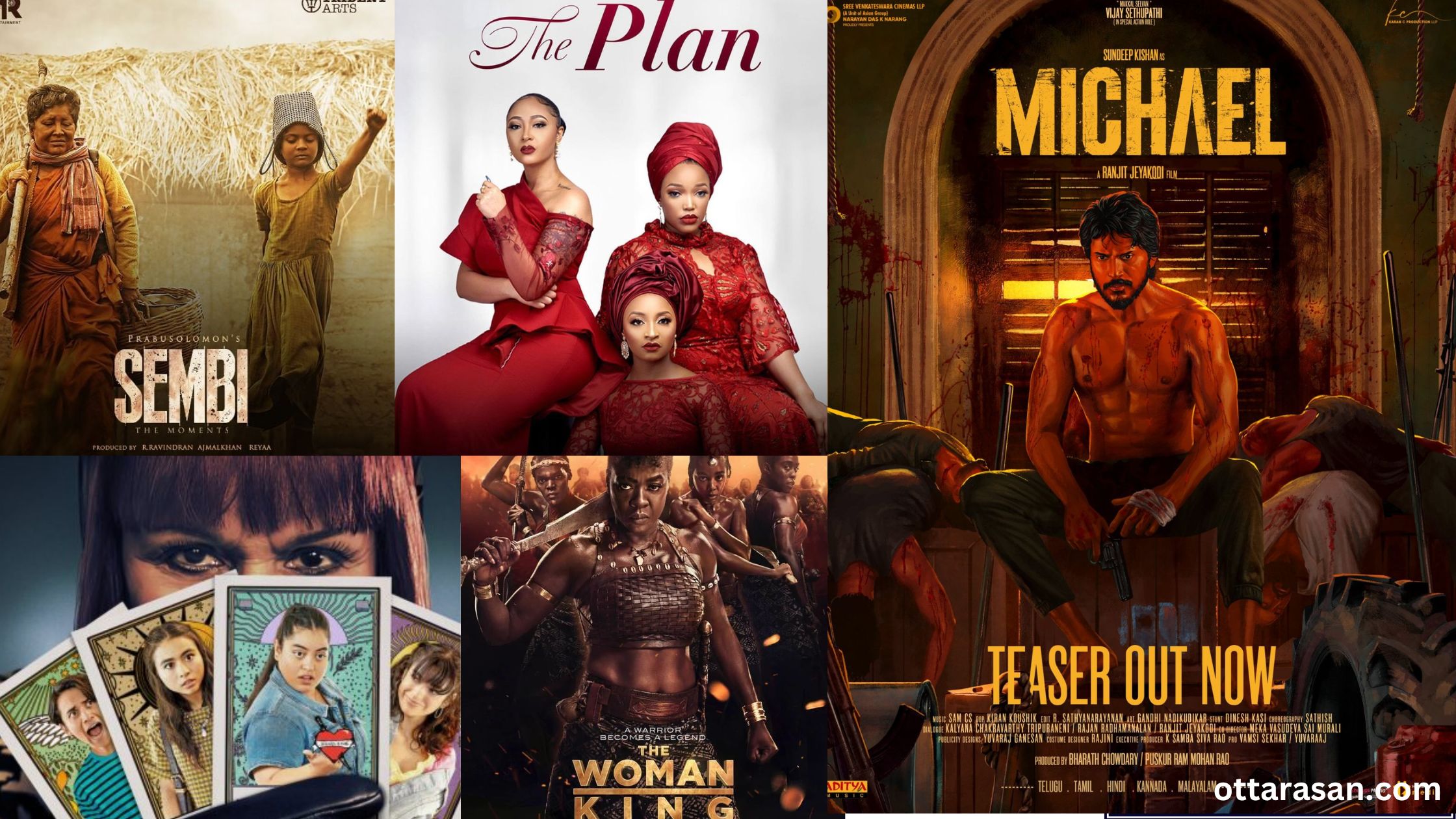 Check out Hit or Flop, blockbuster movies/ Series in February 2023: OTT platforms in India stream a lot of blockbuster movies & series in all languages. An OTT (Over-The-Top) platform is a streaming service that delivers video content over the internet, without the need for traditional cable or satellite TV service. These platforms are typically accessed through apps or websites on devices like smartphones, tablets, smart TVs, and gaming consoles.
OTT platforms offer a wide range of video content, including movies, TV shows, documentaries, live sports events, and original programming. They are usually subscription-based, but some may also offer ad-supported or pay-per-view options.
Some popular OTT platforms include Netflix, Amazon Prime Video, Hulu, Disney+, HBO Max, and YouTube TV. These platforms have become increasingly popular in recent years, as more and more people are cutting the cord with traditional TV services and opting for streaming options instead. Here you can find the latest release series in February 2023, Also the upcoming movies on the popular ott platform.
| S.No | Movies/Web Series Name | Release Date | OTT Platform | Genre |
| --- | --- | --- | --- | --- |
| 1 | Bas Kar Bassi | 01-Feb-23 | Prime Video | Stand-Up Comedy |
| 2 | Black Panther: Wakanda Forever | 01-Feb-23 | Hotstar | Action, Sci-Fi |
| 3 | Gunther's Millions (English) | 01-Feb-23 | Netflix | Docuseries |
| 4 | Freeridge | 02-Feb-23 | Netflix | Comedy, Teen |
| 5 | Sembi | 03-Feb-23 | Hotstar | Drama |
| 6 | Class | 03-Feb-23 | Netflix | Teen, Drama |
| 7 | True Spirit Movie | 03-Feb-23 | Netflix | Inspiring, Thriller |
| 8 | Infiesto Movie | 03-Feb-23 | Netflix | Crime, Thriller |
| 9 | Vadh Movie | 03-Feb-23 | Netflix | Thriller, Drama |
| 10 | Viking Wolf Movie (English) | 03-Feb-23 | Netflix | Thriller, Scary |
| 11 | The Plan (English) | 03-Feb-23 | Netflix | Drama |
| 12 | Jehanabad–Of Love And War | 03-Feb-23 | Sonyliv | Crime, Drama |
| 13 | Roktokorobi (Bengali) | 03-Feb-23 | Zee5 | Triller, Drama |
| 14 | The Woman King Movie | 03-Feb-23 | Cinema | Action, Historic |
| 15 | Michael Movie | 03-Feb-23 | Cinema | Action, Thriller |
| 16 | Almost Pyaar With DJ Mohabbat Movie | 03-Feb-23 | Cinema | Romantic, Drama |
| 17 | Congratulations Movie (Gujarati) | 03-Feb-23 | Cinema | Romantic, Comedy |
| 18 | Couple Goals Season 2 | 07-Feb-23 | Amazon Mini TV | Romance, Drama |
| 19 | Thunivu Movie | 08-Feb-23 | Netflix | Action, Thriller |
| 20 | The Exchange (English) | 08-Feb-23 | Netflix | True Story |
| 21 | You Season 4 Part 1 | 09-Feb-23 | Netflix | Crime, Thriller |
| 22 | Dear David Movie | 09-Feb-23 | Netflix | Teen, Romance |
| 23 | My Dad The Bounty Hunter | 09-Feb-23 | Netflix | Animation, Comedy |
| 24 | JAB WE MATCHED | 10-Feb-23 | Amazon Mini TV | Comedy, Drama |
| 25 | Farzi Movie | 10-Feb-23 | Prime Video | Crime, Thriller |
| 26 | Somebody I Used To Know (English) | 10-Feb-23 | Prime Video | Drama |
| 27 | Gobhir Joler Maach (Bengali) | 10-Feb-23 | Hoichoi | Romance, Crime |
| 28 | Hansika's Love Shaadi Drama | 10-Feb-23 | Hotstar | Emotion, Drama |
| 29 | Love To Hate You | 10-Feb-23 | Netflix | Romance, Comedy |
| 30 | Your Place Or Mine Movie | 10-Feb-23 | Netflix | Romance, Comedy |
| 31 | 10 Days Of A Good Man Movie (English) | 10-Feb-23 | Netflix | Crime, Thriller |
| 32 | Nijam With Smita (Telugu) | 10-Feb-23 | Sonyliv | Reality Show |
| 33 | Salaam Venky Movie | 10-Feb-23 | Zee5 | Family, Drama |
| 34 | Vedha Movie | 10-Feb-23 | Zee5 | Action, Drama |
| 35 | Shehzada Movie | 10-Feb-23 | Cinema | Action, Drama |
| 36 | Salmon (3D) Movie | 10-Feb-23 | Cinema | Suspense, Thriller |
| 37 | Kushi Movie (Telugu) | 10-Feb-23 | Cinema | Romantic, Comedy |
| 38 | Jaggu Ani Juliet Movie (Marathi) | 10-Feb-23 | Cinema | Romantic, Comedy |
| 39 | Shiv Shastri Balboa Movie | 10-Feb-23 | Cinema | Drama |
| 40 | Kumite 1 Warrior Hunt | 12-Feb-23 | MX Player | Reality Show |
| 41 | Squared Love All Over Again Movie | 13-Feb-23 | Netflix | Romantic, Comedy |
| 42 | Minus One | 14-Feb-23 | Lionsgate Play | Romance, Drama |
| 43 | The Romantics | 14-Feb-23 | Netflix | Documentary |
| 44 | Perfect Match | 14-Feb-23 | Netflix | Reality Show |
| 45 | Re/Member Movie | 14-Feb-23 | Netflix | Horror, Teen |
| 46 | In Love All Over Again (English) | 14-Feb-23 | Netflix | Romantic, Drama |
| 47 | Malikappuram Movie | 15-Feb-23 | Hotstar | Action, Drama |
| 48 | Red Rose | 15-Feb-23 | Netflix | Thriller, Suspense |
| 49 | Possessed Movie | 15-Feb-23 | Netflix | Horror, Action |
| 50 | Eva Lasting (English) | 15-Feb-23 | Netflix | Teen, Drama |
| 51 | The Law According To Lidia Poet (English) | 15-Feb-23 | Netflix | Crime, Mystery |
| 52 | Mr. Queen (English) | 15-Feb-23 | Netflix | Comedy, Drama |
| 53 | Dearest (English) | 16-Feb-23 | Netflix | Crime, Thriller |
| 54 | LOST | 16-Feb-23 | Zee5 | Crime, Thriller |
| 55 | Carnival Row – Season 2 | 17-Feb-23 | Prime Video | Crime, Fantasy |
| 56 | The Night Manager | 17-Feb-23 | Hotstar | Crime, Thriller |
| 57 | J-Hope IN THE BOX | 17-Feb-23 | Hotstar | Documentary |
| 58 | Cirkus Movie | 17-Feb-23 | Netflix | Comedy, Drama |
| 59 | A Girl And An Astronaut | 17-Feb-23 | Netflix | Romance, Sci-Fi |
| 60 | Unlocked Movie | 17-Feb-23 | Netflix | Crime, Thriller |
| 61 | Escape Room: Tournament Of Champions | 17-Feb-23 | Sonyliv | Thriller, Drama |
| 62 | Ant-Man And The Wasp: Quantumania Movie | 17-Feb-23 | Cinema | Action, Sci-Fi |
| 63 | Maidaan Movie | 17-Feb-23 | Cinema | Biopic, Sports |
| 64 | Shaakuntalam Movie | 17-Feb-23 | Cinema | Mythological, Drama |
| 65 | Dhamki Movie | 17-Feb-23 | Cinema | Drama |
| 66 | Vaathi Movie (Tamil) | 17-Feb-23 | Cinema | Action, Drama |
| 67 | Vinaro Bhagyamu Vishnu Katha Movie (Telugu) | 17-Feb-23 | Cinema | Romantic, Comedy |
| 68 | Summer Strike | 20-Feb-23 | Netflix | Romantic, Drama |
| 69 | Varisu | 22-Feb-23 | Prime Video | Action, Drama |
| 70 | The Strays | 22-Feb-23 | Netflix | Thriller, Drama |
| 71 | Triptych | 22-Feb-23 | Netflix | Thriller, Mystery |
| 72 | Chhota Bheem Season 16 | 22-Feb-23 | Netflix | Kids, Comedy |
| 73 | Veera Simha Reddy | 23-Feb-23 | Hotstar | Action, Crime |
| 74 | Outer Bank Season 3 | 23-Feb-23 | Netflix | Action, Drama |
| 75 | Influencer Life | 24-Feb-23 | Amazon Mini TV | Thriller, Drama |
| 76 | The Consultant | 24-Feb-23 | Prime Video | Crime, Thriller |
| 77 | A Quiet Place Part 2 Movie | 24-Feb-23 | Netflix | Horror, Drama |
| 78 | Who Were We Running From? (English) | 24-Feb-23 | Netflix | Crime, Thriller |
| 79 | We Have A Ghost (English) | 24-Feb-23 | Netflix | Horror, Comedy |
| 80 | Potluck Season 2 | 24-Feb-23 | Sonyliv | Comedy, Drama |
| 81 | Iru Dhuruvam 2 (Tamil) | 24-Feb-23 | Sonyliv | Crime, Thriller |
| 82 | Selfiee Movie | 24-Feb-23 | Cinema | Action, Comedy |
| 83 | Agilan Movie (Tamil) | 24-Feb-23 | Cinema | Action, Thriller |
| 84 | Ji Wife Ji Movie (Punjabi) | 24-Feb-23 | Cinema | Comedy, Drama |
| 85 | Ghar Set Hai | 25-Feb-23 | MX Player | Comedy, Drama |
| 86 | Gandii Baat Season 7 | 25-Feb-23 | ALTT | Adult, Drama |
| 87 | Aashiqana Season 3 | 27-Feb-23 | Hotstar | TV Serial |
| 88 | Waltair Veerayya Movie | 27-Feb-23 | Netflix | Action, Thriller |