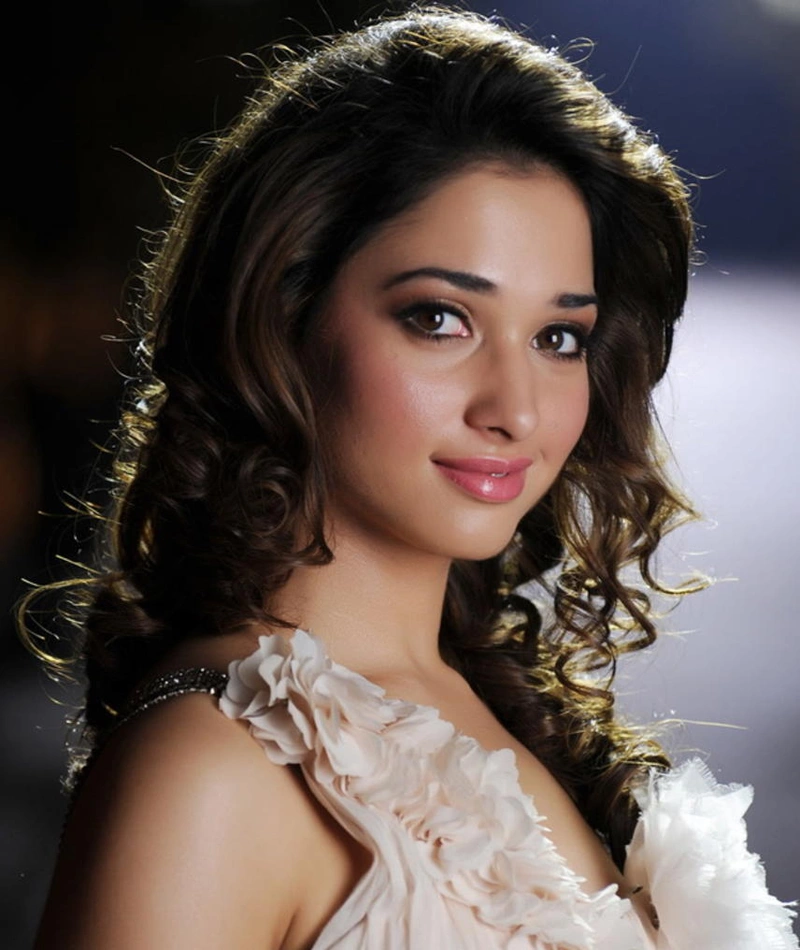 Check out Hit or Flop, blockbuster Tamanna Bhatia Movies: Tamanna Bhatia, also known as Tamannaah, is a popular Indian actress who primarily works in the Tamil, Telugu, and Hindi film industries. She was born on December 21, 1989, in Mumbai, India. Tamannaah started her acting career at the young age of 15, and her debut film was a Hindi movie named "Chand Sa Roshan Chehra" which was released in 2005.
Tamannaah made her debut in the Tamil film industry with the film "Kedi" in 2006, which was followed by her Telugu debut in the film "Sri" in 2005. But it was the film "Happy Days," which released in 2007, that brought her fame and recognition. Her performance in the film was highly appreciated, and she received the Best Actress Award at the Santosham Film Awards.
She worked in several successful films in Tamil and Telugu, such as "Ayan," "Paiyaa," "Siruthai," "100% Love," "Baahubali: The Beginning," and "Baahubali: The Conclusion." Tamannaah's performance in the Baahubali films was widely praised, and she received critical acclaim for her portrayal of the character Avanthika. Apart from Tamil and Telugu films, Tamannaah has also acted in several Hindi films, such as "Himmatwala," "Humshakals," and "Entertainment." She has also made a special appearance in the Bollywood film "KGF: Chapter 1." Tamannaah has won several awards and nominations throughout her career, including the Filmfare Award for Best Actress – Tamil, Nandi Award for Best Actress, and the Vijay Award for Best Actress.
She has established herself as one of the leading actresses in the South Indian film industry and has a massive fan following. Her versatility, talent, and hard work have made her one of the most sought-after actresses in the Indian film industry.
Tamanna (Tamanna Bhatia) Biography
Name
Tamanna Bhatia
Date of Birth
December 21, 1989
Place of Birth
Mumbai, India
Nationality
Indian
Occupation
Actress
Years Active
2005 – present
Debut Film
Chand Sa Roshan Chehra (Hindi, 2005)
Debut Tamil Film
Kedi (2006)
Debut Telugu Film
Sri (2005)
Notable Films
Happy Days, Ayan, Paiyaa, Siruthai, 100% Love, Baahubali: The Beginning,
Baahubali: The Conclusion, Himmatwala, Humshakals,
Entertainment, KGF: Chapter 1
Awards
Filmfare Award for Best Actress – Tamil, Nandi Award for Best Actress,
Vijay Award for Best Actress, Santosham Film Awards for Best Actress
Tamanna Bhatia Hit And Flop Movies List
S.No
Movie
Year
Director
Language
1
Chand Sa Roshan Chehra
2005
Shabah Shamsi
Hindi
2
Sri
2005
Dasarath
Telugu
3
Kedi
2006
Jyothi Krishna
Tamil
4
Viyabari
2007
Sakthi Chidambaram
Tamil
5
Happy Days
2007
Sekhar Kammula
Telugu
6
Kalloori
2007
Balaji Sakthivel
Tamil
7
Kalidasu
2008
G. Ravicharan Reddy
Telugu
8
Padikkadavan
2009
Suraj
Tamil
9
Konchem Ishtam Konchem Kashtam
2009
Kishore Kumar Pardasani
Telugu
10
Ayan
2009
K. V. Anand
Tamil
11
Ananda Thandavam
2009
A. R. Gandhi Krishna
Tamil
12
Kanden Kadhalai
2009
R. Kannan
Tamil
13
Paiyaa
2010
N. Linguswamy
Tamil
14
Sura
2010
S. P. Rajkumar
Tamil
15
Thillalangadi
2010
M. Raja
Tamil
16
Siruthai
2011
Siva
Tamil
17
Ko
2011
K. V. Anand
Tamil
18
100% Love
2011
Sukumar
Telugu
19
Badrinath
2011
V. V. Vinayak
Telugu
20
Venghai
2011
Hari
Tamil
21
Oosaravelli
2011
Surender Reddy
Telugu
22
Racha
2012
Sampath Nandi
Telugu
23
Endukante… Premanta!
2012
A. Karunakaran
Telugu
24
Rebel
2012
Raghava Lawrence
Telugu
25
Cameraman Gangatho Rambabu
2012
Puri Jagannadh
Telugu
26
Himmatwala
2013
Sajid Khan
Hindi
27
Tadakha
2013
Kishore Kumar Pardasani
Telugu
28
Veeram
2014
Siva
Tamil
29
Humshakals
2014
Sajid Khan
Hindi
30
Alludu Seenu [Special appearance in
the song "Labbar Bomma"]
2014
V. V. Vinayak
Telugu
31
Entertainment
2014
Sajid-Farhad
Hindi
32
Aagadu
2014
Srinu Vaitla
Telugu
33
Nannbenda (Cameo appearance)
2015
Jagadish
Tamil
34
Baahubali: The Beginning
2015
S. S. Rajamouli
Telugu
35
Baahubali: The Beginning
2015
S. S. Rajamouli
Tamil
36
Vasuvum Saravananum Onna
Padichavanga
2015
M. Rajesh
Tamil
37
Size Zero (Cameo appearance)
2015
Prakash Kovelamudi
Telugu
38
Inji Iduppazhagi (Cameo appearance)
2015
Prakash Kovelamudi
Tamil
39
Bengal Tiger
2015
Sampath Nandi
Telugu
40
Speedunnodu [Special appearance in
the song "Bachelor Babu"]
2016
Srinivasa Rao Bhimaneni
Telugu
41
Oopiri
2016
Vamshi Paidipally
Telugu
42
Thozha
2016
Vamshi Paidipally
Tamil
43
Dharma Durai
2016
Seenu Ramasamy
Tamil
44
Jaguar
2016
Mahadev
Kannada
45
Jaguar
2016
A. Mahadev
Telugu
46
Devi
2016
A. L. Vijay
Tamil
47
Abhinetri
2016
A. L. Vijay
Telugu
48
Tutak Tutak Tutiya
2016
Vijay
Hindi
49
Kaththi Sandai
2016
Suraj
Tamil
50
Baahubali 2: The Conclusion
2017
S. S. Rajamouli
Telugu
51
Baahubali 2: The Conclusion
2017
S. S. Rajamouli
Tamil
52
Anbanavan Asaradhavan Adangadhavan
2017
Adhik Ravichandran
Tamil
53
Jai Lava Kusa [Special appearance in
the song "Swing Zara"]
2017
K. S. Ravindra (Bobby)
Telugu
54
Sketch
2018
Vijay Chandar
Tamil
55
Aa Bb Kk (Cameo appearance)
2018
Tejas Deoskar
Marathi
56
Naa Nuvve
2018
Jayendra Panchapakesan
Telugu
57
Next Enti?
2018
Kunal Kohli
Telugu
58
K.G.F: Chapter 1
2018
Prashanth Neel
Kannada
59
F2: Fun and Frustration
2019
Anil Ravipudi
Telugu
60
Kanne Kalaimaane
2019
Seenu Ramasamy
Tamil
61
Devi 2
2019
A. L. Vijay
Tamil
62
Abhinetri 2
2019
A. L. Vijay
Telugu
63
Khamoshi
2019
Chakri Toleti
Hindi
64
Sye Raa Narasimha Reddy
2019
Surender Reddy
Telugu
65
Petromax
2019
Rohin Venkatesan
Tamil
66
Action
2019
Sundar C.
Tamil
67
Sarileru Neekevvaru (Special appearance
in the song "Daang Daang")
2020
Anil Ravipudi
Telugu
68
Seetimaarr
2021
Sampath Nandi
Telugu
69
Maestro
2021
Merlapaka Gandhi
Telugu
70
Plan A Plan B
2021
Shailendra Singh
Hindi
71
F3
2022
Anil Ravipudi
Telugu
72
Gurthunda Seethakalam
TBA
Nag Ashwin
Telugu
73
Bole Chudiyan
TBA
Shamas Nawab Siddiqui
Hindi
Tamannaah Bhatia Box Office Collection
Movie Name
Release Date
Director
Opening Day
[ INR cr. ]
End of Week 1
[ INR cr. ]
Lifetime
[ INR cr. ]
Verdict
Khamoshi
14 Jun 2019
Chakri Toleti
0.11
0.65
0.67
Flop
Baahubali 2 – The Conclusion
28 Apr 2017
S. S. Rajamouli
41
247
510.99
All Time Blockbuster
Tutak Tutak Tutiya
07 Oct 2016
Vijay
0.61
4.36
4.51
Flop
Bahubali – The Beginning
10 Jul 2015
S. S. Rajamouli
5.15
46.77
118.7
Blockbuster
Entertainment
08 Aug 2014
Duo Sajid-Farhad
11.16
56.50
72.02
Flop
Humshakals
20 Jun 2014
Sajid Khan
12.5
56.35
63.72
Flop
Himmatwala
29 Mar 2013
Jayant Gilatar
12.1
N.A
47.45
Flop
Top Actress Hits and Flops: Hansika Motwani Hits And Flops | Rashi Khanna Hits and Flops Movie List | Samantha Hit And Flop Movies