Navigation
---
New OTT Releases this Week (March 27 – April 02)
Last updated on:
April 25th, 2023 at 10:00 pm
Edited by:
Harshini
---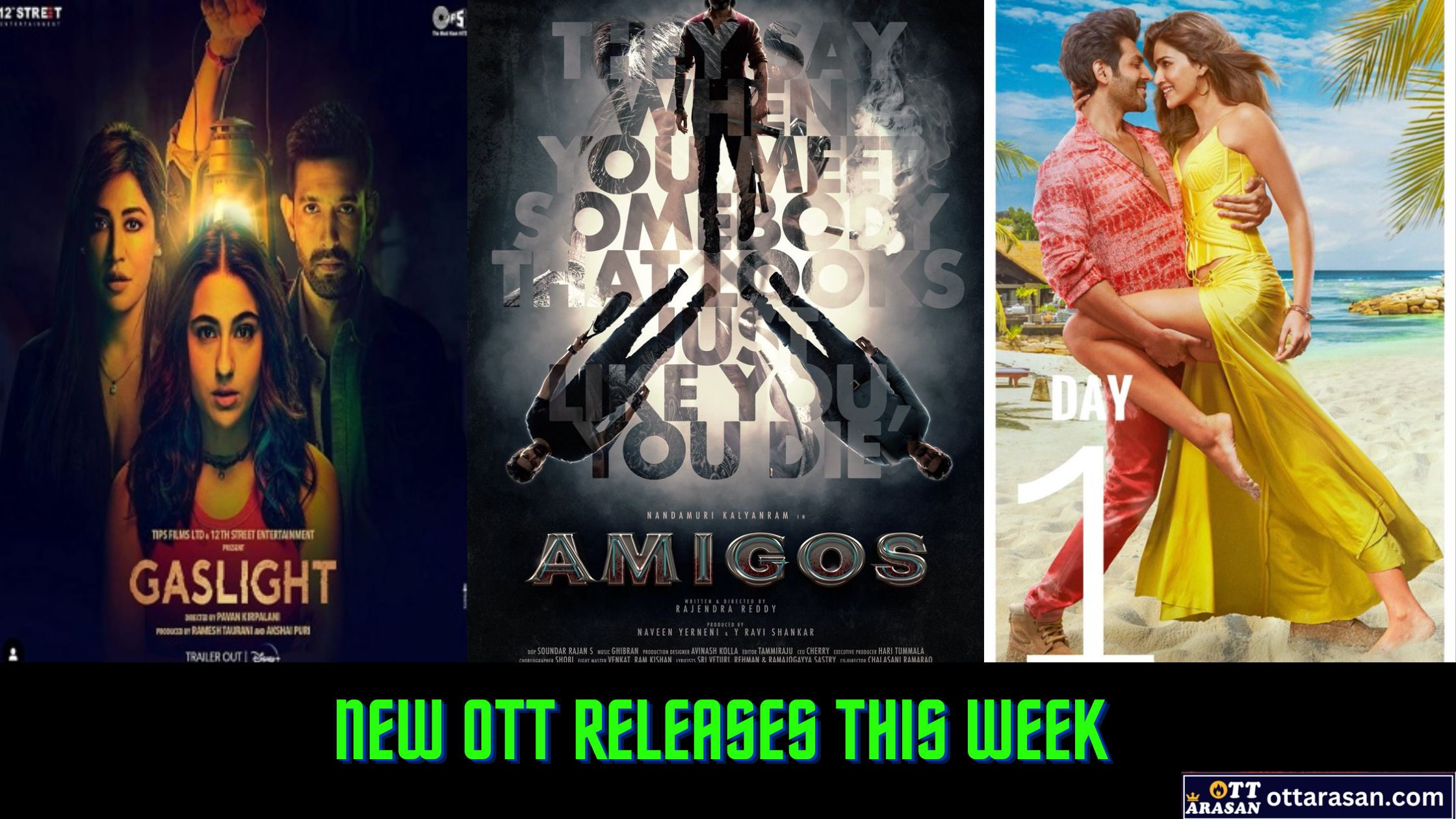 check out Movies releasing this Week on the OTT Platform:  Murder Mystery 2, Shehzada, Agilan, Ayothi, Gaslight, Amigos, and much more are streaming on OTT platforms this week. If you want to know the Official OTT Platform and OTT release date watch the movie online. Please look through the information given below.
If you are a movie lover, you often spend a lot of time watching movies, seeking out new and interesting films to add to your watchlist. then this article is absolutely for you, we are here to save your time and get you the latest movies releasing on OTT this week. you can view and enjoy films on popular OTT platforms and discuss them with friends and fellow enthusiasts, and Ultimately, the movie is the place to find joy and fulfillment in the art form of film and the emotional connection it can provide.
| S.No | Title | OTT Platform | OTT Release Date | Language |
| --- | --- | --- | --- | --- |
| 1 | Shehzada | Netflix | 1 April 2023 | Hindi |
| 2 | Murder Mystery 2 | Netflix | 31 March 2023 | English |
| 3 | Sridevi Shoban Babu | Disney+ Hotstar | 30 March 2023 | Telugu |
| 4 | Agilan | ZEE5 | 30 March 2023 | Tamil |
| 5 | Ayothi | ZEE5 | 31 March 2023 | Tamil |
| 6 | Kill Boksoon | Netflix | 31 March 2023 | Korean |
| 7 | Almost Pyaar With DJ Mohabbat | Netflix | 31 March 2023 | Hindi |
| 8 | Gaslight | Disney+ Hotstar | 31 March 2023 | Hindi |
| 9 | Copycat Killer | Netflix | 31 March 2023 | Chinese |
| 10 | Sathi Gani Rendu Ekaralu | Aha | 1 April 2023 | Telugu |
| 11 | Amigos | Netflix | 1 April 2023 | Telugu |
1. Title: Shehzada
Director: Rohit Dhawan
Description: The movie is about a boy who was born rich but was raised in a modest home and had his Shehzada status taken away from him. All of this was a ruse by Valmiki, the pretend father of Bantu (Paresh Rawal). What does Bantu do after discovering that the Jindals are his real family?
Genre: Action
IMDB rating: 5.3
2. Title: Sridevi Shoban Babu
Director: Prasanth Kumar Dimmala
Description: Santosh Shoban of Ek Mini Katha fame plays the lead role in the movie, while Gouri Kishan portrays the antagonist. Whilst Kamran provides all of the musical and sound effects for the story.
Genre: Comedy, Romantic
IMDB rating: 7.8
3. Title: Agilan
Director: N Kalyana Krishnan
Description: The movie is about a crane operator at the Chennai harbour who doubles as a smuggler and locks horns with another smuggler as well as the authorities.
Genre: Action, Drama, Thriller
IMDB rating: 5.2
4. Title: Ayothi
Director: R. Manthira Moorthy
Description: The story is about a man who finds himself entangled in a criminal case under unexpected circumstances. He fights to clear his name of false accusations despite facing numerous obstacles.
Genre: Action, Drama
IMDB rating: 8.5
5. Title: Almost Pyaar With DJ Mohabbat
Director: Anurag Kashyap
Description: In London, a girl likes a boy, a little too much. And, in a parallel universe exists a boy that likes a girl. The two unrequited love stories, burdened by social status, caste and inequality are breathlessly, heading on toward each other.
Genre: Romance, Drama
IMDB rating: 7.6
6. Title: Gaslight
Director: Pavan Kirpalani
Description: The psychological thriller takes place in an old house which almost feels haunted. There is not much known about the plot of the movie apart from what we've seen in the trailer.
Genre: Mystery, Thriller
IMDB rating: NA
7. Title: Amigos
Director: Rajendra Reddy
Description: The movie revolves around the concept of doppelgangers and the lives of three individuals who resemble each other. Their lives take an unexpected turn as they come across each other. However, their friendship is tested as they find themselves caught up in a series of intense twists and turns.
Genre: Action, Thriller
IMDB rating: 7
8. Title: Murder Mystery 2
Director: Jeremy Garelick
Description: Nick and Audrey Spitz are back and are in France this time around. The movie features Mark Strong as a SAS mercenary along with Mélanie Laurent and Jodie Turner-Smith.
Genre:  Action, Comedy, Mystery
IMDB rating: NA