Navigation
---
Telugu Movies Hits and Flops 2020
Last updated on:
November 21st, 2023 at 9:51 pm
Edited by:
Harshini
---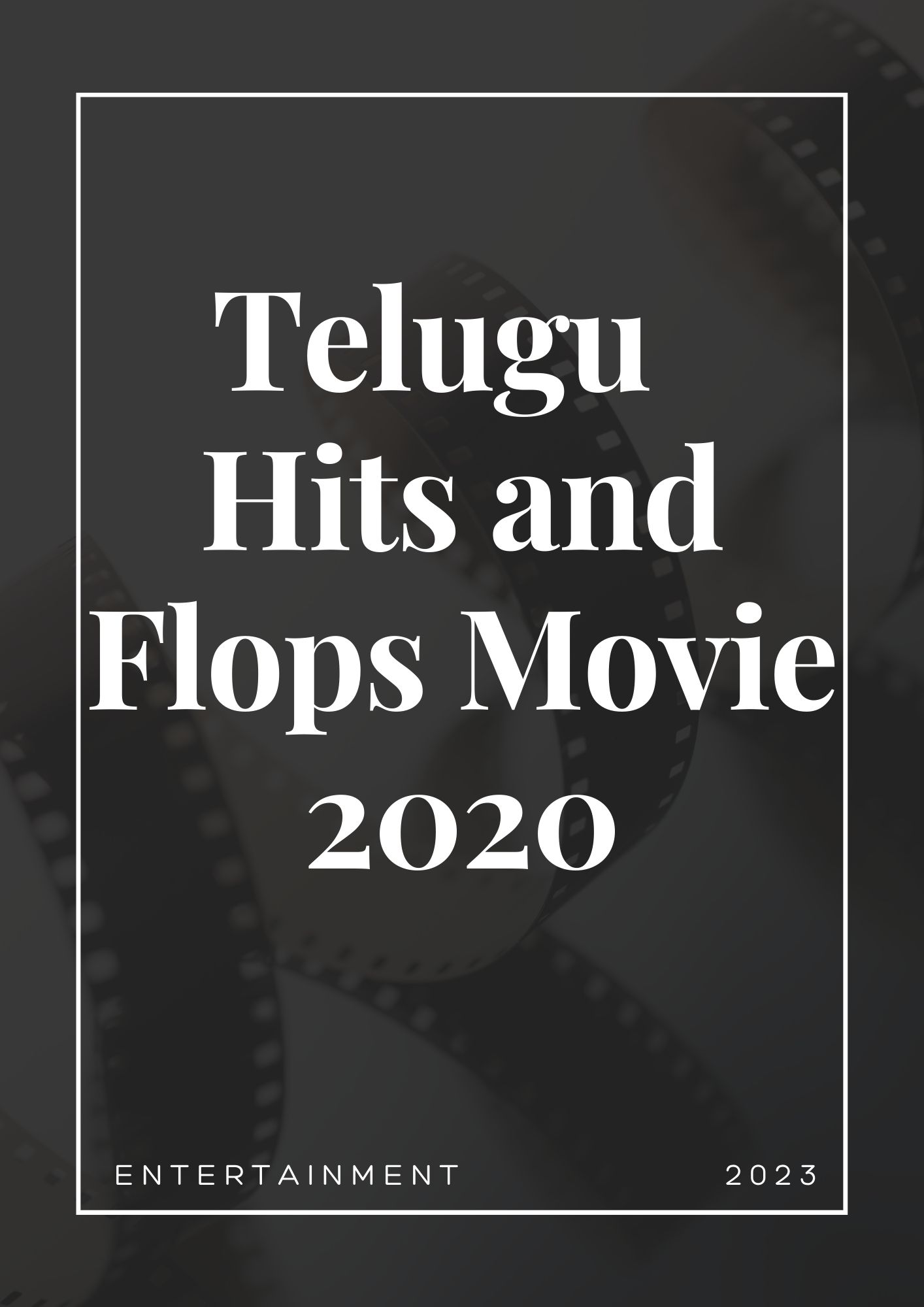 Check out the list of Telugu Movies Hits and Flops of 2020:
Telugu cinema, also known as Tollywood, is a film industry based in Hyderabad, Telangana, India. It is one of the largest film industries in India and produces a significant number of films every year.
The first Telugu film, Bhakta Prahlada, was released in 1931, and since then, Telugu cinema has evolved significantly. Some of the notable directors who have made a mark in Telugu cinema are K. Viswanath, Bapu, Dasari Narayana Rao, K. Raghavendra Rao, and Puri Jagannadh, among others.
Telugu cinema has also produced several talented actors, including N. T. Rama Rao, Akkineni Nageswara Rao, Chiranjeevi, Nagarjuna, Mahesh Babu, and Prabhas, to name a few. The industry has also seen the rise of several female leads, including Savitri, Anjali Devi, Sridevi, Soundarya, and Anushka Shetty, among others.
| S.No | Movie Name | Verdict | Release Date | Director |
| --- | --- | --- | --- | --- |
| 01 | Beautiful | Disaster | 01 January | Agasthya Manju |
| 02 | Oollalla Oollalla | Flop | 01 January | Satya Prakash |
| 03 | Utthara | Disaster | 03 January | SR Thirupathi |
| 04 | Wifei Aka Wife, I | Disaster | 03 January | GSSP Kalyan |
| 05 | Sarileru Neekevvaru | Blockbuster! | 11 January | Anil Ravipudi |
| 06 | Ala Vaikunthapurramuloo | Blockbuster! | 12 January | Trivikram Srinivas |
| 07 | Entha Manchivaadavuraa | Flop | 15 January | Satish Vegesna |
| 08 | Thagite Thandana | Flop | 22 January | Srinath Badineni |
| 09 | Disco Raja | Disaster | 24 January | Vi Anand |
| 10 | DubSmash | Disaster | 30 January | Keshav Depur |
| 11 | Aswathama | Flop | 31 January | Ramana Teja |
| 12 | Choosi Choodangaane | Average | 31 January | Sesha Sindhu Rao |
| 13 | Jaanu | Disaster | 07 February | C. Premkumar |
| 14 | 3 Monkeys | Flop | 07 February | Anil Kumar G |
| 15 | Savaari | Flop | 07 February | Saahith Mothkuri |
| 16 | Degree College | Flop | 07 February | Narasimha Nandi |
| 17 | Neevalle Nenunna | Disaster | 07 February | Saibaba. M |
| 18 | World Famous Lover | Disaster | 14 February | Kranthi Madhav |
| 19 | Oka Chinna Viramam | Flop | 14 February | Sundeep Cheguri |
| 20 | Shiva 143 | Flop | 14 February | Sagar Sailesh |
| 21 | Life Anubavinchu Raja | Flop | 14 February | Suresh Thirumur |
| 22 | Bheeshma | Hit | 21 February | Venky Kudumula |
| 23 | Pressure Cooker | Disaster | 21 February | Sujoi & Sushil |
| 24 | Valayam | Flop | 21 February | Ramesh Kadumula |
| 25 | Cheema Prema Madhyalo Bhaama | Flop | 21 February | Srikanth 'Sri' Appalaraju |
| 26 | Raahu | Flop | 28 February | Subbu Vedula |
| 27 | HIT: The First Case | Hit | 28 February | Sailesh Kolanu |
| 28 | Swecha | Flop | 28 February | KPN Chawhan |
| 29 | College Kumar | Flop | 06 March | Hari Santhosh |
| 30 | Palasa 1978 | Average | 06 March | Karuna Kumar |
| 31 | O Pitta Katha | Flop | 06 March | Chandu Muddu |
| 32 | Anukunnadi Okkati Ayyandhi Okati | Amazon Prime Video OTT Release! | 06 March | Baalu Adusumilli |
| 33 | Screenplay Of An Indian Love Story | Disaster | 06 March | K L Prasad |
| 34 | Eureka | Flop | 13 March | Karteek Anand |
| 35 | Madha | Average | 13 March | Srividya Basawa |
| 36 | Arjuna | Disaster | 13 March | Kanmani |
| 37 | Amrutharamam | ZEE5 OTT Release! | 29 April | Surender Kontadi |
| 38 | Run | Aha OTT Release! | 29 May | Lakshmikanth Chenna |
| 39 | Krishna And His Leela | Netflix OTT Release! | 25 June | Ravikanth Perepu |
| 40 | 47 Days | ZEE5 OTT Release! | 30 June | Pradeep Maddali |
| 41 | Bhanumathi & Ramakrishna | Aha OTT Release! | 03 July | Srikanth Nagothi |
| 42 | Uma Maheswara Ugra Roopasya | Netflix OTT Release! | 30 July | Venkatesh Maha |
| 43 | Meka Suri | ZEE5 OTT Release! | 31 July | Trinadh Velisala |
| 44 | Johaar | Aha OTT Release! | 14 August | Teja Marni |
| 45 | Buchinaidu Khandriga Aka BucchiNaidu Kandriga | Aha OTT Release! | 21 August | Poluru Krishna |
| 46 | V | Amazon Prime Video OTT Release! | 05 September | Mohan Krishna Indraganti |
| 47 | Amaram Akhilam Prema | Aha OTT Release! | 18 September | Edwards Jonathan |
| 48 | Nishabdham | Amazon Prime Video OTT Release! | 02 October | Hemant Madhukar |
| 49 | Orey Bujjiga | Aha OTT Release! | 02 October | Vijay Kumar Konda |
| 50 | Colour Photo | Aha OTT Release! | 23 October | Sandeep Raj |
| 51 | Miss India | Netflix OTT Release! | 04 November | Narendra Nath |
| 52 | Gatham | Amazon Prime Video OTT Release! | 06 November | Kiran Reddy |
| 53 | Maa Vintha Gaadha Vinuma | Aha OTT Release! | 14 November | Aditya Mandala |
| 54 | Anaganaga O Athdhi Aka Anaganaga O Athidhi | Aha OTT Release! | 20 November | Dayal Padmanabhan |
| 55 | Middle Class Melodies | Amazon Prime Video OTT Release! | 20 November | Vinod Ananthoju |
| 56 | Meka Suri 2 | ZEE5 OTT Release! | 27 November | Trinadh Velisala |
| 57 | Bombhaat | Amazon Prime Video OTT Release! | 03 December | Raghavendra Varma |
| 58 | IIT Krishnamurthy | Amazon Prime Video OTT Release! | 10 December | Sree Vardhan |
| 59 | Guvva Gorinka | Amazon Prime Video OTT Release! | 17 December | Bammidi Mohan |
| 60 | Dirty Hari | ATT Friday Movies App OTT Release! | 18 December | M. S. Raju |
| 61 | Murder | Flop | 24 December | Anand Chandra |
| 62 | Solo Brathuke So Better | Hit | 25 December | Subbu |
| 63 | Oka Yodhudu | No Verdict Found! | 25 December | Haari |