Navigation
---
Top 10 Zombie Movies on Netflix 2023 | Best Zombie Movies on Netflix
Last updated on:
March 17th, 2023 at 9:55 pm
Edited by:
Staff Editor
---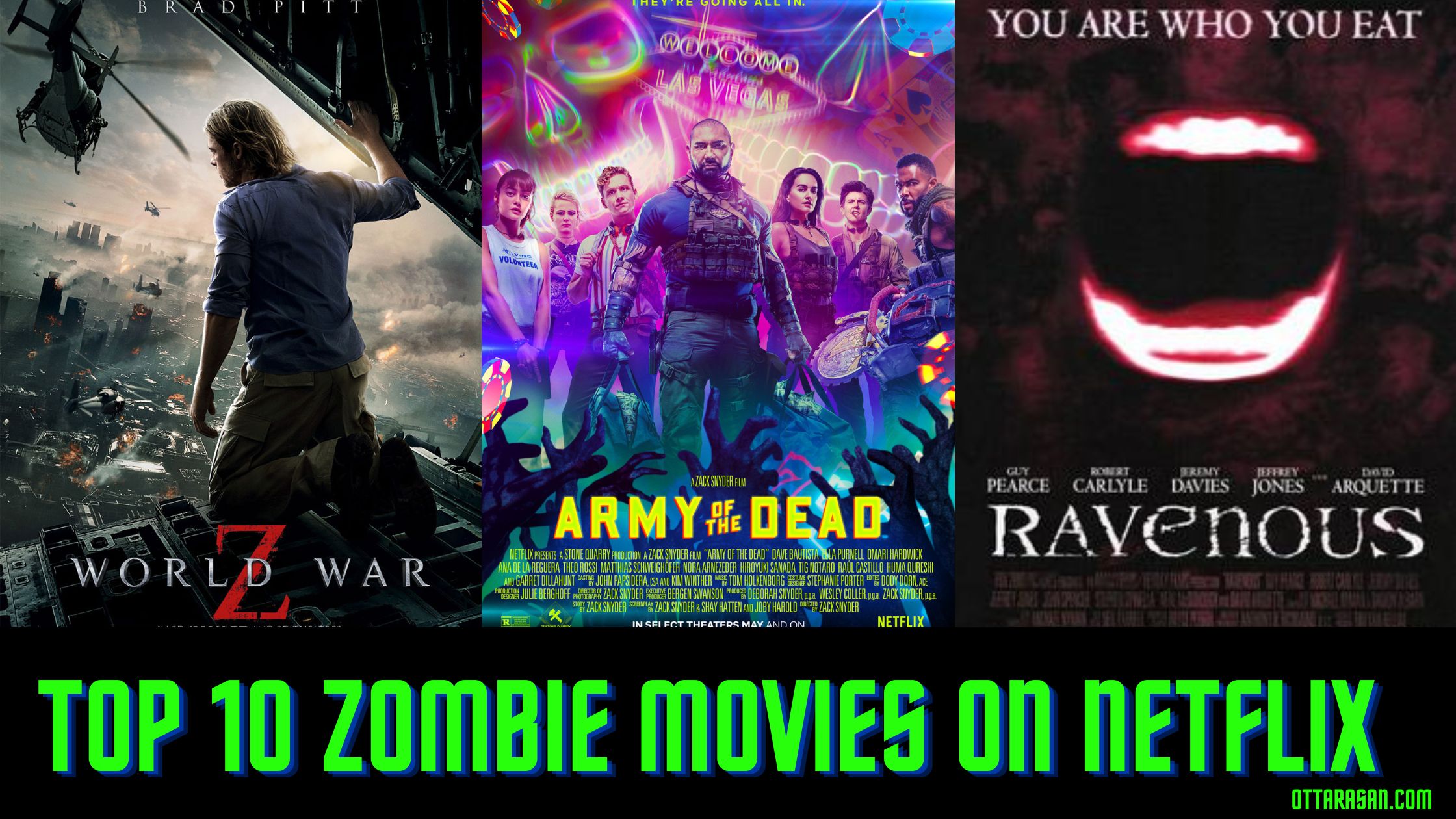 Check out Top 10 Best Zombie Movies on Netflix: Netflix is a famous online platform to provide dramas in different forms. Now, it was releasing zombie movies with thriller effects. The cinemas are a more entertaining part for the people. Now younger are more independent seeing movies at home without any crowd noise.
Most of the genres are becoming more famous on Netflix. The zombie genre is more creditable for Netflix. Thriller movies are commonly more adequate and make people into thriller forms. Here, we have listed the top 10 zombie movies that are going on Netflix in 2023.
Top 10 Zombie Movies on Netflix 2023
| S.No | Movie Name | Language | Year |
| --- | --- | --- | --- |
| 1 | World War Z | English | 2013 |
| 2 | #Alive | Korean | 2020 |
| 3 | Army of Dead | English | 2021 |
| 4 | Zombieland: Double Tap | English | 2019 |
| 5 | Resident Evil: Welcome to Raccoon City | English | 2021 |
| 6 | Kingdom: Ashin of the North | Korean | 2021 |
| 7 | Ravenous | French | 2017 |
| 8 | Day of the Dead: Bloodline | English | 2017 |
| 9 | Cargo | English | 2017 |
| 10 | Valley of the Dead | English | 2020 |
Top 10 Zombie Movies Ratings 2023
| S.No | Movie Name | IMDb | Director | Starring |
| --- | --- | --- | --- | --- |
| 1 | World War Z | 7 | Marc Forster | Brad Pitt, Mireille Enos, Daniella Kertesz, and others |
| 2 | #Alive | 6.3 | Il Cho | Yoo Ah-in, Park Shin-Hye, Jeon Bae-soo, and others |
| 3 | Army of Dead | 5.7 | Zack Snyder | Dave Bautista, Ella Purnell, Omari Hardwick, and others |
| 4 | Zombieland: Double Tap | 6.7 | Ruben Fleischer | Woody Harrelson, Jesse Eisenberg, Abigail Breslin, and others |
| 5 | Resident Evil: Welcome to Raccoon City | 5.2 | Johannes Roberts | Kaya Scodelario, Hannah John-Kamen, and others |
| 6 | Kingdom: Ashin of the North | 7 | Seong Hun Kim | Jun Ji-hyun, Si-ah Kim, Koo Kyo-hwan, and others |
| 7 | Ravenous | 5.8 | Robin Aubert | Marc-André Grondin, Monia Chokri, Charlotte St-Martin, and others |
| 8 | Day of the Dead: Bloodline | 3.4 | Hèctor Hernández Vicens | Sophie Skelton, Johnathon Schaech, Jeff Gum, and others |
| 9 | Cargo | 6.3 | Ben Howling, Yolanda Ramke | Simone Landers, Martin Freeman, and others |
| 10 | Valley of the Dead | 5.8 | Alberto de Toro, Javier Ruiz Caldera | Miki Esparbé, Aura Garrido, Luis Callejo |
some of the best zombie movies available on Netflix:
"Train to Busan" (2016) – A South Korean horror-thriller about a group of passengers on a high-speed train who must fight for survival against a zombie outbreak.
"Shaun of the Dead" (2004) – A British horror-comedy about a man who tries to save his loved ones during a zombie apocalypse.
"Cargo" (2017) – An Australian post-apocalyptic horror-drama about a father who must protect his infant daughter from a zombie outbreak.
"The Girl with All the Gifts" (2016) – A British post-apocalyptic horror-drama about a young girl with a special immunity to a zombie virus.
"Black Summer" (2019) – A Netflix original series that follows a group of survivors during the early days of a zombie outbreak
Also check : Top 5 Sports Movies On Sonyliv