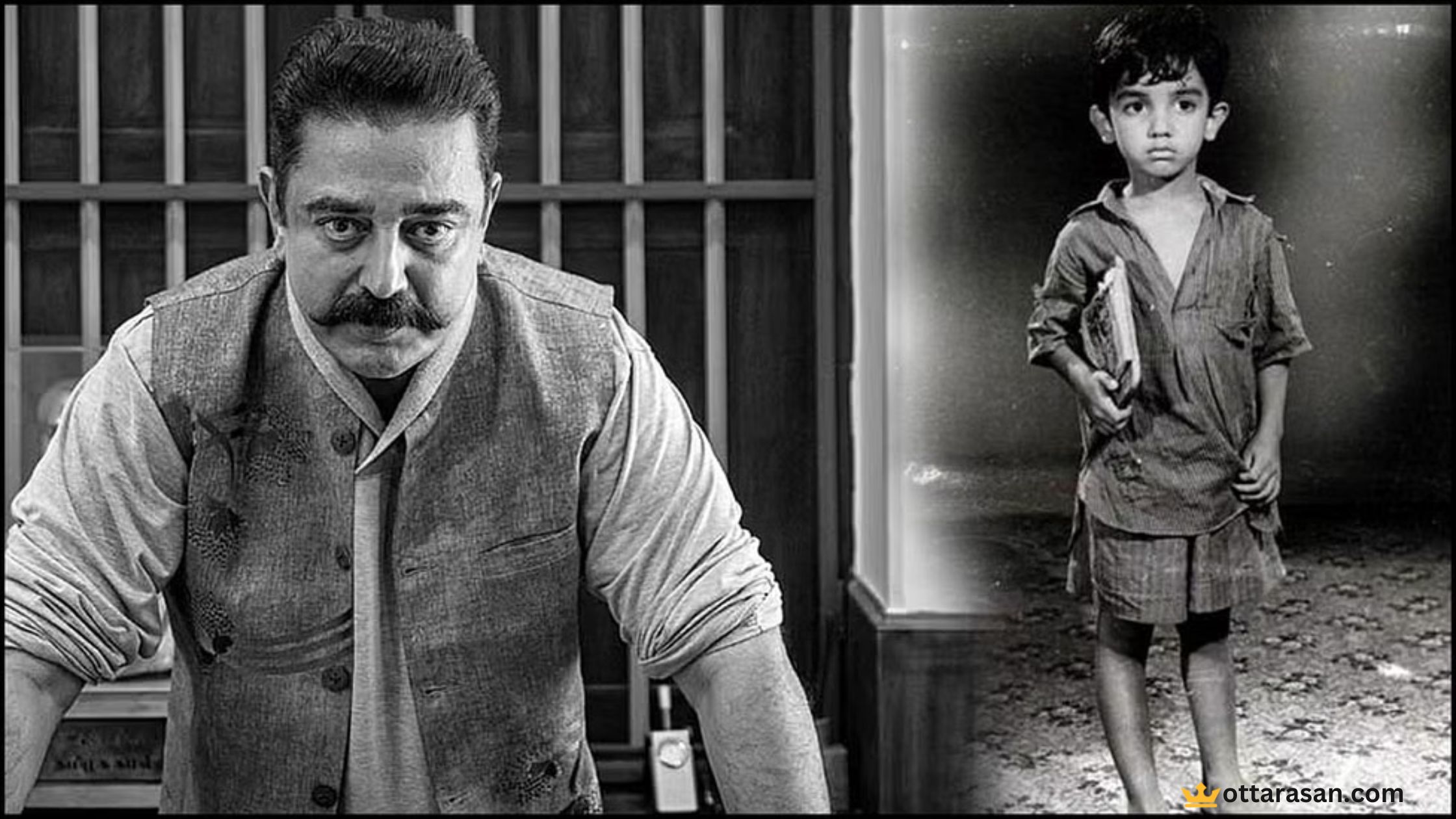 Check out Hit or Flop, blockbuster Kamal Haasan movies: Kamal Haasan well famed as Ulaga Nayagan. Kamal Haasan is an Indian actor, director, producer, and screenwriter. He has made a significant impact on Indian cinema, and his contributions to the film industry will always be remembered. Kamal Haasan is a legendary Indian actor who has made a remarkable contribution to the film industry. He began his acting career as a child artist in the 1960s and later became one of the most sought-after actors in Indian cinema. With a career spanning over five decades, Kamal Haasan has acted in over 200 films in multiple languages, including Tamil, Telugu, Hindi, Kannada, and Malayalam. He is known for his versatility as an actor and has won several awards for his outstanding performances, including four National Film Awards and 19 Filmfare Awards. We are sharing this information with you to get the complete history of Kamal movies, you can get the verdict of all the movies of Kamal along with the release date and Directors of each film.
Kamal Hasan Movies as Child Artist
| S.No | Movies Name | Release Date | Role |
| --- | --- | --- | --- |
| 1. | Kalathur Kannamma | 12-Aug-1960 | Child artist |
| 2 | Parthal Pasi Theerum | 14-Jan-1962 | Child artist |
| 3 | Paadha Kaanikkai | 14- Jul-1962 | Child artist |
| 4 | Kannum Karalum | 28-Sep-1962 | Child artist |
| 5 | Vanambadi | 9-Mar-1963 | Child artist |
| 6 | Anandha Jodhi | 5-Jul-1963 | Child artist |
| 7 | Maanavan | 10-Jul-1970 | Uncredited role |
| 8 | Annai Velankanni | 15-Aug-1971 | Uncredited role |
| 9 | Kurathi Magan | 29-Apr-1972 | Uncredited role |
kamal haasan movies | kamal haasan Hit & Flop movies
Kamal Haasan's first film in Tamil cinema was "Kalathur Kannamma," which was released in 1959. The film was directed by A. Bhimsingh and produced by A. V. Meiyappan under his production company, AVM Productions. In the movie, Kamal Haasan played the role of a young boy named Selvam, who befriends a young girl named Kannamma. The film was a huge success and received critical acclaim, with Kamal Haasan's performance being praised for his natural acting and emotional portrayal of the character. "Kalathur Kannamma" marked the beginning of Kamal Haasan's illustrious career in the Tamil film industry, and he has since gone on to become one of the most iconic actors in Indian cinema.
Sl.No

Movie Name

Release Date

Director

Ratings
190
Vikram
2022
Lokesh Kanagaraj
Not Released
189
Vishwaroop II
10-Aug-18
Kamal Haasan
Flop
188
Vishwaroopam II
10-Aug-18
Kamal Haasan
Flop
187
Cheekati Rajyam
20-Nov-15
Rajesh Selva
Flop
186
Thoongaa Vanam
10-Nov-15
Rajesh Selva
Semi Hit
185
Papanasam
3-Jul-15
Jeethu Joseph
Hit
184
Uttama Villain
2-May-15
Ramesh Aravind
Flop
183
Vishwaroop
1-Feb-13
Kamal Haasan
Flop
182
Vishwaroopam
25-Jan-13
Kamal Haasan
Blockbuster
181
Manmadan Ambu
23-Dec-10
K. S. Ravikumar
Flop
180
Eenadu
18-Sep-09
Chakri Toleti
Semi Hit
179
Unnaipol Oruvan
18-Sep-09
Chakri Toleti
Hit
178
Dasavathaaram
13-Jun-08
K. S. Ravikumar
Blockbuster
177
Vettaiyaadu Vilaiyaadu
25-Aug-06
Gautham Menon
Blockbuster
176
Rama Shama Bhama
9-Dec-05
Ramesh Aravind
Super Hit
175
Mumbai Xpress
15-Apr-05
Singeetam Srinivasa Rao
Flop
174
Mumbai Xpress
14-Apr-05
Singeetam Srinivasa Rao
Semi Hit
173
Vasool Raja MBBS
12-Aug-04
Saran
Hit
172
Virumaandi
14-Jan-04
Kamal Haasan
Super Hit
171
Anbe Sivam
15-Jan-03
Sundar. C
Flop
170
Panchatanthiram
28-Jun-02
K. S. Ravikumar
Hit
169
Pammal K. Sambandam
14-Jan-02
T. S. B. K. Moulee
Hit
168
Abhay
15-Nov-01
Suresh Krissna
Flop
167
Aalavandhan
14-Nov-01
Suresh Krissna
Semi Hit
166
Thenali
26-Oct-00
K. S. Ravikumar
Hit
165
Hey Ram
18-Feb-00
Kamal Haasan
Flop
164
Hey Ram
18-Feb-00
Kamal Haasan
Semi Hit
163
Kaathala Kaathala
10-Apr-98
Singeetam Srinivasa Rao
Hit
162
Chachi 420
19-Dec-97
Kamal Haasan
Hit
161
Avvai Shanmughi
10-Nov-96
K. S. Ravikumar
Hit
160
Drohi
7-Jul-96
P. C. Sreeram
Semi Hit
159
Indian
9-May-96
S. Shankar
Blockbuster
158
Thevar Magan
23-Oct-95
Bharathan
Hit
157
Kuruthipunal
23-Oct-95
P. C. Sreeram
Hit
156
Subha Sankalpam
28-Apr-95
K. Viswanath
Semi Hit
155
Sathi Leelavathi
15-Jan-95
Balu Mahendra
Super Hit
154
Nammavar
2-Nov-94
K. S. Sethumadhavan
Hit
153
Mahanadhi
14-Jan-94
Santhana Bharathi
Flop
152
Kalaignan
14-Apr-93
G. B. Vijay
Flop
151
Maharasan
5-Mar-93
G. N. Rangarajan
Average
150
Singaravelan
13-Apr-92
R. V. Udayakumar
Hit
149
Gunaa
5-Nov-91
Santhana Bharathi
Flop
148
Michael Madana Kama Rajan
17-Oct-90
Singeetam Srinivasa Rao
Super Hit
147
Indrudu Chandrudu
24-Nov-89
Suresh Krissna
Blockbuster
146
Vetri Vizha
28-Oct-89
Prathap Pothan
Super Hit
145
Chanakyan
1-Sep-89
T. K. Rajeev Kumar
Hit
144
Apoorva Sagodharargal
14-Apr-89
Singeetam Srinivasa Rao
Super Hit
143
Unnal Mudiyum Thambi
12-Aug-88
K. Balachander
Average
142
Soora Samhaaram
30-Jul-88
Chitra Lakshmanan
Hit
141
Daisy
19-Feb-88
Prathap K. Pothan
Super Hit
140
Sathya
29-Jan-88
Suresh Krissna
Super Hit
139
Pushpaka Vimana
27-Nov-87
Singeetam Srinivasa Rao
Super Hit
138
Nayakan
21-Oct-87
Mani Ratnam
Blockbuster
137
Per Sollum Pillai
16-Jul-87
S. P. Muthuraman
Hit
136
Vrutham
22-May-87
I. V. Sasi
Average
135
Kadhal Parisu
14-Jan-87
A. Jagannathan
Semi Hit
134
Punnagai Mannan
1-Nov-86
K. Balachander
Super Hit
133
Oka Radha Iddaru Krishnulu
2-Oct-86
A. Kodandarami Reddy
Flop
132
Vikram
29-May-86
Rajasekhar
Hit
131
Naanum Oru Thozhilali
1-May-86
C. V. Sridhar
Hit
130
Swathi Muthyam
30-Mar-86
K. Viswanath
Super Hit
129
Dekha Pyar Tumhara
20-Dec-85
Virendra Shama
Flop
128
Japanil Kalyanaraman
11-Nov-85
S. P. Muthuraman
Average
127
Kaakki Sattai
11-Oct-85
Rajasekhar
Blockbuster
126
Mangamma Sabatham
21-Sep-85
K. Vijayan
Flop
125
Geraftaar
13-Sep-85
Prayag Raaj
Super Hit
124
Saagar
9-Aug-85
Ramesh Sippy
Hit
123
Uyarndha Ullam
27-Jul-85
S. P. Muthuraman
Flop
122
Andha Oru Nimidam
31-May-85
Major Sundarrajan
Flop
121
Oru Kaidhiyin Diary
14-Jan-85
P. Bharathiraja
Super Hit
120
Karishmaa
30-Nov-84
I. V. Sasi
Flop
119
Enakkul Oruvan
23-Oct-84
S. P. Muthuraman
Super Hit
118
Raaj Tilak
31-Aug-84
Rajkumar Kohli
Hit
117
Yaadgar
20-Jul-84
Dasari Narayana Rao
Average
116
Ek Nai Paheli
29-Jun-84
K. Balachander
Semi Hit
115
Thoongathey Thambi Thoongathey
4-Nov-83
S. P. Muthuraman
Blockbuster
114
Sadma
8-Jul-83
Balu Mahendra
Flop
113
Sagara Sangamam
3-Jun-83
K. Viswanath
Super Hit
112
Sattam
21-May-83
K. Vijayan
Flop
111
Zara Si Zindagi
7-Jan-83
K. Balachander
Flop
110
Pagadai Panirendu
14-Nov-82
Dhamodharan. N
Flop
109
Yeh To Kamaal Ho Gaya
29-Oct-82
Tatineni Rama Rao
Flop
108
Sakalakala Vallavan
14-Aug-82
S. P. Muthuraman
Super Hit
107
Sanam Teri Kasam
14-May-82
Naendra Bedi
Hit
106
Simla Special
14-Apr-82
Muktha Srinivasan
Hit
105
Moondram Pirai
19-Feb-82
Balu Mahendra
Super Hit
104
Anthiveyilile Ponnu
12-Feb-82
Radhakrishnan
Flop
103
Andagaadu
6-Feb-82
Pendyala Venkata Rama Rao
Flop
102
Vazhvey Maayam
26-Jan-82
R. Krishnamoorthy
Blockbuster
101
Ellam Inba Mayyam
5-Dec-81
G. N. Rangarajan
Super Hit
100
Tik Tik Tik
26-Oct-81
P. Bharathiraja
Hit
99
Amavasya Chandrudu
29-Aug-81
Singeetam Srinivasa Rao
Indian film director
Flop
98
Sankarlal
15-Aug-81
T. N. Balu
Semi Hit
97
Savaal
3-Jul-81
R. Krishnamoorthy
Average
96
Ek Duuje Ke Liye
5-Jun-81
K. Balachander
Blockbuster
95
Kadal Meengal
5-Jun-81
G. N. Rangarajan
Super Hit
94
Raja Paarvai
10-Apr-81
Singeetam Srinivasa Rao
Flop
93
Ram Lakshman
28-Feb-81
R. Thyagarajan
Hit
92
Prema Pitchi
21-Feb-81
C. V. Rajendran
Flop
91
Meendum Kokila
14-Jan-81
G. N. Rangarajan
Super Hit
90
Aakali Rajyam
9-Jan-81
K. Balachander
Average
89
Maria, My Darling
19-Dec-80
Durai
Flop
88
Maria, My Darling
14-Nov-80
Durai
Flop
87
Varumayin Niram Sivappu
6-Nov-80
K. Balachander
Hit
86
Guru
19-Jul-80
I. V. Sasi
Super Hit
85
Guru
18-Jul-80
I. V. Sasi
Blockbuster
84
Ullasa Paravaigal
7-Mar-80
C.V.Rajendran
Average
83
Neela Malargal
19-Oct-79
Krishnan Panju
Flop
82
Mangala Vaathiyam
21-Sep-79
K. Shankar
Flop
81
Kalyanaraman
6-Jul-79
G. N. Rangarajan
Super Hit
80
Idi Katha Kaadu
27-Jun-79
K. Balachander
Hit
79
Allaudinaum Arputha Vilakkum
8-Jun-79
I. V. Sasi
Flop
78
Andamaina Anubhavam
19-Apr-79
K. Balachander
Average
77
Allauddinum Albhutha Vilakkum
14-Apr-79
I. V. Sasi
Flop
76
Thaayillamal Naan Illai
14-Apr-79
R. Thyagarajan
Hit
75
Ninaithale Inikkum
14-Apr-79
K. Balachander
Hit
74
Neeya?
30-Jan-79
Durai
Super Hit
73
Sigappukkal Mookkuthi
12-Jan-79
Valampuri Somanathan
Flop
72
Sommokadidi Sokokadidi
5-Jan-79
Singeetam Srinivasa Rao
Hit
71
Yaetta
10-Nov-78
I. V. Sasi
Hit
70
Aval Appadithan
30-Oct-78
C. Rudhraiya
Flop
69
Manidharil Ithanai Nirangala
29-Oct-78
R. C. Sakthi
Semi Hit
68
Sigappu Rojakkal
28-Oct-78
P. Bharathiraja
Super Hit
67
Vayanadan Thamban
14-Sep-78
A. Vincent
Super Hit
66
Vayasu Pilichindi
4-Aug-78
C. V. Sridhar
Hit
65
Sattam En Kaiyil
14-Jul-78
T. N. Balu
Hit
64
Ilamai Oonjal Aadukirathu
9-Jun-78
C. V. Sridhar
Blockbuster
63
Maro Charitra
19-May-78
K. Balachander
Blockbuster
62
Nizhal Nijamagiradhu
24-Mar-78
K. Balachander
Super Hit
61
Anumodhanam
24-Feb-78
I. V. Sasi
Hit
60
Kaathirunna Nimisham
17-Feb-78
Baby
Flop
59
Madanolsavam
26-Jan-78
N. Sankaran Nair
Hit
58
Aadhya Paadam
10-Nov-77
Adoor Bhasi
Average
57
Satyavan Savithri
14-Oct-77
P. G. Viswambharan
Super Hit
56
Naam Pirandha Mann
7-Oct-77
A. Vincent
Flop
55
Kokila
7-Oct-77
Balu Mahendra
Blockbuster
54
Aadu Puli Attam
30-Sep-77
S. P. Muthuraman
Super Hit
53
Aanandham Paramaanandham
30-Sep-77
I. V. Sasi
Semi Hit
52
16 Vayathinile
15-Sep-77
P. Bharathiraja
Super Hit
51
Ormakal Marikkumo
26-Aug-77
K. S. Sethumadhavan
Super Hit
50
Nirakudam
29-Jul-77
A. Bhimsingh
Hit
49
Ashtamangalyam
22-Jul-77
P. Gopikumar
Flop
48
Kabita
14-Jul-77
Bharat Shamsher
Flop
47
Unnai Suttrum Ulagam
29-Apr-77
G. Subramanya Reddiar
Super Hit
46
Sreedevi
25-Mar-77
N. Sankaran Nair
Average
45
Madhura Swapanam
3-Mar-77
M Krishnan Nair
Hit
44
Avargal
25-Feb-77
K. Balachander
Hit
43
Aasheervaadam
10-Feb-77
I. V. Sasi
Semi Hit
42
Siva Thandavum
3-Feb-77
N. Sankaran Nair
Flop
41
Uyarndhavargal
14-Jan-77
T. N. Balu
Average
40
Lalitha
10-Dec-76
Valampuri Somanathan
Hit
39
Mogam Muppadhu Varusham
27-Nov-76
S. P. Muthuraman
Flop
38
Moondru Mudichu
22-Oct-76
K. Balachander
Super Hit
37
Nee Ente Lahari
24-Sep-76
P. G. Viswambharan
Flop
36
Idhaya Malar
3-Sep-76
Gemini Ganesan
Hit
35
Ponni
3-Sep-76
Thoppil Bhasi
Hit
34
Kumaara Vijayam
30-Jul-76
A. Jagannathan
Average
33
Kuttavum Shikshayum
9-Jul-76
M. Masthan
Flop
32
Unarchigal
25-Jun-76
R. C. Sakthi
Semi Hit
31
Oru Oodhappu Kan Simittugiradhu
4-Jun-76
S. P. Muthuraman
Hit
30
Satyam
6-May-76
S. A. Kannan
Hit
29
Swimming Pool
26-Mar-76
J. Sasikumar
Flop
28
Aruthu
26-Mar-76
Ravi
Semi Hit
27
Samasya
27-Feb-76
T. Thankappan
Flop
26
Manmadha Leelai
27-Feb-76
K. Balachander
Hit
25
Appooppan
13-Feb-76
P. Bhaskaran
Flop
24
Agni Pushpam
9-Jan-76
Jeassy
Hit
23
Raasaleela
12-Dec-75
N. Sankaran Nair
Super Hit
22
Andharangam
12-Dec-75
Muktha Srinivasan
Super Hit
21
Mattoru Seetha
17-Oct-75
P. Bhaskaran
Flop
20
Thiruvonam
2-Oct-75
Sreekumaran Thampi
Average
19
Apoorva Raagangal
15-Aug-75
K. Balachander
Blockbuster
18
Maalai Sooda Vaa
1-Aug-75
C. V. Rajendran
Average
17
Njan Ninne Premikkunnu
26-Jul-75
K. S. Gopalakrishnan
Flop
16
Pattikkaattu Raja
12-Jul-75
K. Shanmugam
Blockbuster
15
Thangathile Vairam
16-May-75
K. Sornam
Semi Hit
14
Melnaattu Marumagal
10-May-75
A. P. Nagarajan
Hit
13
Then Sindhudhe Vaanam
11-Apr-75
R. A. Sankaran
Semi Hit
12
Aayirathil Oruthi
14-Mar-75
Avinashi Mani
Hit
11
Pattampoochi
21-Feb-75
A. S. Pragasam
Hit
10
Cinema Paithiyam
31-Jan-75
Muktha Srinivasan
Super Hit
9
Panathukkaga
6-Dec-74
M. S. Senthil
Flop
8
Aval Oru Thodar Kathai
13-Nov-74
K. Balachander
Super Hit
7
Vishnu Vijayam
25-Oct-74
N. Sankaran Nair
Blockbuster
6
Kanyakumari
26-Jul-74
K. S. Sethumadhavan
Hit
5
Naan Avanillai
7-Jun-74
K. Balachander
Hit
4
Gumasthavin Magal
27-Apr-74
A. P. Nagarajan
Semi Hit
3
Paruva Kaalam
9-Feb-74
Jos A. N. Fernando
Hit
2
Sollathaan Ninaikkiren
7-Dec-73
K. Balachander
Hit
1
Arangetram
9-Feb-73
K. Balachander
Super Hit