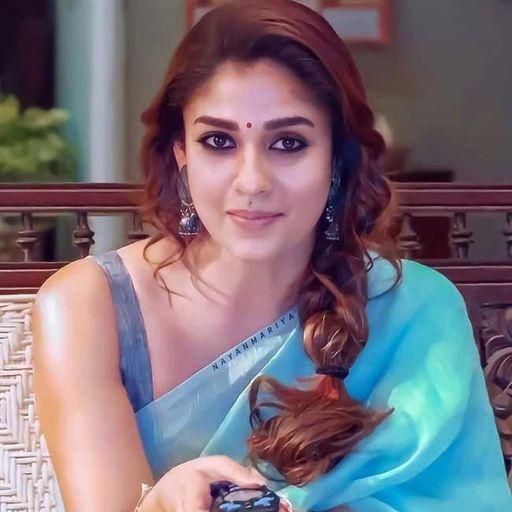 Check out Hit or Flop, blockbuster Nayanthara movies: Nayanthara is a popular South Indian actress who has been active in the film industry for more than 18 years. She was born on November 18, 1984, in Bengaluru, India. Nayanthara's real name is Diana Mariam Kurian, and she was raised in Kerala. She pursued her Bachelor's degree in English Literature from Marthoma College, Thiruvalla.
Nayanthara began her acting career in 2003 with the Malayalam film "Manassinakkare," directed by Sathyan Anthikad. Her performance in the film earned her critical acclaim, and she won the Best Female Debutant award at the Asianet Film Awards. She then made her Tamil debut with the film "Ayya" in 2005, which was directed by Hari. Her first Telugu film was "Lakshmi" in 2006, directed by V.V. Vinayak.
Over the years, Nayanthara has established herself as one of the leading actresses in the South Indian film industry. She has acted in numerous hit films in Tamil, Telugu, and Malayalam languages. Some of her notable Tamil films include "Chandramukhi," "Billa," "Raja Rani," "Naanum Rowdy Dhaan," and "Aramm." Her Telugu films include "Sri Rama Rajyam," "Krishnam Vande Jagadgurum," and "Arundhati." Nayanthara has also acted in some acclaimed Malayalam films like "Bodyguard," "Elektra," and "Puthiya Niyamam."
Nayanthara's journey in the film industry has been remarkable. From her beginnings in Malayalam cinema, she has gone on to become one of the most sought-after actresses in South Indian cinema. Her performances have won her critical acclaim and several awards.
Nayanthara Biography
| Name | Nayanthara |
| --- | --- |
| Date of Birth | November 18, 1984 |
| Place of Birth | Bengaluru, India |
| Education | Bachelor's degree in English Literature from Marthoma College, Thiruvalla |
| Debut Film | Manassinakkare (Malayalam, 2003) |
| Major Films | Chandramukhi (Tamil, 2005), Sri Rama Rajyam (Telugu, 2011), Aramm (Tamil, 2017) |
| Awards | Filmfare Awards for Best Actress in Tamil (4), Best Actress in Telugu (2), and Best Actress in Malayalam (1); Tamil Nadu State Film Award for Best Actress |
| Humanitarian Work | Worked with PETA and contributed to various charities and NGOs |
| Notable Traits | Talented actress, involved in humanitarian causes |
List of Nayanthara Hits And Flops Movies
| S.No | Movie Name | Release Year | Verdict | Language | Director |
| --- | --- | --- | --- | --- | --- |
| 1 | Manassinakkare | 2003 | Hit | Malayalam | Sathyan Anthikad |
| 2 | Vismayathumbathu | 2004 | Disaster | Malayalam | Fazil |
| 3 | Natturajavu | 2004 | Super Hit | Malayalam | Shaji Kailas |
| 4 | Ayya | 2005 | Semi Hit | Tamil | Hari |
| 5 | Chandramukhi | 2005 | Blockbuster | Tamil | P. Vasu |
| 6 | Thaskara Veeran | 2005 | Flop | Malayalam | Pramod Pappan |
| 7 | Rappakal | 2005 | Hit | Malayalam | Kamal |
| 8 | Ghajini | 2005 | Blockbuster | Tamil | A. R. Murugadoss |
| 9 | Sivakasi [Special Appearance In The Song "Kodambakkam Area"] | 2005 | Super Hit | Tamil | Perarasu |
| 10 | Kalvanin Kadhali | 2006 | Average | Tamil | Thamilvaanan |
| 11 | Lakshmi | 2006 | Hit | Telugu | V.V. Vinayak |
| 12 | Boss | 2006 | Flop | Telugu | V. N. Aditya |
| 13 | E | 2006 | Hit | Tamil | S. P. Jananathan |
| 14 | Thalaimagan | 2006 | Flop | Tamil | Sarath Kumar |
| 15 | Vallavan | 2006 | Super Hit | Tamil | Silambarasan |
| 16 | Yogi | 2007 | Flop | Telugu | V.V. Vinayak |
| 17 | Dubai Seenu | 2007 | Super Hit | Telugu | Srinu Vaitla |
| 18 | Sivaji: The Boss [Special Appearance In The Song "Balleilakka"] | 2007 | Blockbuster | Tamil | S. Shankar |
| 19 | Tulasi | 2007 | Super Hit | Telugu | Boyapati Srinu |
| 20 | Billa | 2007 | Blockbuster | Tamil | Vishnuvardhan |
| 21 | Yaaradi Nee Mohini | 2008 | Blockbuster | Tamil | Mithran Jawahar |
| 22 | Kuselan/ Kathanayakudu | 2008 | Flop | Tamil/ Telugu | P. Vasu |
| 23 | Satyam/ Salute | 2008 | Average | Tamil/ Telugu | A. Rajasekhar |
| 24 | Aegan | 2008 | Flop | Tamil | Raju Sundaram |
| 25 | Twenty:20 [Special Appearance In The Song "Hey Dil Deewana"] | 2008 | Blockbuster | Malayalam | Joshiy |
| 26 | Villu | 2009 | Flop | Tamil | Prabhu Deva |
| 27 | Anjaneyulu | 2009 | Flop | Telugu | Parasuram |
| 28 | Aadhavan | 2009 | Hit | Tamil | K. S. Ravikumar |
| 29 | Adhurs | 2010 | Hit | Telugu | V.V. Vinayak |
| 30 | Bodyguard | 2010 | Flop | Malayalam | Siddique |
| 31 | Goa [Guest Appearance] | 2010 | Average | Tamil | Venkat Prabhu |
| 32 | Simha | 2010 | Blockbuster | Telugu | Boyapati Srinu |
| 33 | Boss Engira Bhaskaran | 2010 | Blockbuster | Tamil | M. Rajesh |
| 34 | Elektra | 2010 | Released On International Film Festival Of India (IFFI)! | Malayalam | Shyamaprasad |
| 35 | Super | 2010 | Blockbuster | Kannada | Upendra |
| 36 | Sri Rama Rajyam | 2011 | Hit | Telugu | Bapu |
| 37 | Krishnam Vande Jagadgurum | 2012 | Average | Telugu | Krish |
| 38 | Ethir Neechal [Special Appearance In The Song "Local Boys"] | 2013 | Blockbuster | Tamil | R. S. Durai Senthilkumar |
| 39 | Greeku Veerudu | 2013 | Flop | Telugu | Dasarath |
| 40 | Raja Rani | 2013 | Blockbuster | Tamil | Atlee |
| 41 | Arrambam | 2013 | Super Hit | Tamil | Vishnuvardhan |
| 42 | Idhu Kathirvelan Kadhal | 2014 | Average | Tamil | S. R. Prabhakaran |
| 43 | Anaamika/ Nee Enge En Anbe | 2014 | Average | Telugu/ Tamil | Sekhar Kammula |
| 44 | Nannbenda | 2015 | Average | Tamil | Jagadish |
| 45 | Bhaskar The Rascal | 2015 | Blockbuster | Malayalam | Siddique |
| 46 | Massu Engira Masilamani | 2015 | Average | Tamil | Venkat Prabhu |
| 47 | Thani Oruvan | 2015 | Blockbuster | Tamil | Mohan Raja |
| 48 | Maya / Mayuri | 2015 | Hit | Tamil/ Telugu | Ashwin Saravanan |
| 49 | Life Of Josutty [Cameo Appearance] | 2015 | Hit | Malayalam | Jeethu Joseph |
| 50 | Naanum Rowdy Dhaan | 2015 | Super Hit | Tamil | Vignesh Shivan |
| 51 | Puthiya Niyamam | 2016 | Flop | Malayalam | A. K. Sajan |
| 52 | Idhu Namma Aalu | 2016 | Hit | Tamil | Pandiraj |
| 53 | Thirunaal | 2016 | Below Average | Tamil | Ramnath |
| 54 | Babu Bangaram | 2016 | Average | Telugu | Maruthi Dasari |
| 5 | Iru Mugan | 2016 | Super Hit | Tamil | Anand Shankar |
| 56 | Kaashmora | 2016 | Average | Tamil | Gokul |
| 57 | Dora | 2017 | Below Average | Tamil/Telugu | Doss Ramasamy |
| 58 | Aramm | 2017 | Super Hit | Tamil | Gopi Nainar |
| 59 | Velaikkaran | 2017 | Blockbuster | Tamil | Mohan Raja |
| 60 | Jai Simha | 2018 | Hit | Telugu | K. S. Ravikumar |
| 61 | Kolamaavu Kokila/COCO | 2018 | Hit | Tamil | Nelson Dilipkumar |
| 62 | Imaikkaa Nodigal | 2018 | Blockbuster | Tamil | R. Ajay Gnanamuthu |
| 63 | Viswasam | 2019 | Blockbuster | Tamil | Siva |
| 64 | Airaa | 2019 | Average | Tamil/Telugu | Sarjun KM |
| 65 | Mr. Local | 2019 | Flop | Tamil | M. Rajesh |
| 66 | Kolaiyuthir Kaalam | 2019 | Disaster | Tamil | Chakri Toleti |
| 67 | Love Action Drama | 2019 | Hit | Malayalam | Dhyan Sreenivasan |
| 68 | Sye Raa Narasimha Reddy | 2019 | Average | Telugu | Surender Reddy |
| 69 | Bigil | 2019 | All Time Blockbuster! | Tamil | Atlee |
| 70 | Darbar | 2020 | Disaster | Tamil | A. R. Murugadoss |
| 71 | Mookuthi Amman | 2020 | Hit | Tamil | RJ Balaji and NJ Saravanan |
| 72 | Nizhal | 2021 | Disaster | Malayalam | Appu N. Bhattathiri |
| 73 | Netrikann (As Actress And Producer) | 2021 | Hit | Tamil | Milind Rau |
| 74 | Aaradugula Bullet | 2021 | Flop | Telugu | B. Gopal |
| 75 | Annaatthe | 2021 | Hit | Tamil | Siva |
| 76 | Rocky [Special Appearance In The Promotional Song "Kaalam Oru Dhrogi"] (As Actress And Producer) | 2021 | Hit | Tamil | Arun Matheswaran |
| 77 | Kaathu Vaakula Rendu Kaadhal | 2022 | Not Yet Released! | Tamil | Vignesh Shivan |
| 78 | Untitled GS Viknesh Film | 2022 | Not Yet Released! | Tamil | GS Viknesh |
| 79 | Gold | TBA | Not Yet Released! | Malayalam | Anthony Sony |
| 80 | Untitled Atlee Film | TBA | Not Yet Released! | Hindi | Atlee Kumar |
| 81 | Godfather | TBA | Not Yet Released! | Telugu | Mohan Raja |
| 82 | Connect | TBA | Not Yet Released! | Tamil | Desingh Periyasamy |