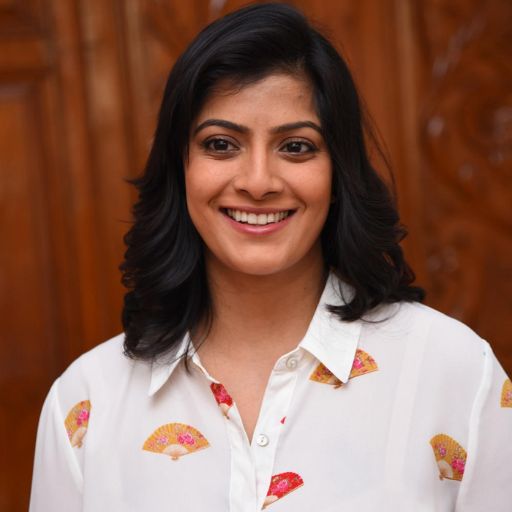 Check out Hit or Flop, blockbuster Varalaxmi Sarathkumar Movies: Varalaxmi Sarathkumar is a popular Indian actress who predominantly works in the Tamil film industry. She was born on March 5, 1985, in Chennai, Tamil Nadu, India, to renowned actor and politician R. Sarathkumar and his first wife, Chaya.
Varalaxmi made her acting debut in the Tamil film industry with the 2012 film "Podaa Podi,". She went on to appear in several successful films such as "Tharai Thappattai," "Vikram Vedha," and "Sandakozhi 2." Apart from acting, Varalaxmi is also a classical dancer and has performed in several stage shows. Also she did negative role in the "Sarkar" Tamil film which stars thalapathy Vijay as the lead role.
In recent years, Varalaxmi has been focusing on playing strong and impactful roles that showcase her acting abilities. She has also ventured into other film industries such as Telugu and Kannada. Varalaxmi continues to be a popular figure in the Tamil film industry and has a promising career ahead.
Varalaxmi Biography
| Full Name | Varalaxmi Sarathkumar |
| --- | --- |
| Date of Birth | March 5, 1985 |
| Place of Birth | Chennai, Tamil Nadu, India |
| Parents | R. Sarathkumar (father) and Chaya (mother) |
| Education | Bachelor of Science in Microbiology |
| First Film | Podaa Podi (2012) |
| Major Film Industries | Tamil, Telugu, Kannada, and Malayalam |
| Notable Films | Tharai Thappattai, Vikram Vedha, Sarkar, Sandakozhi 2 |
| Awards and Recognitions | SIIMA Critics Choice Best Actress (2018), Zee Cine Award (2019), Edison Awards (2019) |
List of Varalaxmi Hits and Flops Movies
| S.No | Movie Name | Director | ReleaseDate | Language | Verdict |
| --- | --- | --- | --- | --- | --- |
| 1 | Podaa Podi | Vignesh Shivan | 13-Nov-12 | Tamil | Flop |
| 2 | Maanikya | Sudeep | 1-May-14 | Kannada | Super Hit |
| 3 | Kasaba | Nithin Renji Panicker | 7-Jul-16 | Malayalam | Hit |
| 4 | Tharai Thappattai | Bala | 14-Jan-16 | Tamil | Flop |
| 5 | Vikram Vedha | Pushkar-Gayathri | 21-Jul-17 | Tamil | Super Hit |
| 6 | Nibunan/Vismaya | Arun Vaidyanathan | 28-Jul-17 | Tamil/Kannada | Semi Hit |
| 7 | Sathya | Pradeep Krishnamoorthy | 8-Dec-17 | Tamil | Average |
| 8 | Kaattu | Arun Kumar Aravind | 13-Oct-17 | Malayalam | Flop |
| 9 | Masterpiece | Ajai Vasudev | 21-Dec-17 | Malayalam | Super Hit |
| 10 | Mr. Chandramouli | Thiru | 6-Jul-18 | Tamil | Average |
| 11 | Echcharikkai | Sarjun KM | 24-Aug-18 | Tamil | Flop |
| 12 | Sandakozhi 2 | N. Linguswamy | 18-Oct-18 | Tamil | Hit |
| 13 | Sarkar | A.R. Murugadoss | 6-Nov-18 | Tamil | Blockbuster |
| 14 | Maari 2 | Balaji Mohan | 21-Dec-18 | Tamil | Hit |
| 15 | Neeya 2 | L.Suresh | 24-Feb-19 | Tamil | Flop |
| 16 | Tenali Ramakrishna BA. BL | G. Nageswara Reddy | 15-Nov-19 | Telugu | Average |
| 17 | Velvet Nagaram | Manojkumar Natarajan | 6-Mar-20 | Tamil | Flop |
| 18 | Danny | Santhanamoorthy | 1-Aug-20 | Tamil | Released on ZEE5 |
| 19 | Kanni Raasi | Muthukumaran | 4-Dec-20 | Tamil | Flop |
| 20 | Krack | Gopichand Malineni | 9-Jan-21 | Telugu | Blockbuster |
| 21 | Naandhi | Vijay Kanakamedala | 19-Feb-21 | Telugu | Hit |
| 22 | Ranam | V.C. Vadivudaiyan | 26-Mar-21 | Kannada | Semi Hit |
| 23 | Chasing | Veerakumar | 16-Apr-21 | Tamil | Flop |
| 24 | Singa Paarvai | J.K | 2021 | Tamil | Flop |
| 25 | Pakka Commercial | Maruthi | 1-Jul-22 | Telugu | Flop |
| 26 | Iravin Nizhal | Sarjun KM | 15-Jul-22 | Tamil | Hit |
| 27 | Poikkal Kuthirai | Santhosh P. Jayakumar | 04-Aug-22 | Tamil | Average |
| 28 | Kaatteri | Deekay | 04-Aug-22 | Tamil | Flop |
| 29 | Pamban | Kalyan Seervi | 2022 | Tamil | Flop |
| 30 | Piranthal Parasakthi | OM Vijay | 2022 | Tamil | Flop |
| 31 | Colors | Rajesh Touchriver | 2022 | Tamil | Flop |
| 32 | Lagaam | Pinnu Nayak | 2022 | Kannada | Hit |
| 33 | Yashoda | K.Hari Shankar, Hareesh Narayan | 2022 | Telugu, Tamil | Hit |
| 34 | Hanu Man | Prashanth Varma | 2022 | Telugu | Average |
| 35 | Vindhya Victim Verdict – V3 | Balaji Tharaneetharan | 2022 | Tamil, Telugu, Malayalam, Hindi, Kannada | Flop |
| 36 | NBK 107 | Boyapati Srinu | 2023 | Telugu | Blockbuster |
| 37 | Veera Simha Reddy | Sukumar | 2023 | Telugu, Tamil, Malayalam, Hindi | Blockbuster |
check other Actress hits and flops :